This section contains several reviews and comments from music & entertainment related media and persons, which I received from diverse sources. It will also include the comments that you will gently send us by the CONTACT section.
Raimundo Rodulfo
---
"I've no doubt that the name Rodulfo will be up there with the other great composers and I mean great composers!"
"It is full of life, textures and emotion. Guitar, Spanish and electric are outstanding and the flute and violin pieces are truly beautiful. Raimundo and his fellow musicians gel together coherently and still hang sufficiently 'loose' to create that edge."
Hairless Heart Herald, UK

"High standard of musicianship and the joy in the music making, together with melodic writing of the highest calibre and a similar high standard for the rhythmic element. The arrangements are rich and diverse: I cannot recall hearing so many different instruments/sounds – both traditional and modern - on one album: Rodulfo himself plays acoustic and electric guitars, bass and mandolin but he calls on twelve other excellent musicians to assist in unfolding his sonic visions."
Sea of Tranquility, USA
"Few musicians there are today in the universe of progressive rock that are so ambitious and qualified like Raimundo Rodulfo."
Mellotron Magazine, Argentina

"A versatile and virtuoso Venezuelan artist. A superior guitar playing technique and an impressive intellectual approach to music from a sure well-informed musician."
"Raimundo is an incredibly high-skilled musician able to pinch the chords of his guitar as few guitarist can do. He has a very classical background and a clever intellectual approach to music. Listening to his music is actually like 'to live a dream', an intense and multicoloured dream, so well represented by Peter Rodulfo's paintings."
Tales of Wonder, Italy

"How can such an artist has been unnoticed?"
Kakehashi Records, Japan

"A very talented artist."
Colossus Magazine, Finland
"All the Progressive elit sings the praises of this guy"
"The work of the group is impressive."
"The guy has more than the talent: everything is under control to the extreme"
Koid9 Magazine, France
"Raimundo Rodulfo reveals his quality as composer, arrangeur and guitarist... An impressive work, which I can only recommend."
"Italian Prog lovers and all fans of the romantic symphony genre will enjoy this work."
"The band plays warmly, the technical presentation of the performances is good. Raimundo Rodulfo composes heavy symphonic songs, which sound typically South American. Melodic weight and deep poetry are just as related to Italian Prog."
Ragazzi, Germany / Progressive Newsletter, Germany
"Raimundo Rodulfo is one of those musicians who proudly sports his origins in his musical output."
"An impressive array of guest musicians supplementing Rodulfo's equally impressive skills."
Progressor, Uzbekistan
"Raimundo Rodulfo is one of the great, (relatively) young guitar heroes in the Latin American progressive rock. He has a style that makes it tempting to compare him with the dimensions of Steve Howe and Steve Hackett, but at the same time his music has a very distinctive Latin American style."
"Raimundo Rodulfo lives in Miami now, but he still represents some of the best that South American prog has to offer."
Tarkus Magazine, Norway
"Excelsius Venezuelan guitarist and composer"
"The phrases from Raimundo's virtuosic performance are an ideal vehicle that interconnects one idea with another"
LaDosis Magazine, Venezuela
"The classical guitar, often performed solo at many breaks often have accents of Villa-Lobos, Rodrigo and even, suggesting the classical training of its author. But very quickly, breaks the electric guitar and the tone is progressive, so take notes of Mike Oldfield, Steve Hackett and Carlos Santana (ha! Course, always the Hispanic side...)."
Prog-Résiste Magazine, Belgium
"Outstanding guitar work"
"I am impressed by his virtuosity on all guitars"
"Jawdropping technique but it also sounds very pleasant, not clinical or as 'scale-acrobatics'"
"Guitar skills with a pleasant and varied way of composing"
"Impressive guitar work with hints of Steve Howe"
Progwalhalla, Holland / Background Magazine, Holland
"There are musicians/composers that play like the Gods. The Venezuelan guitarist Raimundo Rodulfo is one of them..."
"The music of Raimundo Rodulfo has a high complexity and if we add to this a band of musicians (including a girl with a fantastic voice) with an enviable performing capacity, we have no other choice than to recognize the lofty quality of a musician that left us astonished."
Margen Magazine, Spain
"Raimundo's music offers soft seductive acoustic Spanish guitar with some lovely symphonia. Amazing guitar fretting and phrasing."
Unger's Wonderful World of Progressive Rock, Canada
"Raimundo has his own vision, his own performing way and a frankly exquisite jazz sound. The compositions together form an all instrumental that one listens upper to down, from beginning to end."
La Corte Final, Mexico
"An ensemble of very talented musicians."
Rockaxis, Chile / Progresiva70s, Argentina / Nucleus, Argentina
"This is a talented Venezuelan guitarist and composer, putting together some nice prog fusion with his excellent guitar work. Check it out!"
Estonian Progressive Rock, Estonia
"It's worth listening to the sound of this Venezuelan. In this true 'musical cauldron' exists a mixture of tecno music, Andean music and generous doses of progressive rock, whose result is a sound with proper identity, filled with a pallette of peculiar instruments."
Kanto do Rock Progressivo, Brazil
"Rodulfo is a fantastic guitarist (rather, multi-instrumentalist), surrounded by equally talented folks on a variety of instruments."
Progressive World, USA
"Rodulfo, true virtuoso of guitar (and also of bass, I add) simply without to comply in accommodating and self-pleasing elucubrations, possess the innate gift of to charm the listener. The European public, mainly the Italian one, must not to ignore this Artist!"
Escursioni Musicali, Italy / Arlequins, Italy
"This is some of the best music I have ever heard in my life - and that, my friends, is really saying something."
"This South American guitarist and composer is, IMO, a genius in the progressive rock realm. It is absolutely criminal that his work is not widely known and recognized for its extraordinary quality."
"The most stunning talent I've heard from South America in some time. Anyone who claims to be a fan of symphonic progressive rock absolutely MUST check out his work, as it is absolutely phenomenal."
"Amazing guitar work (both electric and acoustic)"
www.mikeportnoy.com : General Public and Music Chat, USA
"Sometimes I ask myself, where the people get again and again new ideas for music. In the case of RAIMUNDO RODULFO, Venezuela lodges a guitarist like the best."
Progressive Pages, Germany
"Venezuelan Raimundo Rodulfo is a highly-skilled guitarist, whether playing acoustic, classical, electric, or bass guitar or even mandolin."
Kinesis, USA
"Raimundo is an excellent guitarist, whether of classic or electric guitar."
SomethingProg, France
"Guitar virtuoso"
Artist Shop, USA
"An outstanding artist."
"Comparable to Steve Hackett, Steve Howe, Anthony Phillips - with South American attitude"
"Raimundo Rodulfo is not only an impressive technical guitar player, as he impressively proves in both acoustic and electric guitar, but he is also capable of writing sweeping and varied compositions."
"Raimundo Rodulfo consolidates his reputation as a South American Steve Hackett"
Babyblaue, Germany
"There seems to be no boundaries to hold the creativity that the artist tries to implement"
ProgGnosis / SilverDB, USA
"A guitarist who sees far"
Harmonie Magazine, France
"His guitar shows from sweet phrases to superior excellence playing. A fantastic artistic impression that does not cease to overwhelm you with its multi-colored diversity."
Gardenshed, Japan
"A musician with great critical acclaim."
"This guy knows how to build a song"
"Guitarist/Composer Raimundo Rodulfo brings symphonic/classic prog back into the new millennium with nods to the giants of the 70's while adding a latin flavor all it's own. Beautiful instrumentation can be found throughout especially in the guitar playing which goes from classical to flamenco to rock within a few moments."
ProgNaut, USA
"Excellent musician from Venezuela. The Latino Mike Oldfield."
Acid Dragon Magazine, France
"Raimundo Rodulfo is a sort of American-wise Mike Oldfield, where there is room for all types of fusions that just magnify his music in a lucid and intelligent manner. With an absolute mastery of the six strings in any of its many forms, Raimundo shelled a powerful musical machine full of emotion and feeling, which develops through languid and meandering soundscapes, this very great symphonic music full of roots, to which we are used to."
Portal Esquizofrenia, Spain
"Killer guitar."
Of Sound Mind, USA
"A musician that doesn't have anything to envy to bands that have found a good contract record. The technical style of Rodulfo betrays a visceral passion for neo-classicism, but the entire work is influenced by groups as Jethro Tull, Mike Oldfield and Genesis."
MilleRecords, Italy / Tempi Duri, Italy
"Rodulfo has surrounded himself with a very energetic and adept cast of musicians that understand his vision with unparalleled clarity."
Miami New Times, USA

"Exceptional Venezuelan guitarist multi-instrumentalist, of string instruments, composer in the most deep and classic meaning of the word, and very skilful on orchestration and arrangements"
"A contemporary artist between the best and most brilliant ones in circulation."
"It's incredible how Rodulfo, in the middle of an ocean of style influences between which stand out primarily Steve Hackett and Steve Howe, Jethro Tull, Yes and a bite of jazzy tastes, succeeds to unite with a personal revisiting of the classic symphonies and baroque in latin key so much different instrumental sounds without being overwhelming and submerging the listeners without making them lose interest."
"Guitarist with excellent technique and Latin sound"
Movimenti Prog, Italy

"They are still there: musicians with an unrestrained ambition and an identity between classical music and progressive rock. Venezuelan Raimundo Rodulfo is one of this kind."
Progwereld, Holland

"The composition is also excellent. I have to put the name Raimundo Rodulfo behind my ear."
Rate Your Music, USA

"A superfine guitarist and eclectic composer"
"His compositional pen is soaked in an ink that is a robust mix of genres, classical - old music - jazz fusion - rock, with which Rodulfo draws scores of concrete quality composition, and a brilliant capacity for entertaining, immersive in a public with no forks in their ears."
"To define the work of Raimundo, a magma of notes banner a music designed for the ear and heart!"
"A really superfine musician"
"A musical writting that is comprehensively constant, valuable, with good quality, where classical music notes, rock sparks, jazz thrills, chase the big reservoir of progressive music!"
"A musician in progressive ascension"
Campo de' Fiori Magazine, Italy

"Raimundo Rodulfo is one of the well-guarded insider tips in the Prog scene."
"His highly melodic playing, mostly on the acoustic guitar, but sometimes just changing to the electric version, is virtuosic, very fluently and by no means created limited to showmanship. Furthermore, mood and tempo changes make for a significant degree of variety and playful vitality."
Progressive Newsletter, Germany

"Fortunately there are still artists that gets you excited when you introduce their compositions in the CD player. And that is the case of this Venezuelan guitarist that would deserve a greater awareness from a public that now seems to have lost the desire to seek what is worthy among the tides of groups that this world continue to propose."
"Raimundo Rodulfo is one of the most interesting characters that the world of progressive rock has given birth recently. Author of a great job such as "Mare et Terra", which shows everything that is good in both his guitar and compositional technique, Raimundo is one of those musicians that should be known outside the small niche of fans that listens to innovations in the progressive field."
Arlequins, Italy
"This guy is an incredible talent and I would highly recommend to any fans of Spanish prog or symphonic prog in general."
"Incredible playing... Great instrumental prowess with a wonderful band!"
"A great talent... God bless you Raimundo."
"Breathtaking."
Progressive Ears, USA

"I love the blend of classical music with violin, cello, guitar and orchestral symphonic rock with mellotron, church-organ, MiniMoog and powerful electric guitar embellished with pleasant Spanish vocals of multi-instrumentalist Raimundo Rodulfo from Venezuela."
"Here's the Latin American Steve Howe... outstanding guitar play."
"Raimundo himself is a master on the acoustic and electric guitar, some people already called him the "Latin Steve Howe". For a Western European the music of Raimundo Rodulfo seemed to be very complex, but on the other hand you know that he is doing something really special."
Background Magazine, Holland
"The virtuosity with which Raimundo Rodulfo plays his instruments, the melodic and technical diversity of speed, the ultra-fast playing style, and quite funny presence are THE big proportion of Rodulfo's music"
"Virtuoso guitar playing, acoustic folk and typical electric rock, technically excellent"
"It bewitches the amazing concise and fast guitar playing that flits a technically stunning band"
"Acoustic and electric guitar, keyboards, violin and flute draw a romantic and nevertheless strong progressive outline, which processes influences from the classical period, Venezuelan folklore and jazz. Just in the extended instrumental work, is recognized the parallel to the best time of Premiata Forneria Marconi... Impressive progressive rock. Since Raimundo understands much about filigree music architecture, he will bring the PFM community to ecstasy."
Ragazzi, Germany
"One of the premiere guitarists to emerge from Venezuela"
"Raimundo's music plenty of thrilling guitar passages that show his coming from the academic world, yet an enchanting array of folk, rock, jazz and ethnic elements."
"He has a unique distinctive voice."
The Beating Planet, Venezuela

"Raimundo is a very good guitar player"
DPRP, Holland

"Playing, particularly the guitar, is impressive throughout, with a clear nod in Fripp's general direction."
The Giant Progweed, USA
"Guitarist from Miami with a group with flute and other instruments with a sound like Hackett/Genesis and Yes, with some vocals and Latin colors combined in a dynamic and dramatic development."
World Disque, Japan
"This exceptional Venezuelan guitarist, with just two published works, has achieved to attract the expectation of the progressive world because of his professionalism and imagination."
Descubre La Caja de Pandora Magazine, Spain

"Raimundo is a very talented and excellent guitar player"
"Raimundo Rodulfo from Venezuela is another gem worth listening to, Howe-PF alike, moody and well structured."
ProgArchives, USA
"Virtuoso Venezuelan guitarist with a great classical music school devoted to Symphonic Rock. Joined by many guest musicians his style reminds us in some aspects to Steve Hackett."
Viajero Inmovil, Argentina

"Excellent guitarist with influences from diverse genres"
Noticiero Digital, Venezuela

"The style developed by our man and his many guests can as well be brought closer to the electric flamenco as of Mike OLDFIELD even CAMEL. The six-strings take the leading part of course, in a style at the same time melodic and dishevelled. The jazz-rock or classic influences are perfectly assimilated, within an exotic and coloured musical vortex."
Musea Records, France

"I love his blend of classical (violin, cello, guitar) and bombastic symphonic rock (Mellotron, church-organ, Minimoog and powerful electric guitar), embellished with pleasant Spanish vocals."
DVDivas, USA / ProgWalhalla, Holland
"Thrilling guitar work"
Yahoo Auctions, Japan
"Raimundo Rodulfo is a great Venezuelan guitarist and aside a good composer."
"Raimundo Rodulfo is a true artisan as musician and composer."
"If one group has impacted the public of BajaProg, this is the Raimundo Rodulfo's one. The way he plays his acoustic guitar began to make us try to count his fingers therefore with five in each hand seemed impossible to do. It was impressive, the Chamber Music conjunction with Rock derived in a full concert of virtuosity not only his but of his companions. Finally, very good."
"I have always thought over and over again in my head what could an academic guitarist do, that is to say, a classical guitarist of those that can play Bach, Joaquin Rodrigo or Antonio Lauro, that learned to play well the electric guitar, that of course has a different tecnique, but that is an instrument that could nourish itself magnificently of the dexterity that develop with the fingers these executors of very complex harmonies, used to fight with the more difficult acoustic guitar. Therefore well, Raimundo belongs to this caste of guitarists. He can pass naturally from the acoustic to the electric guitar and in both his technique is irreproachable."
Spanish Progressive Rock Page / La Caja de Música, Spain

"Rodulfo avoids taking constantly centre stage as it could be expected from such a skilled artist recording under his own name. The guitars sometimes allow vague hints of the traditional South American style, but all of them skilfully hidden amongst traditional prog passages and rock riffs."
Colossus Blog, Finland/Italy

"It's clear this group has such a fine tension."
Psyche Van Het Folk, Belgium
"Rodulfo is one of those musicians that use very diverse elements for a musical development that transcends the barriers of styles. Rodulfo is progressive without being endeavored to be it, without to enclose himself in the artificial limitations that some musicians impose to themselves. I don't find any purpose in to resemble anybody and on the other hand I see a personal development, so much in his roles on the acoustic guitar and on the electric one. As a composer he takes charge of to make rock, baroque music, Venezuelan folk tradition and a jazzy ingredient visibly present in his work. The incorporation of flute, harp and violin besides the traditional rock instruments, is enricher of his work. I have got pleasantly impressed by this music."
Progresiva70s, Argentina
"All I can say is WOW! I could not have asked for a better band to renew my faith in music... This was a band full of energy and passion. A band that without pretentiousness plowed the fertile ground of art and rock. Raimundo, while very much a soloist, integrated well all the various aspects and feel of such a large band... Highly recommended."
Prog4You, USA
"Raimundo is an absolutely amazing guitarist."
"Amazing musician."
Melo's ProgCast, UK
"An amazing guitar player"
"One of the best acts of the whole festival (BajaProg). A nice surprice."
e-Prog, USA
"Very high level multi-instrumentist. Musician since very young age, he has a great influence from Steve Hackett (specially on the classic guitar) and some Fripp-like touches."
"This multi-instrumentalist artist is able to create the most beautiful passages in a style that ranges from world music to sophisticated prog-rock. Raimundo has created a very personal sound, even reaching and penetrating the music of a contemporary cut. Great compositional level, a very high technical level, with excellent sound quality."
Sinfomusic, Spain
"In the stage could be appreciated 8 members that gave the best of theirselves. The enrapt audience, by the action of the band, did not finish to admire to each one of the members and especially to the leader, who handled electric guitars as well as acoustic, causing that it seemed as they were one more extremity of his body."
Newspaper La Voz de la Frontera, Mexico
"One of the best guitarists of the country in his style, lighting up a gamut of arpegios and scales played with great delicacy and velocity al the same time, handling to the perfection the jazz fusion combination in the John McLaughlin style with symphonic rock in Yes style, as well as Venezuelan and Italian music influences. But not only Raimundo was impeccable, all the band also showed a great level."
EscenaRock, Venezuela
"Raimundo Rodulfo, pretty cool, wild keyboard... Nice songs, atmospheric."
Nik Turner, UK
"One can't be able to say more than the words with which the band was presented: 'A secret very well kept'. The quality of this progressive rock group with tendencies to jazz fusion and folk hints truly made feel itself."
Paradigma Magazine (UCAB), Venezuela
"Composer and guitar monster."
Little Atlas - USA
"A guitarist that will give a lot to talk about"
ACIC / MusicVen, Venezuela

"Great symphonic rock guitarist from Venezuela who wowed the crowd at BajaProg a few years ago"
Aeon Music, USA
"Rodulfo's technique impressed us, with an impressive velocity that for moments recalls to that of the famous John McLaughlin. Likewise, the handle of the classical guitar, makes evident the academic formation of this young artist. It was all a pleasing discovery to know that projects of this type are being done in Venezuela."
Terra.com, Venezuela

"Opening the festivities was the incomparable composer and musician Mr. Raimundo Rodulfo who stunned the crowd into complete awe with talent that could only come from the heavens treated with nurturing care by it's holder. Mr. Rodulfo's work requires listening, not description and I wholeheartedly insist that you peruse his website for an excursion through greatness."
"When was the last time you were left speechless from simply listening to music? Have you ever been to a concert and become so overwhelmed with emotion that you couldn't move? I urge everyone to have a go through this amazing gentleman's website and listen - truly listen to the music, because it's much more than played notes, chords and tones. I was privileged to see Mr. Rodulfo in concert last night and was awed by an overwhelming sense of a joyous artist at work, bringing his soul to the forefront on stage."
"An incredible ride through Melody and Virtuosity... Great Stuff... Incredible and Fascinating work."
"Great venezuelan musician... A clear influence from Steve Howe in some moments... Very pleasant listening! The band that plays with him is really good!"
Melo's ProgBazaar - USA
"Raimundo Rodulfo is a guitarist and composer, two qualities that allow him to explore and to create with versatility his musical notes."
Newspaper El Impulso, Venezuela

"Strong folk elements, musical scores with classical musical structures, experimentations with a contemporary rock as base, jazz colors, and above all, a great sensibility in each one of its parts. Progressive Rock of classical symphony orchestra tendency in a great spectrum of performing."
Manticornio, Mexico
"The guitarist and composer Raimundo Rodulfo, accompanied by his guitar performed several themes in which he did boasting of his intimate relation with the sounds of this special instrument."
Newspaper El Informador, Venezuela
"I have been amazed after years by the two official works (2 others live bootleg releases exist available to who possesses the two officials) of this Venezuelan musician. Frankly they have kept me truly amazed for the great quality of his work."
"A magnific guitarist... In The Dreams Concerto CD, besides the paintings (of the brother?) you can find also the detail of the formulas and the mathematical models that inspire his compositions. And there is a South American folk touch that is never out of order. Bravo!!! The two downloadable concert releases from his web site are optimal..."
"The work of the guitar is spectacular"
"He looks like taken from the soap-operas but, but even if said from a layman of the instrument, he is a great guitarist."
Arlequins Progressive Rock Forum, Italy
"Venezuela's top progressive musician."
Shroom Productions, USA

"Raimundo Rodulfo represents part of the new generation inside the rock scene in Venezuela, framed inside the progressive classical tendencies. His work is recent, but he has already developed a style that allows to put him among the great representatives of Progressive Rock in Venezuela."
"Raimundo Rodulfo is outlined as one of the maximums of progressive music in Venezuela, completing an excellent trilogy next to Vytas Brenner and Témpano."
Rock Hecho en Venezuela, Venezuela
"Rodulfo's compositions are very bright and flowery."
Progression Magazine, USA
"It's hard to find music like this. Much appreciated."
Youtube comments from the audience
"You have a great voice!"
"the way you play guitar is just so amazing"
"Raimundo has a stars voice"
"Beautiful guitars a la Jason Becker. Guitars are strong. The recording is well done.
"The person playing the guitar knows how to get the guitar to do exactly what they wanted, and they kept it unique and interesting. I liked that the guitar was much different than anything else I've ever heard."
"great job on what your doing, i love you just keep producing music and ill buy it."
"The artist has a great voice"
"I would like to hear more of this artist 's work"
"i like the voice. Raimundo really has a beautiful tone"
"I love the classical feel. Guitar solo is descent. Reminds me of the band Kansas. The Drummer is capable and the meter is solid. Overall you can tell these guys are excellent musicians."
"very unique voice. distinct and recognizable. it reminds me of Simon and Garfunkle. I truly think the guitar is so beautiful"
"You really have incredible soul and style... You have wonderful emotion and groove that is so impressive in my point of view. You have a wonderful creativity and style..."
"The guitar playing is really clear and well skilled."
"I can tell that the guitar playing is very talented. Raimundo has a good sounding voice."
"The band does an incredible job in displaying their talents"
"Raimundo has a unique sound to his voice"
"I really love this mix of ethnic sound and classic rock."
"You have wonderful styles in the way that you sing. Your music is very bright and focused structure wise."
"You really have great class and style"
Reverbnation comments from the audience
"real good outdoor concert type music. Brings images of relaxing in the open fields and the 60's mood thanks"
"Love your Spirit... "
"super like!"
"love your cover! beautiful music, thank you"
"Very good!"
"keep it up, sounding smooth "
Digital Radio Stations comments from the audience

"A complete musician and guitarist. He made a conceptual work as good as any other work from around the world. One of the best musicians nowadays, able to amuse anybody, able to concentrate beauty, ambient, good music and a great story in the same show."
"An excellent musician without fear to experiment his perfectionism as guitarist with the classic elements of blues, jazz, r'n'r, fusion, folk, flamenco, etc., and a special touch of the most academic side of Venezuelan music. Raimundo is a highly valuable jewel of Rock, and Progressive Rock critics worldwide consider him as the Latin American Steve Howe."
Transatlantic, Venezuela
"Your music is excellent and I keep it together with my classic progressive symphonic records. You are at the same level of any of the great masters of the genre."
"Raimundo, your music has the best quality and it is the finest I have ever listened to! This is one of the concerts I enjoyed the most at BajaProg. How exciting is to watch the video. I wish you come back with your group to play at another BajaProg! As of today I keep enjoying your music."
"Excellent!!! I've really enjoyed and I am very impressed about your music & your site!"
"After only one listen I can tell you I'm really glad I ordered your CDs! Keep up the good work"
"I am a great fan of your amazing guitar playing! I was totally blown away when I for the first time heard your guitar work!"
"I can't stop listening to this amazing piece of music."
"Keep up your good work. Is an honor for me to have a collegue whose works are so interesting, expressive and varguardist"
"Highly excellent work!"
"Great site.. excellent music. Many thanks Raimundo! Please keep up the great work...looking forward to your next CD!"
"Very interesting south american/world music with spanish vocals and an orchestra"
"Your musical concept is very well accomplished"
"Congratulations for such spectacular albums, I am proud of a Venezuelan have such hugh talent"
"As an older progfan from the Seventies it´s good to see/hear that there is so much great music being made all over the world"
"Everybody as me like your music. We are all enchanted with your music"
"Excellent site... Excellent performer"
"I love your music... You have impressed me"
"I am very impressed! Really! I cannot even imagine you play such a beautiful mix of latin-sound and progressive! I'm your fan now! You're a real great musician... Thank you very much for your special music, Raimundo"
"Congratulations for the excellent music you are composing. I didn't know that such a music exists in South America"
"Few musicians have the gift to express their real feelings in music. Keep on that way"
"Excellent person... Excellen musican...."
"I am very pleased that young people like you are doing this kind of music, with so much instrumentation and creativity"
"Congratulations for such a good concept"
"Pride of Venezuela"
"Excellent work combining prog, jazz, classic, and Venezuelan folk"
"Excellent ProgRock with fine guitar leads"
"I want to express the satisfaction I feel when I listen to a work like yours with this special combination of creativity, performing and good taste that hardly is accomplished by symphonic bands."
"This buddy has nothing to envy to Pat Metheny, or any of those. Great Project!"
"He and his musician are pretty good."
"I am a great admirer of your work. Thanks for making so good music and being an inspiration."
"Interesting and unusual music!"
"Since the moment in which you began to play with your virtuosity and all your band's one, simply I remained with my mouth open and hungry for more."
"I didn't expect so much professionalism by a national band."
"Raimundo Rodulfo and his band was a marvelous experience, being able to enjoy a lot how some Venezuelans can transmit what the great musical artists have done during the history of music, that passion, the rhythm, the admiration by virtuosity and the composition. I remain short with these words to express the quality of the work of these gentlemen."
"We are in the presence of one of the most complete guitarists and composers of this side of the Western Indias."
"The last theme that played R R. was EXTRAORDINARY. Today I think about it with cold head and setting apart the emotion that produces to me to know that this guy is Venezuelan, I am convinced that he is excellent..."
"I remained convinced and impressed of the quality of the band. Very recommendable without remaining any doubt about that. Extreme quality in execution and composition."
"5 stars to Raimundo Rodulfo"
"I felt as I'd listened to a native Steve Howe"
"An excellent musician, his music, progressive with jazz fusion sounds seemed excellent to me. Excellent music made in our country and with a quality at the same level of any internationally renown band."
Comments from the Public


---
---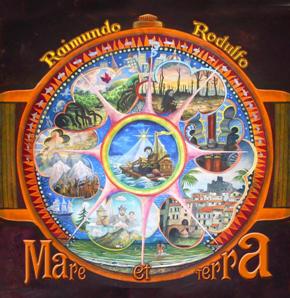 "Strong candidate for one of the best symphonic progressive rock recordings ever. Seriously!"
"Imagine the Flower Kings, Yes, and Santana collaborating to create the ultimate symphonic rock epic."
"In the wonderful world of independent and small label progressive music recordings, concept works are in constant bloom. To my ears, several are every bit as successful as Yes's 'Tales From Topographic Oceans' and Genesis's 'The Lamb Lies Down On Broadway'. Among recordings experienced recently, I would include Big Big Train's remake of 'English Boy Wonders' and Raimundo Rodulfo's flamenco-flavored 'Mare et Terra'."
"For now, I hear a Raimundo Rodulfo epic beckoning for an umpteenth listen."
Progression Magazine, USA
Mare et Terra Received a Perfect Rating of 16/16 at the 57th Issue of Progression Magazine

"A masterpiece"
"Orchestral music with male and female vocalists, classical instruments such as violins, cellos, flutes and clarinets, centering on his guitar that shows from sweet phrases to superior excellence playing."
"A fantastic artistic impression that does not cease to overwhelm you with its multi-colored diversity."
Gardenshed, Japan

"An imposing work"
"The artist was able to push his art to great heights of control and beauty, leading to the quintessence of the meeting of electricity and acoustic orchestrations (flute, violin, clarinet, cello, voice...)."
"This suite (Náufrago) is the symbol of a know-how and a typically South American musical fluidity."
"A mastery in song and beautiful Symphonic acceleration"
"Mare et Terra leaves paths beaten because of its variety that allows us to appreciate all musical universes at the same time, including Flamenco, South American, Symphonic Rock, Jazz Rock, Prog, Classical Prog, and sometimes even rock. All these universes prove the width of the pallet of compositions of a guitarist who sees far, and offers us an opus with a great quality in which 'variety' remains the key word."
Harmonie Magazine, France

"Mare et Terra is a gem"
"What marks this out as outstanding music is the high standard of musicianship and the joy in the music making, together with melodic writing of the highest calibre and a similar high standard for the rhythmic element. The arrangements are rich and diverse: I cannot recall hearing so many different instruments/sounds – both traditional and modern - on one album..."
"Astonishingly, the fusions do not jar; they work together: there are few composers able to bring this off successfully."
"It is music that you can both concentrate on and relax to, depending on your mood and sounds far better than I can express it in words. If you enjoy this type of eclectic style-mix from first-rate musicians then you may well love this."
Sea of Tranquility, USA

"It is not everyone who begins a work with a 36 minutes suite ('Náufrago') of which the first six sound in substance with the virtuoso guitar legacy of the Flamenco world worthy of the best Paco De Lucia. 'Náufrago' is a suite that will be surely introduced among the best things that the South American progressive rock has produced in these last times (and not only)."
"'Mare et Terra' produces a mature work, beautiful, with memorable passages..."
"Beyond being one among the more beautiful discs that 2009 gave us, this work, logically for the undersigned, could easily be put amongst the examples of how the progressive rock in its more canonical form has still something to say even when all around you tells you the opposite."
"Author of a great work such as "Mare et Terra", which shows everything that is good in both his guitar and compositional technique, Raimundo is one of those musicians that should be known outside the small niche of fans that listens to innovations in the progressive field."
"RAIMUNDO Rodulfo - 'Mare et Terra' proves that you can do symphonic progressive rock and still have something to say without being necessarily limited to the covers."
"I consider the suite 'Náufrago' the best thing coming out recently from South America where the Camelian and Olfieldian atmospheres join those of the Iberian 'Triana'"
Arlequins, Italy
Mare et Terra was featured in Arlequins' "Best of 2009" list

"A sumptuous slice of old-school, proudly Latin-flavoured progressive rock, "Mare Et Terra" will surely delight lovers of vintage symphonic prog, as well as those who appreciate ethnic influences in their music. Definitely one of the most accomplished albums of 2009, even if a tad overlong and not likely to appeal to fans of minimalism."
"Raimundo Rodulfo is one of those musicians who proudly sports his origins in his musical output. 'Mare Et Terra' is a prog album as only a South American musician could have produced: extremely ambitious, both in concept and length, but never convoluted or overblown, and drenched in melody. Moreover, unlike so many albums released in recent years, it is a disc brimming with the simple joy of making music."
"The penchant for authentically symphonic, almost orchestral textures is there, as witnessed by the impressive array of guest musicians supplementing Rodulfo's equally impressive skills." "A real tour de force, and a successful one – almost against all odds"
"On the whole, 'Mare Et Terra' is a very solid, finely-crafted album"
Progressor, Uzbekistan

"A perfect combination of symphonic prog with a distinctive South American flavor with plenty of jazz passages and scattered folksy intrusions. It is experimental and exotic while keeping a good ear-friendliness"
"There seems to be no boundaries to hold the creativity that the artist tries to implement, and so the album flows freely, wondering through conscientious styles while mixing them in a sonic shaker"
"Overall this is a worthy album. It is very well played and it is original, which is something that is rarely found these days. And Mare et Terre is destined to finally give this artist the recognition that he deserves."
ProgGnosis / SilverDB, USA

"If you are up to a varied, very tastefully arranged guitar driven album with a nice 'vintage keyboard flavor', this one is yours!"
"Listening to this new (third solo) album entitled Mare Et Terra (2008), again I am impressed by his virtuosity on all guitars and again I notice strong hints of Steve Howe (and Yes)."
Progwalhalla, Holland

"The latest release in the career of a musician with great critical acclaim."
"Unbelievably complex work on the guitar and flutes abound."
"Can you really dance to prog…well you can to this!"
"I do love the epics and this guy knows how to build a song and fill it with the sounds of the ocean and every wonderful instrument from this Earth!"
"Very inspired work! How do you top this!"
"The guitar work is wonderful throughout."
"Racing guitars that remind me of some of Jimmy Page's solo material"
"This is just completely different than anything I have heard. Yes there are elements of Santana and many other prog heroes, but never together in the same way. The Latin influence adds variety to a genre that desperately needs variety."
"I will be playing it often, now that I have discovered it... Very good and original. Music that experiments and always varies throughout."
ProgNaut, USA

"Raimundo Rodulfo is one of the well-guarded insider tips in the Prog scene."
"His highly melodic playing, mostly on the acoustic guitar, but sometimes just changing to the electric version, is virtuosic, very fluently and by no means created limited to showmanship. Furthermore, mood and tempo changes make for a significant degree of variety and playful vitality."
"Despite the very spacious structure of pieces you do not get bored, because in addition to folk music and symphonic works are also plenty of rocking and progressive moments in South American flair, that come along very loose and lively."
"'Mare et Terra' is an album full of vitality, with a lot of harmonic moments. Give therefore a chance to this pleasant artist from South America, and listen to representative audio clips on its website for a proper impression of this very attractive album."
Progressive Newsletter, Germany

"A really wonderful Spanish flavored symphonic CD with beautiful arrangements, killer guitar (Spanish and Electric), flute, strings, keys (piano, mellotron and Moog) and some lovely Spanish and English vocals"
"This guy is an incredible talent and I would highly recommend to any fans of Spanish prog or symphonic prog in general."
"The production quality is very good."
Progressive Ears, USA

"An album with many surprises"
"The conversations between the guitars and the acoustic instruments, flute, piano, violin, trumpet and saxophones, enhance the charm of this semi-exotic, semi-canonical prog rock, in the 'Colossus Project' sense of the word!"
Progressia, France

"This is a high level great masterpiece!"
"A group with flute and other instruments with a sound like Hackett/Genesis and Yes, with some vocals combined with Latin colors in a dynamic and dramatic development"
World Disque, Japan

"An imposing 77-minute rock symphony of great sophistication."
"Think of this as Rodulfo's Tales from Topographic Oceans, but distinguished by the inclusion of Spanish/Latin American, classical, and jazz-rock colors."
"Impressive."
Kinesis, USA

"For the lovers of old and new symphonic prog I allow myself to recommend the last album, that according to me is very beautiful, of this Venezuelan guitarist. Surely one of the most beautiful of the entire South American progressive rock scene (and not only current)."
Video HiFi. Italy

"More ambitious than his previous efforts."
The Beating Planet, Venezuela

"A very beautiful varied music... I hear it again and again! I hope you'll enjoy it. I have not much doubt about that..."
AmarokProg Forum, France

"We become fascinated with the elegance of its sounds territory, in a way similar to PFM"
"Exquisite classical Symphony"
Tosei Midorikawa, Japan

"An excellent feature of progressive rock laden with psychotropic references, awash in lush Latin landscapes, orchestras, folk, criollismos, Caribbean music, blues ... ahh! Let me see if I can paint a better picture. Add up the following: Simon Diaz, Frank Zappa, Yes (Tales from Topographic Oceans in particular), Tom Jobim (specifically, the balance between his albums Tide and Wave), the unheralded coolness of Colombia's psych-folk outfit Génesis, Dizzy Gillespie, Procol Harum, and Blues for Salvador-era Carlos Santana."
"Rodulfo has surrounded himself with a very energetic and adept cast of musicians that understand his vision with unparalleled clarity, and there's so much going on in this album, it's almost exhausting. Time for a drink. But I'd love to see this guy jam out live."
Miami New Times, USA

"Comparable to Steve Hackett, Steve Howe, Anthony Phillips - with South American attitude"
"Certainly highly recommended. It's worth it!"
Babyblaue, Germany

"What a great album has released Rodulfo!"
"Among the most beautiful symphonic releases of recent times."
"A great album!!!"
"With respect to his previous works, the symphonic component is increased."
"The work of the guitar is spectacular, but besides that, the technical aspect (that is very high) of the entire work is actually really remarkable."
"From what one can listen to on his myspace, the album seems marvellous..."
Arlequins Forum, Italy

"An extremely ambitious project with lots of instruments, a progressive & neo-progressive/neo-symphonic piece stuffed with well arranged to semi-improvised band arrangements"
PsycheMusic.org - Belgium

"The stylistic and emotional variety of the composition is enormous and certainly will not be fully understood in one only listening."
"An illustrious masterpiece whose best features are first the acoustic, highly virtuosic guitar parts, that frequently returns in many ravishing solos and complex symphonic band arrangements"
"Virtuoso guitar playing, acoustic folk and typical electric rock, technically excellent"
"This kind of wacky slanted blissful harmony can probably come only from South American climes"
"It bwitches the amazing concise and fast guitar playing that flits a technically stunning band"
"Mad Album. Tons of melodic material, countless ideas, coherent, plausible, and in particular sonic aesthetic beauty of enormous speed. In all, heavenly playful, accurate, precise uneven-ness"
Ragazzi, Germany

"A marvellous expanse in the polyhedral musical universe of the Venezuelan/American guitarist"
"'Mare et Terra' is another marvellous work of Raimundo Rodulfo, of large appeal, with not hypertrophic but nither simplistic arrangements. The little 'Rodulfo orchestra' has come to the center again"
MovimentiProg, Italy

"This excelsius Venezuelan guitarist and composer delivers an album with fascinating sonorities with the density he got us used to. Extended compositions that resemble dream-like episodes, with diverse textures and casual phrases loaded with emotivity that flirts with jazz and classical music."
"The phrases from Raimundo's virtuosic performance are an ideal vehicle that interconnects one idea with another."
La Dosis Magazine, Venezuela

"This is an wonderful masterpiece that is unique in its content, shows elegant classical sounds in all its extension, with Latin / Folk dark melodies with originality and good taste gracefully present at the end of each arrangement."
Euclid, Japan

"The work of the group is impressive."
"The guy has more than the talent: everything is under control to the extreme"
"This work should appeal to many, given the number of genres covered. Discover"
KOID9 Magazine, France

"The classical guitar, often performed solo at many breaks often have accents of Villa-Lobos, Rodrigo and even, suggesting the classical training of its author. But very quickly, breaks the electric guitar and the tone is progressive, so take notes of Mike Oldfield, Steve Hackett and Carlos Santana (ha! of course, always the Hispanic side...)"
"These compositions provide a fresh breeze from the south or southwest rather which is a pleasure to hear."
Prog-résiste Magazine, Belgium

"Raimundo Rodulfo is one of the great, (relatively) young guitar heroes in the Latin American progressive rock. He has a style that makes it tempting to compare him with the dimensions of Steve Howe and Steve Hackett, but at the same time his music has a very distinctive Latin American style."
"It is complex and requires some listenings through, but it is also exciting and intense in its mixture of acoustic and electric instruments, and traditional prog rock with southern music."
"North/South central theme: melodic jazz, reggae and Latin American traditional music meet the Americanized progressive rock, and the result are strikingly fresh and exhilarated"
"Raimundo Rodulfo lives in Miami now, but he still represents some of the best that South American prog has to offer."
Tarkus Magazine, Norway

"A very beautiful song. Some elements of Folk, with a great melody after all! And put the name of a solo guitarist, and amazing people involved!"
Tommy's Blog, Japan

"It really sucks you into your stereo set"
"Raimundo is a very good guitar player"
"This album can be enjoyed with full attention or just as background music while holding a cold beverage by the side of the pool. Although I think mainstream music lovers will find this album too difficult, it is prog after all."
DPRP, Holland

"Great new album!"
SynPhonic, USA

"An impeccable symphonic rock composition"
"Moody fusion of exotic colors, from pure symphonic, to light Latin colors where percussion participates, which let you listen without hesitation its 35-minute opening suite of this brilliant professional progrock work from South America."
"Recommended."
Kakehashi Records, Japan

"Even when this album is considerably technical, it is not excessive, and after listening to the expertise of its music constructions it exceeds with, it probably is deeply one of the best kept secrets of South America."
"This is a work with high level density."
"This is a luxurious album!"
"There is no way of getting tired of this album."
"Fans of all kind of symphonic rock and jazz rock will regret if they don't buy this album!"
"The sound quality is also good. In our high-quality audio system it sounds so good!"
Kakehashi Records Forum, Japan

"The artist has managed to push his art to great heights of beauty and control, leading to the quintessence meeting of electrical and acoustic orchestrations..."
"An impressive work"
"Not discovering this little symphonic jewel is a true crime of lese-majesty!"
Musea Records, France

"75 minutes of a fantastic symphonic and neo-classic rock, melodious and adventurous"
"This colourful and enthusiast music, constantly inspired and lively, is at the top of the symphonic nowadays production."
Artist Shop, USA

"A brilliant symphonic music, made of long and complex musical compositions, mixing progressive and latin influences."
Clear Spot, The Netherlands

"A style that takes both the touch of a Mike Oldfield and the romanticism of Camel, also incorporates jazz and rock with classical influences. Acoustic orchestrations (flute, violin, clarinet, cello, sax, vocal variety) and soaring electric coexist with the greatest happiness in 4 long pieces (36, 9, 11 and 20 minutes) instrumentals that make this Mare et Terra a real success!"
Cosmos Music, France
"'Mare' is undoubtedly the most successful. It includes all the warmth of the Latin South America... Here, the author never wanted to confine his music in the restricted field of only a guitarist wanting to spread his knowledge and technique. Acoustic and electric guitars, keyboards, wind instruments, vocals and percussion mix with art, the creation of a complex and ambitious, always balanced, well constructed and clear. Raimundo Rodulfo managed to create a Progressive flamboyant, never bastard typically South American. Work close to perfection!"
Music in Belgium, Belgium

"'Mare et Terra' is a masterpiece album of a beautiful melodic progressive and symphonic rock of RAIMUNDO RODULFO from South America (Venezuela)."
"Thrilling guitar work"
"It is absolutely recommended for all the fans of beautiful melodic progressive and symphonic rock"
Yahoo Auctions, Japan

"As good or better than the previous two CDs! Progressive symphonic!"
Rock Symphony, Brasil
"In addition to the sound of the Melotron, this album comes with a classical orchestra, some times a reggae rhythm, fast playing mediterranean guitar in the style of Paco de Lucia, all made with cohesiveness and diversity in this work which comes with a standard impression and nearly 80 minutes to be fully enjoyed."
"Epic beyond scales, with brass and strings ensembles. You will be amazed with the Flamenco and orchestral symphonic development of this masterpiece."
"Very talented people!"
Yahoo Forum, Japan

"Amazing guitar work (both electric and acoustic)"
"Everything a prog listener could possibly want!"
"I cannot recommend it highly enough"
MickPortnoy.com Forum, USA

"A large finished gorgeous Classical/Symphonic Rock masterpiece that makes the best use of the music background in which real Classic is mastered without reserve with 12 backing musician..."
"This is a gem where you can enjoy the beauty and originality of its own content"
"Excellent arrangements of flowing elegant classic guitar that gracefully sprinkles the melody."
DiskUnion, Japan
---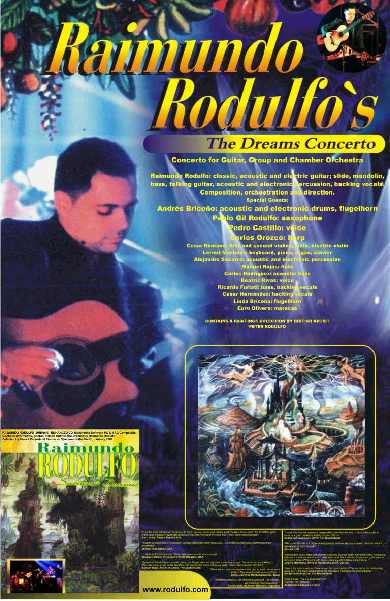 "If you are into classically-based progressive, this could be the album of the year!"
"New album from who is now Venezuela's top progressive musician. The music is grand in scale and very beautiful indeed, with loads of textures and moods."
Shroom Productions, USA

"If it was possible to combine the talents of some great musicians/composers such as Bach, Mozart, Ian Anderson, Steve Howe, Steve Hackett, Rick Wakeman (to name but a few) at the height of their creativity and produce a piece of music, then Venezuelan musician Raimundo Rodulfo's The Dreams Concerto would probably be the result."
"The Dreams Concerto must be at the top of the league. This must be the prog album of the year in its class especially as it is unique. In years to come, I've no doubt that the name Rodulfo will be up there with the other great composers and I mean great composers!"
Hairless Heart Herald, UK

"It's not everyday that you get to hear a recording that is just dripping with so much beauty that it almost brings tears to your eyes. This 'concerto' from musician Raimundo Rodulfo is a lush, gorgeous amalgam of progressive rock, South American classical motiffs, and folk, that succeeds on all fronts... This gets my highest rating possible."
Sea of Tranquility, USA
"The Dreams Concerto" is in Sea of Tranquility's Five Star Reviews selection.

"Few musicians there are today in the universe of progressive rock that are so ambitious and qualified like Raimundo Rodulfo. This Venezuelan guitarist and composer already had published an elaborate work with his debut work Dreams in the year 2000. And with this, his second studio album, he reached a notable degree of sophistication. The Dreams Concerto is surely one of the most intelligent works of the contemporary movement of progressive rock, taking to the limit the capacity of an artist. Wasn't that exactly the purpose of progressive rock?"
Mellotron Magazine, Argentina

"A chamber orchestra, vocals, percussionists, and your basic prog-rock band elements are featured in very colorful arrangements"
"A real showpiece full to the brim with drama and energy, thanks to a bit of flamenco juxtaposed with the more baroque classical directions, not to mention some very Steve Howe-ish speed guitar by the composer"
Progression Magazine, USA

"A magnificent fresco divided into three long movements"
Harmonie Magazine, France

"A beautiful blend between progressive rock and classical music, with Hackett influences and links to EKSEPTION and KING CRIMSON and a Latin American touch. Highly recommended for symphonic progressive lovers!"
"A complex album from Venezuela, mixturing classical music, jazz, South American folk and rock with rich instrumentation. A lot of musicians playing cohesively but, even when music is essentially melodic, maybe this album needs more than one listening to fully enjoy it, due his complexity. A sort of a King Crimson, Vivaldi and a jazz band cross. Very interesting!"
ProgArchives, USA

"What a great record this is! We hear on this disc influences from almost all the great musicians on the planet that live and had lived. The classic masters Bach, Bethoven, Vivaldi and Mozart. The progressive rock masters Steve Howe, Keith Emerson, Rick Wakeman, Robert Fripp and Ian Anderson. The jazz-rock masters Chic Corea, John McLaughlin, Al DiMeola and Allan Holdsworth. The pop masters George Harrison, Paul McCartney and John Lennon. And the master of all kind of styles, Frank Zappa. Every time you listen to it you will hear new things. I almost would call it a musical journey into a fantasy dream world. Well done!"
Background Magazine, The Netherlands

"It is absolutely stunning. It is amazing and beautiful, encompassing varying moods, styles and colours… Rodulfo is a fantastic guitarist (rather, multi-instrumentalist), surrounded by equally talented folks on a variety of instruments. The Dreams Concerto is a thoroughly stunning and epic work that is a pleasure to listen to. Varied enough that you will discover something new upon each listen, but not so varied as to be disjoined - everything flows seamlessly together with a measured ebb and flow. Seek this one out."
Progressive World, USA
"The Dreams Concerto" is in Progressive World's April's Five Star Reviews for April 2003.

"A versatile and virtuoso Venezuelan artist. This cd is truly a wide kettle of the main progressive schools that the history of music has given to us, enriched by an unique latin taste, a superior guitar playing technique and an impressive intellectual approach to music from a sure well-informed musician. An excellent album from the point of view of the exhibited technical rate... A monumental and intellectually very ambitious album for listen with the ears well connected to the brain !!"
"A monumental and very ambitious cd that I recommend to everyone's looking for complex music played with heart and brain."
Tales of Wonder, Italy

"The Dreams Concerto, in 3 movements and 6 sections, is a living musical work and in continuous expansion, whose philosophy situates in the extension of all the traditional models that have been assimilated in the creative music during the last 4 decades. Yes, creative, since the progressive rock envelope is excessively narrow to harbor the enormity of this disc that sails among the intimate and the sophisticated of jazz, folk, rock and classics and that has been planned with most greatest care and to balance different common sense tempos and states of mind utilizing an extensive rank of harmonies and tones. A must have."
Margen Magazine, Spain

"This is one of the best discs produced in Latin America the last years. It is a master work by Venezuelan musician Raimundo Rodulfo. It is a disc that shows the greatness which can be obtained from the fusion between various musical genres, from classical music to rock and jazz. I sincerely hope to barely be close to this musical legacy by Raimundo, maybe my words are short but I sincerely recommend you to listen to this work."
Música Progresiva, Costa Rica

"A really well good album coming out in 2002, with lot of Classical elements, traditional Folk, in a prog format that I highly recommand. Excellent work..."
"Believe me this song ('Sueños') is one of the best progressive songs I never heard. Absolutly Superb !"
Proglands, Canada

"This album is something really special. Rodulfo mixes classical music with rock in a way I have not yet heard before, all sounding perfectly natural... For people with a classical music background, combined with a love for prog rock, I believe this album is essential..."
Dutch Progressive Rock Pages, The Netherlands
"The Dreams Concerto" is in DPRP Recommended selection.

"Venezuelan Raimundo Rodulfo is a highly-skilled guitarist, whether playing acoustic, classical, electric, or bass guitar or even mandolin."
"Highly recommended."
Kinesis, USA

"A disc that becomes part with full authority of the category 'irrenounceable'"
"Rodulfo, true virtuoso of guitar (and also of bass, I add) simply without to comply in accommodating and self-pleasing elucubrations, possess the innate gift of to charm the listener. The European public, mainly the Italian one, must not to ignore this Artist!"
Escursioni Musicali, Italy / Arlequins, Italy

"For those who like classical music as well as progressive rock, this might be a concept worthy of attention."
Axiom of Choice, The Netherlands

"Simply put, one of the most gorgeous pieces of symphonic rock to come along in recent memory... Highly recommended to symphonic fans who like lots of guitar and baroque influences. One of my favorites so far this year!"
"This disc has class."
Exposé Magazine, USA

"A really very beautiful CD that shines with much bright light between the productions that have come from South America in the last years. Recommended with the highest rating."
"A really very attractive disk in which the classic music is placed side by side or almost perfectly melted with progressive rock. The more classic parts, bytheway the best of the disk, bring again to mind sometimes Bach, sometimes Vivaldi, and some compositions for classic guitar and orchestra (the works of Rodrigo, for example), and are characterized for the absolute absence of drums or electric instruments and, on the contrary, by sumptuous acoustic arrangiamenti with strings, flute and classic guitar to weave continually the beautifulst melodies. In other moments, instead, with the arrival of drums and with Rodulfo who takes the electric guitar, we have a perfect merger between classic and modern music… Demand careful and participating listening to be deeply appreciated."
Eventyr Magazine, Italy

"'The Dreams Concerto' is an ambitious prime album from a very talented artist."
Colossus Magazine, Finland

"Symphonic progressive. Full of tremendous and beautiful parts. Especially the acoustic guitar parts are superb."
"Raimundo evolved a lot since his first album, and developed various of his ideas as if a dream came true. The compositions are much richer, arranged and performed... For various reasons very recommended. Both acoustic guitars as electric guitar playing / arrangements are splendid."
Psyche Van Het Folk, Belgium

"The use of several instruments besides the traditional rock instruments makes the sound very rich and much more interesting. It's a very good album."
Tombstone, Greece

"Raimundo Rodulfo reveals with 'The Dreams Concerto' his quality as composer, arrangeur and guitarist... An impressive work, which I can only recommend."
Ragazzi, Germany / Progressive Newsletter, Germany

"Sometimes I ask myself, where the people get again and again new ideas for music. In the case of RAIMUNDO RODULFO, Venezuela lodges a guitarist like the best. This versatility on his 'The Dreams Concerto' is already impressive."
Progressive Pages, Germany

"Beautiful stuff. Killer guitar plus sax, flute, harp, violin, plus lots more."
Of Sound Mind, USA

"A real classical-progressive work with strong Spanish connotations... Raimundo is an excellent guitarist, whether of classic or electric guitar. The music is crystal clear and pours as a waterfall into your wide opened ears. A very beautiful work. Doubtless."
SomethingProg, France

"The Dreams Concerto is a recommendable album in all its extension."
Newspaper Letras, Venezuela / noticierodigital.com, Venezuela

"' The Dreams Concerto' is a complex, but direct and charming album, rich in textures that evoke different sensations. Highly recommended for people of different tastes, above all for the lovers of musical fusion and quite elaborate and complete works."
Rock Total Magazine, Venezuela

"Raimundo Rodulfo announces the color and holds his word. After his first published album two years ago (Dreams - Sueños), here is what one could call his grand work... a facility of tempting listening and a cordial beauty."
Prog-Résiste Magazine, Belgium

"The music has a lot of variation and some great moments... The electric guitar solo in the end (1st Mov.) is great and is played with a lot of passion. It (3rd Mov.) includes fantastic work on classical guitar and it reminds me somehow of the classical album Anthony Phillips made together with Enrique Berro Gracia. But at the same time the high speed guitar playing reminds me of one of my guitar heroes; Al diMeola. There are beautiful parts with acoustic instruments like classical guitar, violins, flutes and harp. Also you can find some beautiful melodic guitar solos."
ProgVisions, Spain / The Netherlands

"An extremely ambitious production of an outstanding artist. One rarely gets such one perfectly thought out CD release, which musical contents and conceptual contents are in such a manner perfectly co-ordinated... It can reveal finely symphonic elegance in its fullest beauty."
Babyblaue, Germany

"Guitarist/Composer Raimundo Rodulfo brings symphonic/classic prog back into the new millennium with nods to the giants of the 70's while adding a latin flavor all it's own. Beautiful instrumentation can be found throughout especially in the guitar playing which goes from classical to flamenco to rock within a few moments."
ProgNaut, USA

"Many people with an interest in classical music, especially of the Baroque style, will get a lot out of this album. It is certainly well conceived and presented."
Classic Rock Society, UK

"This is the second by this excellent musician from Venezuela. Second achievement. The music is more symphonic (divided in 3 movements), featuring a wide range of instruments: sax, violin, flute, mandolin, harpsichord ... And of course great guitars (both acoustic and electric). On a whole, this production by the Latino Mike Oldfield should please to all adventurous ears."
Acid Dragon Magazine, France

"'The Dreams Concerto' (2001) is a magnificent fresco broken up into three long movements, for a total of almost 80 minutes. A multitude of performers, among whom one finds for example the singer Pedro CASTILLO, contribute to the richness of work."
Musea Records, France

"A musician that doesn't have anything to envy to bands that have found a good contract record. The technical style of Rodulfo betrays a visceral passion for neo-classicism, but the entire work is influenced by groups as Jethro Tull, Mike Oldfield and Genesis. A product to listen second to second, and with an amazing 36 pages booklet indeed beautiful. A cd simply unique."
MilleRecords, Italy / Tempi Duri, Italy

"The previous production is exceeded as much as possible. Full heart work."
Gardenshed, Japan

"A symphonic album of high level"
August Carol, Japan

"Contents have become well enough serious, featuring the classic & electric guitar which Raimundo Rodulfo plays as soloist, at the same time the classic guitar with the chamber orchestra, and the electric band which is playing in the back among different parts of the concerto. It makes enormously good..."
Gates of Dawn, Japan

"Rather than calling it the solo album of a guitarist, it sounds with the power of a real symphonic rock band"
"The music has a high degree of completion which makes you think of ESTRUCTURA from the same country"
Yahoo Auctions Japan

"Self-produced masterpiece, perhaps one of the best of 2002."
"A contemporary artist between the best and most brilliant ones in circulation."
"It's incredible how Rodulfo, in the middle of an ocean of style influences between which stand out primarily Steve Hackett and Steve Howe, Jethro Tull, Yes and a bite of jazzy tastes, succeeds to unite with a personal revisiting of the classic symphonies and baroque in latin key so much different instrumental sounds without being overwhelming and submerging the listeners without making them lose interest."
Movimenti Prog, Italy

"It alternates between rock parts, orchestra parts, and both in unision, and Rodulfo plays both electric and acoustic guitar with high technical skill. The opening is promising with the 24 minute long "Sueños", a symphonic cascade with exquisit interplay between Rodulfo¹s guitars, the band, orchestra and vocalists. It continues with great folk-prog parts lending an ear to both Tull and Focus."
Tarkus Magazine, Norway

"Excellent second CD of this Venezuelan project which played recently in BajaProg 2002. Digipack edition with book."
Rock Symphony, Brazil

"The Dreams Concerto is a work with a classical music concerto structure, and a chamber orchestra including progressive rock instruments, electric guitar, synthetizers, drums, bass, etc. It includes a female singer with a soprano style, although the vocals don't predominate in this work. I strongly recommend it. If you see it, don't hesitate to buy it."
"This second album of Raimundo is very good... This Dreams Concerto is an album even more academic than the first one, called Dreams, which obviously is the precursor of the sound of this excellent guitarist."
República Progresiva, Mexico

"They are still there: musicians with an unrestrained ambition and an identity between classical music and progressive rock. Venezuelan Raimundo Rodulfo is one of this kind, and after reading the thick booklet featured at this cd, you realize that the expectations become on high musical challenges. Expectations which are most fulfilled in the first part of "The Dreams Concerto", where are Sueños (Dreams) and the short Esperanza. Sueños is a 24-minutes lasting endless flow of superb musical ideas, where we are swung back and forth between traditional parts in which both the classic acoustic guitar and high-tone flute conduct, as well as parts in which Rodulfo's Hackettian/Oldfieldesque delay-crying electric guitar playing is accompanied and more than supported by a vast rock presence."
Progwereld, The Netherlands

"The Dreams Concerto is a fairly solid recent entry into the realm of South American progressive rock... The playing, particularly the guitar, is impressive throughout, with a clear nod in Fripp's general direction. Fans of modern symphonic rock or contemporary sounding South American prog who don't mind a rather bombastic, self-conscious classical angle will want to sit up and take notice of this recording..."
The Giant Progweed, USA

"Great stuff! Highly recommended to fans of vintage Steve Hackett and Italian progressive rock! Probably the best progressive rock CD to ever come out of Venezuela!"
"One of my all-time favourites."
"I bought your The Dreams Concerto some months ago and I really love it - it´s really a great album."
"Great booklet, with Peter's very beautiful paintings! But your CD has suprised me not only on the visual side. Till now I have listened to it only once, so my opinion can obviously be incomplete and imperfect; nevertheless I dare say you that your music is WONDERFUL: romantic, symphonic, latin prog rock full of good ideas and rich in creative moods. I really believe that Italians could like a lot your compositions, so it's important that in my country, too, prog fans know your CDs."
"I have listened to your CD more times, and I confirm you my first impression: your music is really great, very technical but also very emotional."
"I'm your fan now! You're a real great musician and I love "The Dreams Concerto"! It was a revelation to me!"
"I do not recover yet from the astonishment of such work (The Dreams Concerto). Incredible. From the book of presentation, really fabulous in concept and content, to the musical criterion and musical capacity it is a work as not very often I listened in my life. Sincerely. I admire very much the people like you who have ambitious ideas, and not only have them but make them real. And how! I personally enjoy very much the combination of classic/rock with 'real' instruments, that so rarely are used the last times, because of money or lack of ambition."
"I liked it much, is very well done in all the aspects: performing, composition, recording, art... It is quite ambitious, and without spirit to establish any comparison, I listen to reminiscences of some bands that I like much, among them Yes (by the Howe side), Mahavishnu Orchestra and Il Rovescio Della Medaglia. The disc has a lot of personality… I am sure that internationally it will have more repercussion than here."
"What so good is your new disc!!! Today I listened to it for the first time and I was listening to it three more times. A very deep, serious and enjoyable work. It is the type of work that whenever you hear it allows you to find something new on it. It is really the more interesting CD that I have listened to this year. Congratulations."
"Very interesting South American/world music with Spanish vocals and an orchestra."
"The truth, the simple idea by which this album was developed (the equations and all of that – and I study engineering) seemed brilliant to me. It is unquestionably, one of best discs of the year, even when this year promises a lot (Wakeman, Arena, Rush, etc.). A friend bought your album and he fell in love with your music, inclusively, his wife (whom does not like anything that has an electrical guitar included) loved it."
Comments from the Public
---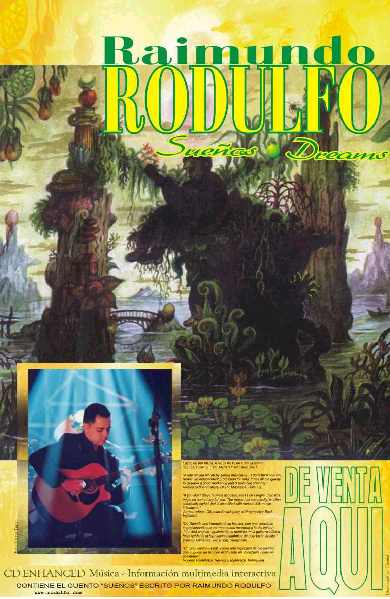 "From the lively 6/8 opener 'Laberinto' to the 21-minute, seven-part closing suite 'Códigos Universales' the CD offers some of the most exciting instrumental symphonic rock that I've heard in a long time... Very highly recommended."
Exposé Magazine, USA

"Highly recommended."
Kinesis, USA

"Another unknown heavy symphonic, concept album gem from Venezuela. This sounds very 70's, and has outstanding keyboards with flute... It is amazing where great stuff comes from sometimes!"
Shroom Productions, USA

"Here's the Latin American Steve Howe: the music on this CD is carried by his outstanding guitar play."
Background Magazine, The Netherlands

"There are musicians/composers that play like the Gods. The Venezuelan guitarist Raimundo Rodulfo is one of them and his first disc, Dreams, a marvelous rainbow of related tones that are accommodated in a ductile instrumental style and narrative that convinces since the first minute and doesn't decay in the long hour and seven compositions, included the suite Universal Codes in 7 parts and almost 22 minutes long."
Margen Magazine, Spain

"It is quite a gem if you are interested in calm, moody and semi-acoustic music. This must also be the reason that Musea Records has selected this album as their pick of the month January... It has all the quality to deserve a good marketing and distribution channel."
Dutch Progressive Rock Pages, The Netherlands

"A strongly pleasant instrumental solo album"
Harmonie Magazine, France

"If you liked Steve Howe's acoustic pieces on Fragile, then this might be something for you. The music has complexity, is often classically styled, but is also filled with various folk music influences."
Axiom of Choice, The Netherlands

"Here is a great little album that I came across recently which completely took me by surprise... Raimundo's music offers soft seductive acoustic Spanish guitar with some lovely symphonia. 'Dreams' is a delicate album which really does work like a dream with the flowing flute and soft drum and percussion. Raimundo's guitar work is the centre piece of this work with some amazing guitar fretting and phrasing."
Unger's Wonderful World of Progressive Rock, Canada

"A very good album, with very interesting guitars melodies and solos" "Raimundo is a very talented and excellent guitar player" "The songs are quite good and the music is very original, I recommend it to anybody"
"Raimundo Rodulfo from Venezuela is another gem worth listening to, Howe-PF alike, moody and well structured. Dreams is the album you should go for."
ProgArchives, USA

"If you want to listen to something different, interesting and made in Venezuela I recommend you a disc of Barquisimetan Raimundo Rodulfo, called 'Dreams'."
Pedro Castillo (Tempano), Venezuela

"Raimundo has fashioned a wonderful and varied CD of incredible playing... Great instrumental prowess with a wonderful band!"
Progressive Ears, USA

"Nice Italian style complex and dreamy prog from Venezuela."
Ultima Thule Records, UK

"Virtuoso Venezuelan guitarist with a great classical music school devoted to Symphonic Rock. Joined by many guest musicians his style reminds us in some aspects to Steve Hackett."
Viajero Inmovil, Argentina

"All the tracks are rather pleasant and not lacking of a certain originality, feature this last which finds the greatest expression in the fourth track, not randomly titled "Brainstorm", in which is gone with a certain effectiveness from fusion to reggae until arriving to jazz and blues, making seven minutes of the best progressive."
Eventyr Magazine, Italy

"A quality work that will surely please the Symphonic Progressive lovers."
Musical Box Magazine, Brazil

"Very good."
Progwalhalla, Holland

"Pupil: Finally, this is a must have, Sir? | Teacher: Yes, certainly!"
Acid Dragon Magazine, France

"This album can be recommended for the people who like jazz fusion and progressive music."
Colossus Magazine, Finland

"All in all this is a fantastic album. Very warm in both tone and style."
Progressive World, USA

"Symphonic progressive. Full of tremendous and beautiful parts. Especially the acoustic guitar parts are superb."
"A recommended CD if you like both symphonic and fusion guitar progressive music."
Psyche Van Het Folk, Belgium

"One disc intimate, personal and indoubtedly charming. One trip to a magical world, of great beauty."
Mellotron Magazine, Argentina

"The Venezuelan guitarist Raimundo RODULFO is the author of a pleasant strong instrumental album in solitary, entitled 'Suenos - Dreams'. The style developed by our man and his many guests can as well be brought closer to the electric flamenco as of Mike OLDFIELD even CAMEL. The six-strings take the leading part of course, in a style at the same time melodic and dishevelled. The jazz-rock or classic influences are perfectly assimilated, within an exotic and coloured musical vortex."
Musea Records, France
"Dreams" is in Musea's Selection of the Month for January 2001.

"Raimundo has his own vision, his own performing way and a frankly exquisite jazz sound. The compositions together form an all instrumental that one listens upper to down, from principle to end. It is that kind of discs that you enjoy, don't tire and always get you willing to listen to it again, full of those musical accents that charm us who enjoy the symphonic progressive and in which the guitar is given time to sing. Very recommendable."
La Corte Final, Mexico

"It traps us in a vortex of rhythms and sonorous experiences mixed with electronic and natural elements all they born in Raimundo's strings."
El Vigía de los Cielos, Chile

"Without any doubt a very interesting discovery, actually this disc forms part of the seleccion of the month of January of MUSEA record label. Raimundo Rodulfo is a great Venezuelan guitarist and aside a good composer. The coolness and the naturality of his compositions are two good attributions in this album."
"All the disc sounds very sincere, fresh, made with an enormous ilusion and this grants it a very special shine that obliges you to listen with care. All the notes, sometimes excessive, are very carefully since Raimundo Rodulfo is a true artisan as musician and composer."
Spanish Progressive Rock Page / La Caja de Música, Spain

"A great musical level, and all an explosion of creativity that foretell a major success. All the songs of the disc are excellent, there is no waste, each minute of recording was very well taken advantage of."
EscenaRock, Venezuela

"This weekend I´ve been listening twice to your Dreams album, and I must say it´s a very beautiful album."
"I recently came into the possession of 'Dreams' from a friend in France! I was totally blown away when I for the first time heard your guitar work! 'Brainstorm' is my favorite! I can listen to that scratched cd-record ten times a day, and it moves me in a different way every time."
"What a big piece of art is entering by my ear labyrinth!. I am delighted with your group's music here in my office while working with the databases labyrinths, files and statistics. What a better companion to this than this musical delight that, listening to it for the first time already reminds me the parts of the concert even when I had never listened to them. The truth is that the melodies as well as the complex lines of instruments are sticky and they remain recorded in the mind of who sits to listen to your music once; or maybe they are so memorable that they are burdened in the entrails."
" I want to congratulate you for the work of the album Dreams (What a good stuff!!!!!) I am pleased to know that you are active and with so good style, of course for intelligent people, but really it is very good..."
"You really super-astonished me... I consider that your disc is of the best music than has been written in Venezuela; it combines complexity, melodies, many different instruments, a fabulous performing yours in electric and acoustic guitars, and a studio band that shows having felt deeply and done theirs the pieces. Congratulations and there it goes my wishes again so that you can continue creating as you have been doing it."
"I consider it one of the most important works in the symphonic-progressive genre of our country… A disc full of colors, not only for its artistic cover which by the way offers a special touch to this work, but by the diversity of sounds and styles fused in each track. Jazz, Folk, Rock'n'Roll, VENEZUELAN-ish (very important), Indian music, guitars sounds that remind us the great ones like Jhon McLaughlin (speed) and Steve Howe (technical and sounds)… In conclusion a very artisan work musically speaking, plenty of fantasy, imagination, feeling and music, main components of all our DREAMS."
Comments from the Public
---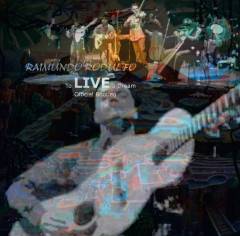 RAIMUNDO RODULFO
To LIVE a Dream - Official Bootleg
"A disc that in the time to come will become a classic."
"A sample of the musical excellence that offers Raimundo Rodulfo and of the great representation that he did of our country in the famous Festival BajaProg."
Rock Hecho en Venezuela, Venezuela

"It's clear this group has such a fine tension... 'Suenos' goes beyond the craftsmanship's symphonic music early Genesis explored, with Latin American female voice, progressive rock guitar, etc. Beautiful."
Psyche Van Het Folk, Belgium

"It is full of life, textures and emotion. Guitar, Spanish and electric are outstanding and the flute and violin pieces are truly beautiful. Raimundo and his fellow musicians gel together coherently and still hang sufficiently 'loose' to create that edge."
Hairless Heart Herald, UK

"This live performance gives me the opportunity to confirm my very positive feedback I wrote about "The Dreams Concerto" album. Raimundo is an incredibly high-skilled musician able to pinch the chords of his guitar as few guitarist can do. He has a very classical background and a clever intellectual approach to music. Listening to his music is actually like "to live a dream", an intense and multicoloured dream, so well represented by Peter Rodulfo's paintings. My deep recommendations is to buy his two official albums and to start the download immediately afterward at www.RaimundoRodulfo.com"
Tales of Wonder, Italy

"Acoustic and electric guitar, keyboards, violin and flute draw a romantic and nevertheless strong progressive outline, which processes influences from the classical period, Venezuelan folklore and jazz. Just in the extended instrumental work, is recognized the parallel to the best time of Premiata Forneria Marconi... Impressive progressive rock in a much better than bootleg sound. Since Raimundo understands much about filigree music architecture, he will bring the PFM community to ecstasy."
Ragazzi, Germany

"Rodulfo is one of those musicians that use very diverse elements for a musical development that transcends the barriers of styles. Rodulfo is progressive without being endeavored to be it, without to enclose himself in the artificial limitations that some musicians impose to himself. I don't find any purpose in to resemble anybody and on the other hand I see a personal development, so much in his roles on the acoustic guitar and on the electric one. As a composer he takes charge of to make rock, baroque music, Venezuelan folk tradition and a jazzy ingredient visibly present in his work. The incorporation of flute, harp and violin besides the traditional rock instruments, is enricher of his work. I have got pleasantly impressed by this music."
Progresiva70s, Argentina

"This comes out at a great moment, it's an excellent idea to release a live CD only after two previous official releases, even if is not an official release. It's a real gift... The recording really is not so bad and give a great idea of what the band sound live. Also they are over an hour of free music here, so it worst to buy the previous one just to have this one, good chance."
ProgLands, Canada

"Congratulations for such a brilliant work that you have offered through your webpage, at this moment I am listening to it and I am completely sure that your performance at BajaProg was one of the best ones, as far as quality and musical innovation, that appeared in the festival. The best of everything is that it is a live work that shows differences respect to which it is heard in studio."
"That was a great idea. I'll be looking forward to the next album. Thanks from NYC!"
"Excellent shows, specially the performance of the suite 'Sueños'; on both bootlegs the result was spectacular... master works."
Comments from the Public
---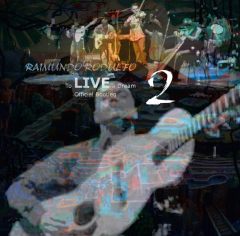 RAIMUNDO RODULFO
To LIVE a Dream 2 - Official Bootleg
"Italian Prog lovers and all fans of the romantic symphony genre will enjoy this work."
"The band plays warmly, the technical presentation of the performances is good. Raimundo Rodulfo composes heavy symphonic songs, which sound typically South American. Melodic weight and deep poetry are just as related to Italian Prog."
Ragazzi, Germany / Progressive Newsletter, Germany

"Great venezuelan musician... a tune with typical latin flavour... a clear influence from Steve Howe in some moments... very pleasant listening! The band that plays with him is really good!"
Melo's ProgBazaar, UK

"Excellent shows, specially the performance of the suite 'Sueños'; on both bootlegs the result was spectacular... master works."
Comments from the Public
---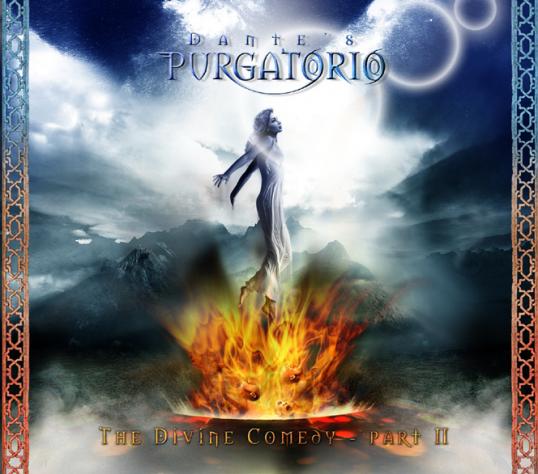 "Spanish guitar maestro Raimundo Rodulfo's offering Ascenso Tortuoso is also instrumental but this time it's a busy but melodic jazz-fusion exercise with intricate guitar noodling and classy but spacious drumming in the Bill Bruford mould."
DPRP, Holland
"Raimundo Rodulfo adds the jazzy/fusion touch that was missing up to this point and his ability to mix that mindset with a sympho prog attitude. He shows how eclectic and dynamic his musically normally is. A good way to discover this artist."
Proggnosis, USA
"Raimundo Rodulfo from the USA: impressive guitar work with hints of Steve Howe, concluded with a sensational Minimoog solo."
ProgWalhalla, Holland
"Very good"
Debaser, Italy
"Among the handful of newcomers, I'm pleased to see Raimundo Rodulfo and Phideaux."
Monsieur Délire, Canada
"It seems trite and superfluous to praise the umpteenth 'center' of Raimundo Rodulfo that enriches the minutes available to him with a short recited excerpt (by Gabriele Lepre) taken directly from the 4th Canto."
Arlequins, Italy
"Raimundo Rodulfo, in a recording where the guitar is dominant, offers us a mix of guitar dexterity almost jazzy mixed with purest symphonic prog."
Harmonie Magazine, France
---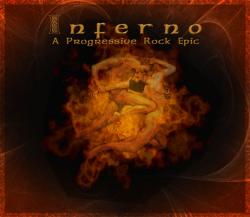 "Rodulfo avoids taking constantly centre stage as it could be expected from such a skilled artist recording under his own name. The guitars sometimes allow vague hints of the traditional South American style, but all of them skilfully hidden amongst traditional prog passages and rock riffs."
Colossus Blog, Finland/Italy
"...Then multi-instrumentalist Raimundo Rodulfo (plus guest musicians), I love his blend of classical (violin, cello, guitar) and bombastic symphonic rock (Mellotron, church-organ, Minimoog and powerful electric guitar), embellished with pleasant Spanish vocals."
DVDivas, USA / ProgWalhalla, Holland
"Raimundo Rodulfo, Falsedad y castigo: 10/10. Something different. It starts like a classical piece with an acoustic guitar and violins and then it turns out to be the best song of the whole release."
"Raimundo Rodulfo, Falsedad y castigo: 9/10. Ok, there's the harpsichord I have been waiting for quite a while already. Venezuelan multi-instrumentalist Raimundo Rodulfo is one of the most positive surprises of the whole release. There are millions of different instruments to be heard on this song and presumably Rodolfo plays them all - from violin to electric guitar - by himself. The composition is also excellent. I have to put the name Raimundo Rodulfo behind my ear."
Rate Your Music / USA
"The final disc has the best moments of the piece: Raimundo Rodulfo (canto 30) in which the polyhedral Venezuelan artist is accompanied by a beautiful string orchestra."
MovimentiProg / Italy
"Classical baroque is the inspiration for Raimundo Rodulfo's piece which is dominated by a string quartet, classical guitar and massed counterpoint voices. It's more Lloyd Webber than Verdi however but still remains one of the most distinctive and entertaining here."
DPRP / Holland
"Venezuelan Raimundo Rodulfo's song in Disc 4 is in classic style and is very good."
Tosei Midorikawa / Japan
"Raimundo Rodulfo's Falsedad y Castigo takes the listener deep into neo-Baroque territory, with a string ensemble, harpsichord, and counterpoint vocal parts."
"Fans of the more operatic varieties of prog will undoubtedly be delighted by it."
Progressor / Uzbekistan
"I love the blend of classical music with violin, cello, guitar and orchestral symphonic rock with mellotron, church-organ, MiniMoog and powerful electric guitar embellished with pleasant Spanish vocals of multi-instrumentalist Raimundo Rodulfo from Venezuela."
Background Magazine, Holland
"A skillful mixture of influences."
Progressia, France
---
Background Magazine - http://www.backgroundmagazine.nl - The Netherlands

-Issue # 74

Raimundo Rodulfo's Dreams
Here's the Latin American Steve Howe: the music on this CD is carried by his outstanding guitar play: an intro on the classical guitar for the track "Labyrinth", followed by fiery guitar (lots of solos) and some flute, sensitive (electric guitar) interplay with a violin in "Friendship", virtuous play on the acoustic (Martin?) guitar and mandolin in "New Horizons", a fine duel between the electric guitar and saxophone in "Brainstorm" and jazzy electric guitar on "Math & Arts" (with a great bombastic finale)... And the focal point remains the impressive Raimundo on several guitars. If he joins a band on his level we will certainly hear more from him!
Erik Neuteboom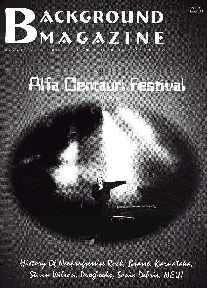 -Issue # 80

Raimundo Rodulfo - The Dreams Concerto
As you may remember from my review of the Baja Prog Festival, I had major problems to stay awake during Raimundo Rodulfo's performance, because I was suffering form a jet-lag. I could hardly keep my eyes open. When I heard his second album, "The Dreams Concerto, Concerto for Guitar, Group And Chamber Orchestra", I had no trouble at all to stay awake. What a great record this is! In my live review I already told you that this man was a master on the guitar. My fellow reviewer Erik Neuteboom called him a "Latin American Steve Howe" in the review of his first album. What bigger compliment can you give a musician? You might call this complex piece of art a modern version of the old Deep Purple project "Concerto for Group and Orchestra" which Jon Lord composed back in 1969. Only this time it is much more than just classical music and rock music. We hear on this disc influences from almost all the great musicians on the planet that live and had lived. The classic masters Bach, Bethoven, Vivaldi and Mozart. The progressive rock masters Steve Howe, Keith Emerson, Rick Wakeman, Robert Fripp and Ian Anderson. The jazz-rock masters Chic Corea, John McLaughlin, Al DiMeola and Allan Holdsworth. The pop masters George Harrison, Paul McCartney and John Lennon. And the master of all kind of styles, Frank Zappa. So you can imagine what styles you all can hear on this record. I will not go into any details concerning the music on all of the tracks. That would take too much time and space, but the music is divided into three movements. They again are divided into different segments - all of them have different musical styles. We hear in every style the same kind of theme, but played differently. You will recognize it immediately, no matter in what style it is played in - classical, prog or jazz rock. All very cleverly done. Rodulfo is credited for all the music, concept and lyrics. He also produced, orchestrated and directed the whole thing. But we must not forget the great musicians that helped him to finish this complex project. All are introduced in the booklet. I won't mention all, but two of them are pretty amazing: Beatriz Rivas, the great female singer, and Andrés Briceño on his electric and acoustic drums. He can play all kind of styles, but the most enjoyable is probably the way he plays the jazz-rock themes. Bravo! I already mentioned the booklet. It is together with the cover very beautiful done. The cover is together with the other paintings in the 40 pages booklet done by Peter Rodulfo. Reminding me of Rubens, Breughel and Bosch. Inside the booklet you also get some inside information about every track and a personal note of Raimundo himself. As said before: all very tasteful done.The same I can say about the music. Every time you listen to it you will hear new things. I almost would call it a musical journey into a fantasy dream world.
Well done!
Henri Strik
-Mare et Terra (online review)

Raimundo Rodulfo - Mare et Terra
http://www.backgroundmagazine.nl/CDReviews/RaimundoRodulfoMare.html (same as Progwalhalla's review)
Erik Neuteboom
---
Shroom Productions - www.shroomangel.com - USA

Raimundo Rodulfo - Dreams
Another unknown heavy symphonic, concept album gem from Venezuela. This sounds very 70's, and has outstanding keyboards with flute. The Cd is also enhanced and explains the concept, as well as giving you photos and extra artwork. It is amazing where great stuff comes from sometimes!
Raimundo Rodulfo - The Dreams Concerto
New album from who is now Venezuela's top progressive musician. This is a "Concerto for Group, Guitar, and Chamber Orchestra" The theme of this "concept" album is one of "The unswerving spirit of the human being and his endeavors to fulfill his dreams, and discern his surrounding universe". The music is grand in scale and very beautiful indeed, with loads of textures and moods. There are many top musicians helping out here, and many performances shine. If you are into classically-based progressive, this could be the album of the year! The packaging is also very beautiful, with a very huge booklet.
Greg Putman.
---
Hairless Heart Herald - www.hairlessheartherald.co.uk - UK

Raimundo Rodulfo's The Dreams Concerto
First impressions can have a lasting effect. Sometimes when I listen to an album for the first time it can be like a good book in that I don't want it to end. Some albums require a number of listens to fully appreciate, but The Dreams Concerto is an instant hit. At least it is for me.
If it was possible to combine the talents of some great musicians/composers such as Bach, Mozart, Ian Anderson, Steve Howe, Steve Hackett, Rick Wakeman (to name but a few) at the height of their creativity and produce a piece of music, then Venezuelan musician Raimundo Rodulfo's The Dreams Concerto would probably be the result.
A blend of classical and modern encompassing a lot of prog and a little jazz and folk, The Dreams Concerto is in three movements. The first movement, which runs at a little over 28 minutes, starts in chamber orchestra mode leading into a delicate acoustic guitar with female vocal piece before rocketing into a full blown prog epic along the lines of Jethro Tull's A Passion Play in feel with element of Hacketty guitar, Mel Collins sax and plenty more besides. Finishing with a short coda, the first movement just flies by. Pure brilliance!
The second movement, the shortest at just under 17 minutes, is very YES/Steve Howe in style leading into fusion merging YES with King Crimson with Gong and probably a lot more besides. Ingenious must be Raimundo's middle name. Yet he manages to incorporate a short baroque rock style theme that appeared in the first movement towards the end of the first half of this movement. The latter half of this movement introduces a Celtic rock style with ELP. There are constant time changes throughout this movement and Raimundo goes to great lengths to explain the mathematics behind it all using complex equations (well they are complex to me particularly as they are in Spanish) in the accompanying CD booklet that runs to many pages.
The third movement (33 minutes) starts with a combination of Spanish guitar and chamber orchestra, which has a very upmarket classical feel about it. A very reflective piece. The second part of this movement awakes with the chamber orchestra and guitar apace like something Gryphon or Sky may have thought up. Combinations of male and female vocals join in with good effect. The orchestration, which was prominent in the mix, suddenly seams to disappear for a period to allow the rock side of the arrangement to feature with guitar sound changing from that of Andy Latimer to Steve Hackett and then to Roine Stolt. The end of the movement revives the chamber orchestra with strains of Enid sounding guitar.
Whilst all three movements appear quite different, the theme from the first is evident in the last and for a short period touches on the second. Whilst the vocals are in Spanish, they are sung so sweetly that a non Spanish-speaking listener would find them of no distraction from this mainly instrumental work. The lyrics are printed in the CD booklet (again in Spanish) are about dreams, their power and the freedom they provide. The booklet also provides comprehensive information about the individual musicians that perform on the album (in both English and Spanish). Instead of a standard jewel case, the CD is contained inside the front cover of the booklet which in turn slides into a CD size cardboard container, all of which are covered with the wonderful artwork of Peter Rodulfo, a distant relative who now resides in England (check out his work via a link on Raimundo's website below).
When I spoke with Rick Wakeman he commented on the quality of music that was emanating from South America. Well, The Dreams Concerto must be at the top of the league. The combination of classical and progressive rock is seamless and should appeal to fans of either genre. This is nothing like a contrived 'Royal Philharmonic Play The Music Of (insert prog band name here)', nor is it an orchestra playing prog rock or a prog rock band playing classical - each instrument is allowed to play in its own style and consequently makes up the whole.
There are so many different style of prog it is impossible to say that this is 'the prog album of 2002'. However, this must be the prog album of the year in its class especially as it is unique. In years to come, I've no doubt that the name Rodulfo will be up there with the other great composers and I mean great composers!
Jem Jedrzejewski
(Thanks to Louise Jedrzejewski for the translation of the lyrics)

Raimundo Rodulfo - To LIVE a Dream (Official Bootleg)
Raimundo Rodulfo's The Dreams Concerto was an instant hit with us here at HHH when we reviewed the album last year. Well, Raimundo has released a new live album cunningly titled To LIVE A Dream, an official bootleg which he has made available for download from www.RaimundoRodulfo.com free to those who have purchased both of Raimundo's studio albums – you need the original CDs to gather the information for the password that allows the download. If you haven't got both of these albums (and why not???) visit the site for details.
When we reviewed Raimundo Rodulfo's second album, The Dreams Concerto, last year we were blown away by the rich tapestry of prog, jazz and folk encased in a modern classical frame.
To LIVE A Dream is a collection of solo, duo and band performances. Raimundo recorded these over the last three years, from gigs, festivals, and a TV show. As the recordings come from a variety of sources from video soundtrack to sound desk, the sound quality and mix is not always ideal so, instead of making this live album available for purchase, Raimundo has decided to offer it for download from his website for free to anyone who has purchased his two studio albums – but more about that later.
Now, I must state that I am not generally a fan of live albums for a couple of reasons; many sound 'tinny' and lack warmth, and the performances are often lacklustre. If you attend a concert, the atmosphere and, to some extent, the volume level can do much to turn a less than perfect performance and sound mix with all its hisses and pops into an entertaining evening but the magic is difficult to capture on a recording. There are exceptions, one being the band Camel who has somehow managed to capture the energy on more than one of their live albums, helped by the fact that they often rearrange the music for the live performance. I am pleased to say that Raimundo has, regardless of the sometimes less than perfect recordings, also managed to capture the energy of his performances for this album. It is interesting to note that he too adopts a free approach to the live arrangements – perhaps that is the secret!
I won't go into length to describe the music (see The Dreams Concerto if you want to know more) other than to say it is full of life, textures and emotion. Guitar, Spanish and electric are outstanding and the flute and violin pieces are truly beautiful. Raimundo and his fellow musicians gel together coherently and still hang sufficiently 'loose' to create that edge.
To download the album (website link at bottom of this page) you will need a username and password. The username is 'dreamer' and the password is a 3 character alphanumeric string taken from the serial codes written in the inner ring of the disc silver surface of "Dreams" and "The Dreams Concerto" CDs. If you have both discs, take the CDs out of their cases/booklets, and look at the non-printed silver surface. Take the first 2 characters of the Dreams CD serial code, and then take the first character of The Dreams Concerto CD serial code to form the 3 characters password (use only upper case). The sound files for the album are fairly large so you may wish to consider getting a broadband connection too before you download! Included in the download files is the complete artwork for making up the jewel case inserts and CD label. And if you are going transfer the tracks once downloaded to CD, you'll need an 80 minute CD Audio blank (CD Data discs will work on your PC but may not work in hi fi equipment). Yes, it requires a little time and trouble but it is ultimately worth it.
And if you haven't got one or other of the studio CDs, there are some sound samples available for download from Raimundo's website and purchase details.
Jem Jedrzejewski
---
Sea of Tranquility - www.seaoftranquility.org - USA

Raimundo Rodulfo's The Dreams Concerto.
It's not everyday that you get to hear a recording that is just dripping with so much beauty that it almost brings tears to your eyes. This "concerto" from musician Raimundo Rodulfo is a lush, gorgeous amalgam of progressive rock, South American classical motiffs, and folk, that succeeds on all fronts.
Broken down into three movements, The Dreams Concerto has huge sweeping melodies, punctuated quite liberally by Rodulfo's excellent acoustic and electric guitar work. The first 28-minute movement is perhaps the most striking and symphonic in nature, and no doubt will appeal the most to progressive rock listeners. Rodulfo's electric guitar playing is particularly riveting here (yes, the guy has chops aplenty!), and he is complemented by keyboards, harp, woodwinds, and violin. Perhaps the biggest contribution though is from female vocalist Beatriz Rivas, who has a stunning voice. Her range and tone adds a majestic quality to this awesome mixture of rock and baroque signatures. The piece ends with a lovely acoustic section that quiets things down a bit and allows you to get ready for the next part.
The second movement starts off with a very Gentle Giant sounding prog rock workout, with nimble guitar/keyboard lines and soaring violin. A jazz touch is added complements of Pablo Gil Rodulfo, whose screaming solo eventually gives way for brutal electric solos from Raimondo and violinist Cesar Romano. The guitarist then launches into a gripping electric jaunt, filled with echo and various effects, that really shows off his experimental rock side.
The final movement allows the guitarist to strut his skills on classical guitar, and the results are a thing of beauty. Surrounded by violins, flute, assorted percussion, clavier, and flugelhorn, this is baroque infused progressive folk at its finest. The full band kicks in for the grand finale, a wild mix of chamber and symphonic rock with the obvious classical overtones. See if you can hear some references to the band Kansas on this one, especially in the violin melodies.
This gets my highest rating possible. Filled with heartbreaking beauty and awesome technical musicianship, Raimundo Rodulfo has put together a wonderful extended piece of music that is never boring, and succumbs the listener effortlessly into all its worldly pleasures. Oh, and the packaging is just superb, filled with lots of live photos, notes on each track, musician listings, and fascinating paintings.
Added: January 6th 2003
Reviewer: Pete Pardo
Score: *****

Rodulfo, Raimundo: Mare et Terra
It was only recently that I began a review of Riveryman's Magic World album by decrying Musea's normally fine judgement for releasing that artist's music. Luckily, with Raimundo Rodulfo's Mare et Terra, the record company are back on track in my book, doing what they do best: Rodulfo may be resident in Florida but his musical roots lie in the country, in the continent of his birth – Venezuela, South America – and the label's speciality is unearthing these musical gems from around the globe.
Mare et Terra is a gem: its brand of multi-style fusion eclecticism incorporated into single compositions reminds me of the fabulous Karcius and in particular of their Episodes album, which remains only one of two to which I have given the full 5-stars on SoT. Mare et Terra is not quite up there yet with Episodes but I suspect that's perhaps because I haven't yet heard it often or loud enough for it to really hit home. Episodes took a few more listens to get to the 5-stars than I've yet given Mare et Terra but my judgement is – and I could be wrong! – that it will just fall short, even after some months. I note, however, that young Pete Pardo did assign the full sheboodle to Rodulfo's previous album The Dreams Concerto.
What marks this out as outstanding music is the high standard of musicianship and the joy in the music making, together with melodic writing of the highest calibre and a similar high standard for the rhythmic element. The arrangements are rich and diverse: I cannot recall hearing so many different instruments/sounds – both traditional and modern - on one album: Rodulfo himself plays acoustic and electric guitars, bass and mandolin but he calls on twelve other excellent musicians to assist in unfolding his sonic visions. We get an array of keyboards including minimoog, violin, cello, flutes, saxophone, clarinet, trumpets, flugelhorn, and a variety of drums and percussion; as well as recordings of sounds from nature when appropriate. Unlike Karcius's music, Mare et Terra is not totally instrumental; "Blue" being the only composition not to feature singing. Peculiarly, this may weigh against it because – and I prefer sung and vocalised music to instrumental music – the singing is not to the extremely high standard set by the composition and musicanship. The music itself is, well, it's music! Composed entirely by Rodulfo, it is a fusion of all of the elements that he enjoys, and the man has eclectic tastes! So, you will find elements of the South American music with which he inevitably grew up, you will find rock, you will find jazz, you will find classical, you will find reggae: often quite a few of these elements are mixed into the same composition – the album's major opus, for example, "Náufrago", has the time and space to showcase a few of these elements in a dazzling display of compositional and technical skill. Astonishingly, the fusions do not jar; they work together: there are few composers able to bring this off successfully. Having said that, the eclecticism on offer isn't going to be to everyone's liking, not even amongst all progressive fans.
The 36-minute "Náufrago" (translated = Shipwreck") opens with an instrumental suite of nearly 15 minutes: initially some beautiful Spanish style guitar. Flutes and keyboards are introduced, there are mellotronic sounds; then some electric guitar; variety in tempo etc. The singing is in Spanish and continues for a while before the piece becomes quite rocky in its latter phases. What makes the composition work through all these various moods – equating to the various moods of the sea - is the overall beauty of the music, it is that which cements the eclecticism together. The fusion is of predominantly classical, rock and South American styles. "Libertad" ("Freedom") is boppier, more upbeat as though a celebration of freedom from tyranny, and relies on the South American rhythms to create the party effect: again a multi-instrumental arrangement has been written to great effect. "Blue" is the jazziest and most experimental piece but never becomes unpleasantly so; in the latter half the composition sounds almost like some of Santana's music. The last two pieces are parts of the "Thoughts" composition; the first part ("Seeds") has English singing, some beautiful harpsichord sounds at the start, before turning rocky and featuring more South American rhythm courtesy of castanets etc. "Moments" is instrumental and goes through a reggae phase before developing into a rockier electric guitar led extravaganza; the album then eases out on the same relaxing mood it came in with, courtesy of the flute and Spanish guitar.
Overall, it is music that you can both concentrate on and relax to, depending on your mood and sounds far better than I can express it in words. If you enjoy this type of eclectic style-mix from first-rate musicians then you may well love this.
Track Listing:-
Mare
1) Náufrago (36:34)
2) Libertad (9:01)
Terra
3) Blue (11:30)
4-5) Thoughts (19:45)
Added: August 18th 2009
Reviewer: Alex Torres
Score: 4.5/5
---
Miami New Times - http://blogs.miaminewtimes.com - USA

Raimundo Rodulfo - Mare et Terra
This is an excellent feature of progressive rock laden with psychotropic references, awash in lush Latin landscapes, orchestras, folk, criollismos, Caribbean music, blues ... ahh! Let me see if I can paint a better picture. Add up the following: Simon Diaz, Frank Zappa, Yes (Tales from Topographic Oceans in particular), Tom Jobim (specifically, the balance between his albums Tide and Wave), the unheralded coolness of Colombia's psych-folk outfit Génesis, Dizzy Gillespie, Procol Harum, and Blues for Salvador-era Carlos Santana.
The first track, "Náufrago," runs through a range of emotions before releasing vocals some 15 minutes in. From there the energy just keeps building until it finally consumes itself at the 36-minute mark. "Libertad" is a little peppier in a weird soca/New Wave/power pop manner and it's also the shortest track here, clocking in at just nine minutes.
These are followed by another half-hour of music broken down into the tracks "Blue" and "Thoughts 1 and 2," both of which continue to explore and push the symbiosis of the album's many elements. Rodulfo has surrounded himself with a very energetic and adept cast of musicians that understand his vision with unparalleled clarity, and there's so much going on in this album, it's almost exhausting. Time for a drink. But I'd love to see this guy jam out live.
By Abel Folgar
---
Progressor - http://progressor.net/review/raimundo_rodulfo_2009.html - Uzbekistan

Raimundo Rodulfo - Mare et Terra
Prolusion. Raimundo RODULFO is a classically-trained multi-instrumentalist from Venezuela, though currently based in Florida (USA). He started his musical career at the age of 7 by joining the Children's Symphonic Orchestra as a violinist. After having been a member of various bands, in 1992 he embarked on a solo career, though all of his albums were released in the 2000's. "Mare Et Terra" is his third release, conceived and recorded during a four-year span (starting in 2004) with the help of a number of guest musicians, including fellow Venezuelans Gerardo Ubieda and Pedro Castillo of Tempano, and keyboardist Carlos Plaza from Spanish outfit Kotebel.
Analysis. Raimundo Rodulfo is one of those musicians who proudly sports his origins in his musical output. "Mare Et Terra" is a prog album as only a South American musician could have produced: extremely ambitious, both in concept and length, but never convoluted or overblown, and drenched in melody. Moreover, unlike so many albums released in recent years, it is a disc brimming with the simple joy of making music. Firmly entrenched in the classic tradition of Latin American symphonic prog, "Mare Et Terra" shares all the distinctive features of this subgenre within a subgenre. The penchant for authentically symphonic, almost orchestral textures is there, as witnessed by the impressive array of guest musicians supplementing Rodulfo's equally impressive skills. Those who have heard Rodulfo's contribution to Dante's Inferno (included in CD 4 of the project) will recognize some of the trademarks of the artist's style. However, in spite of their epic length (the shortest item, Libertad, approaches 10 minutes), the tracks featured on "Mare Et Terra" are surely more restrained than that slightly over-the-top offering. In any case, this is an album that demands some dedication on the part of the listener. The music, while not overly complex in the cerebral way typical of Avant-Prog or the more experimental fringes of prog-metal, still contains enough twists and turns to require some intensive listening sessions. The album opens with a veritable bang – the 36-minute Naufrago (Shipwrecked), a concentrate of all the distinguishing features of Rodulfo's inspiration. In time-honoured, symphonic prog tradition, it is a massive undertaking with a truly epic sweep, though thankfully not as blatantly pretentious as 'epics' are all too prone to being. In the first six minutes or so, Rodulfo treats us to a display of his considerable skills as a classical guitarist. The track develops slowly, at first with an almost loose feel, with the instruments entering gradually, almost tentatively, but keeping a strong melodic line in place; the trumpet inserts can bring to mind Ennio Morricone's spaghetti-western soundtracks. There are enough time signature changes to keep the listener on their toes, though without giving that impression of patchiness that all too often mars compositions of similar scope. Rodulfo's classical guitar acts as the thread holding the various sections together, while the clear flamenco inspiration is strengthened by the vocal parts, often sung by a male and a female voice in typical Hispanic style. Strings and a full horn section lend a grandiose, orchestral feel to some of the sections; while towards the end the rock imprint becomes more dominant, with thundering, Emerson-like keyboards and a frantic guitar solo. A real tour de force, and a successful one – almost against all odds. In contrast, the second item on the "Mare" side, Libertad (Freedom), is also the shortest and most accessible track on the album. Its upbeat, somewhat poppy melody, strongly Latin in inspiration, is enhanced by lively percussion, with an infectious chorus celebrating the joy of freedom. The instrumental Blue shows instead some evident jazz influences, though tempered by the all-pervasive Latin flavour, alternating bursts of energy with lazier, mellower parts in which the instruments all get their chance to shine. Sax and trumpet play quite a relevant role, and the lively, guitar-led section in the second half of the track distinctly brings to mind Santana's early output. On an album that, while not overtly folksy, possesses such a strong ethnic characterization, the presence of English vocals in the last track, Thoughts, may come across as somewhat jarring. The song itself, a two-part epic approaching 20 minutes in length, while as impeccably performed as the rest of the album, does not stand out equally well, and could have done with some editing. It is also more reminiscent of the classic English bands of the Seventies (Genesis above all) than of the distinctive sound of the South American school. The most intriguing section (occurring in the second part, Moments) shows clear reggae influences, underpinned by whistling synths somehow harking back to the Eighties. Thoughts is also the rockiest item on the album, with a stronger contribution on the part of the electric guitar and some solid, chunky bass work. On the whole, "Mare Et Terra" is a very solid, finely-crafted album, though, in my view, a somewhat shorter running time would not have hurt it at all. A special mention should also go to the cheerful, colourful artwork (painted by Peter Rodulfo and designed by Davide Guidoni, a prolific Italian graphic artist and musician), which is the perfect complement to the album's open, optimistic nature.
Conclusion. A sumptuous slice of old-school, proudly Latin-flavoured progressive rock, "Mare Et Terra" will surely delight lovers of vintage symphonic prog, as well as those who appreciate ethnic influences in their music. Definitely one of the most accomplished albums of 2009, even if a tad overlong and not likely to appeal to fans of minimalism.
Raffaella Berry, Feb 6, 2010
---
ProgArchives - www.ProgArchives.com - USA

Raimundo Rodulfo's The Dreams Concerto
A beautiful blend between progressive rock and classical music, with Hackett influences and links to EKSEPTION and KING CRIMSON and a Latin American touch. Guitarist but also multi-instrumentalist RAIMUNDO RODULFO, sometimes referred as the South American Steve Howe, plays complex but melodic music, using different music styles like folk and jazz rock. Highly recommended for symphonic progressive lovers!
Claude

Raimundo Rodulfo's The Dreams Concerto
A complex album from Venezuela, mixturing classical music, jazz, South American folk and rock with rich instrumentation. A lot of musicians playing cohesively but, even when music is essentially melodic, maybe this album needs more than one listening to fully enjoy it, due his complexity. A sort of a King Crimson, Vivaldi and a jazz band cross. Very interesting!
Marcelo Olivera

Raimundo Rodulfo "Dreams"
This is a very good album, with very interesting guitars melodies and solos. In fact, I don't give it more stars because I think its saturated with the guitar. Don't get me wrong, Raimundo is a very talented and excellent guitar player but I think, this album should have a little more space for other instruments like the flute. Anyway, I think the songs are quite good and the music is very original, I recommend it to anybody (I've got it).
Carlos Ascanio

Raimundo Rodulfo from Venezuela is another gem worth listening to, Howe-PF alike, moody and well structured. Dreams is the album you should go for.
Lunar
---
Margen Magazine - www.margenmusic.com - Spain

-Issue # 22

RAIMUNDO RODULFO - Dreams /Sueños
Rock sinfo/progresivo con matices fusión y folk por este guitarrista/compositor venezolano. Magnífico!!!! CD multimedia que incluye un cuento en formato html y dos vídeos.
Hay músicos/compositores que tocan como los dioses. El guitarrista Venezolano Raimundo Rodulfo es uno de ellos y su primer disco, Sueños, un maravilloso crisol de sonoridades emparentadas que se acomodan en un estilo instrumental dúctil y narrativo que te convence desde el primer minuto y no decae en la hora larga y siete composiciones, incluida la suite Códigos Universales en 7 partes y casi 22 minutos de duración. Nueve músicos (guitarras, mandolina, bajo, flauta, violín, viola, teclados, saxo, batería...) dan vida a esta obra que dinamiza el genero progresivo gracias a un acertado uso de elementos importados de la fusión y el folk. Un soporte musical de suavidad aceitosa acoge y amalgama a la perfección diversos estilos y tímbricas para regalarnos un disco generalmente ensoñador de paisajes sinfónicos inéditos, aunque perfectamente vertebrado por matices y ataques rítmicos. Protagonismo guitarrístico que igualmente te suena a Howe como a McLaughlin. Innumerables referencias combinadas de modo personal... Yo de vosotros no perdía mas tiempo leyendo esto y me hacia con este CD Multimedia que incluye dos videos y un cuento en formato html.
Carlos Jauregui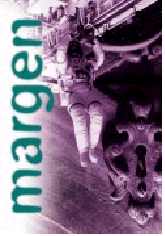 -Issue # 25

RAIMUNDO RODULFO – The Dreams Concerto.
Lo nuevo de este multiinstrumentista venezolano acompañado de una docena de músicos. Gran formato para una música de variados aromas desde el rock progresivo hasta el jazz o el folk. Muy bueno.
De formato mucho más ambicioso que su trabajo anterior, Dreams, que recomendamos efusivamente desde estas páginas, nos llega el segundo trabajo del multiinstrumentista venezolano Raimundo Rodulfo acompañado aquí de un plantel de casi una docena de músicos a todo tipo de instrumental entre los que destacan Pedro Castillo (Témpano), la vocalista Beatriz Rivas o el batería Andrés Briceño.
The Dreams Concerto, en 3 movimientos y 6 secciones, es una obra de música viva y en continua expansión, cuya filosofía radica en la extensión de todos los modelos tradicionales que hemos ido asimilando en la música creativa durante las 4 últimas décadas. Sí, creativa, puesto que el embalaje rock progresivo es excesivamente estrecho para albergar la enormidad de este disco que navega entre lo íntimo y lo sofisticado del jazz, el folk, el rock y la clásica y que ha sido programado con sumo cuidado y sentido común para equilibrar diferentes tempos y estados anímicos utilizando un amplio rango de armónicos y tonalidades.
Desde Genesis a Metheny y en medio Yes, Congreso, King Crimson, The Enid...
Todo tipo de sonoridades perfectamente encadenadas que muestran la flexibilidad y energía de este compositor. Y por si faltaba algún detalle, un lujoso embalaje y un librillo explicativo. De obligada escucha.
Rafa Dorado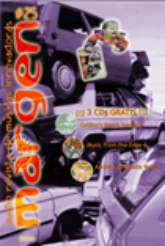 ---
Arlequins - Italy
RAIMUNDO RODULFO - MARE ET TERRA
On the other side from the sub-genres, of the new tendencies of progressive rock, of the future of this musical world loved and mistreated at the same time, fortunately there are still artists that gets you excited when you introduce their compositions in the CD player.
And the case of this Venezuelan guitarist that, only known by the "workaholics", would deserve a greater awareness from a public that now seems to have lost the desire to seek what is worthy among the tides of groups that this world continue to propose, even in a period of deep crisis.
It is not everyone who begins a work with a 36 minutes suite ("Náufrago") of which the first six sound in substance with the virtuoso guitar legacy of the Flamenco world worthy of the best Paco De Lucia. "Náufrago" is a suite that will be surely introduced among the best things that the South American progressive rock has produced in these last times (and not only). It interweaves wonderful acoustic and electric that succeed for all the duration of the piece where Yes go arm by arm with the South American or Latin musical tradition genres (being that this album in some parts reminds a lot the progressive scene from the Andalusian rock years in the mid-70's). However, the entire album is noteworthy and, although the 74 minutes of music, the disk runs in a pleasant way and without phases of stagnation.
The other 3 compositions (one of twenty minutes and two of ten) in fact, simply not pirotecniche like the opening piece, are of the highest level, showing in certain passages the love of the Venezuelan guitarist for Camel and Mike Oldfield (inspired by them and never copying, though).
Raimundo Rodulfo's instrument plays the lion's part during the entire work, nevertheless the Venezuelan fairly brings the company of (leaving them the other spacious fields of action) special guests of high carats. Amongst all we remember the keyboardist Carlos Plaza, leader of the Spanish group Kotebel, the drummer of Tempano Gerardo Ubieda, and a highly inspired Pedro Castillo on vocals. Guests that render themselves to this entire work in all its parts, unlike certain works in which the virtuoso of the moment is oblivious of everything what surrounds him, proposing productions that beyond showcasing the value of the performer, at the end often result densely mediocre. Raimundo Rodulfo with this "Mare et Terra" produces a mature work, beautiful, with memorable passages, above all in the moments in which the guitar follows the flute and the other acoustic instruments used all inside the album (we remember flute, violin, and cello above all).
A disc of this type could not be able not to have also a most beautiful cover created by Peter Rodulfo (the graphic design is the work of Davide Guidoni) that reminds a lot the Darwinian one of Banco (here a wristwatch with varied stages that explain at large lines the concept, there the well-known pocket watch).
Beyond being one among the more beautiful discs that 2009 gave us, this work, logically for the undersigned, could easily be put amongst the examples of how the progressive rock in its more canonical form has still something to say even when all around you tells you the opposite.
We hope that someone notices it.
Antonio Piacentini
---
Progressive Ears - USA
RAIMUNDO RODULFO - MARE ET TERRA
Having read the 16/16 review of Raimundo Rodulfo's "Mare et Terra" in the latest Progression Magazine, I ordered it online and received it today. A really wonderful Spanish flavored symphonic CD with beautiful arrangements, killer guitar (Spanish and Electric), flute, strings, keys (piano, mellotron and Moog) and some lovely Spanish and English vocals - though mainly instrumental. This guy is an incredible talent and I would highly recommend to any fans of Spanish prog or symphonic prog in general.
The production quality is very good. I haven't heard his other releases so can't compare. Its not a "slick" sound like Flower Kings, etc. But all the instruments seem well recorded and placed in the mix to me.
Forum
---
Kakehashi Records - Japan
RAIMUNDO RODULFO - MARE ET TERRA
Recommended: RAIMUNDO RODULFO / MARE ET TERRA. Symphonic Rock from Venezuela. Third project from guitarist Raimundo Rodulfo, year 2008. Soloist recording with the sound and style of a band, with more than 10 guest players and a wonderful symphonic retro sound. Raimundo Rodulfo's acoustic guitar playing is full of exotic mostly-Spanish phrases, and even when it shows its upsurge and reaches a climax, it keeps its unique refreshing South American atmosphere. On the other hand, the electric guitar, playing lyrical phrases with feeling, becomes a united body with the band, with technical approaches, and a wide sound. The male and female guest vocalists sing from the heart with poetry and lyrical arrangements. Many orchestral instruments such as violin, cello, saxophone, trumpet, trombone, and flute have been introduced, in an impeccable symphonic rock composition. Drummer Gerardo Ubieda of the great progressive rock band TEMPANO from Venezuela participates, and, similarly, shows a solid and reliable support. Moody fusion of exotic colors, from pure symphonic, to light Latin colors where percussion participates, which let you listen without hesitation its 35-minute opening suite of this brilliant professional progrock work from South America.
http://records.kakehashi-style.com
---
Kakehashi Records Forum - Japan
1- RAIMUNDO RODULFO - MARE ET TERRA
How can such an artist have been unnoticed? Year 2008, third album.
In the recent history, Venezuelan progressive rock bands such as Estructura and Tempano have appeared with a high level. Like the soloist project work of this guitarist named Raimundo Rodulfo.
Raimundo Rodulfo plays the acoustic guitar with a Spanish scent, specially early in the album, and also plays the electric guitar supporting and in unison with the other band and orchestra musical instruments, with a refreshing style. Symphonic and Progressive Rock is developed in this work, and vocal overflows melodious with singing from the heart. And the effective usage of instrauments such as flutes and others sounds like GOTIC, also called the CAMEL of Spain. Even when this album is considerably technical, it is not excessive, and after listening to the expertise of its music constructions it exceeds with, it probably is deeply one of the best kept secrets of South America.
Suites of 30 and 20 minutes can be easily listened to, even when the epic format was adopted. This is a work with high level density. This can be recommended first to fans of Spanish and South American music, end even to those who like string and wind instruments such as flutes and others.
http://records.kakehashi-style.com
2- RAIMUNDO RODULFO - MARE ET TERRA
This is a luxurious album! All the four songs. There is a suite of more than 36 minutes and one of 20 minutes, and Carlos Plaza from KOTEBEL takes care of the keyboards on the first 36-minute song and the second song! The melancolic sound of the mellotron creates a path that flows to the beginning of the second song; those two songs are impressive. There is no way of getting tired of this album, when the third and the fourth songs hit you, with so much variety and a lot of breaks! Fans of all kind of symphonic rock and jazz rock will regret if they don't buy this album!
PS: The sound quality is also good. In our high-quality audio system it sounds so good!
http://records.kakehashi-style.com
---
Tosei Midorikawa - Japan
RAIMUNDO RODULFO - MARE ET TERRA
Venezuelan-born guitarist, Raimundo Rodulfo album. 2009 record. He has a great song recorded for Musea's album "INFERNO". 36 minutes suite at the beginning, with the acoustic guitar played with Spanish flavor. When classical flute and piano get involved, we become fascinated with the elegance of its sounds territory, in a way similar to PFM. With the additional electric instruments and synth, it gently becomes Symphonic Rock. Enriched by the guest violin, cello, trumpet, saxophone as well as effective, sleek and graceful male and female vocals, we went to enjoy the exquisite classical Symphony. All five songs make thie 78 minutes tour de force, with hints of dark folk. Classical symphonic.
http://www.lily.sannet.ne.jp/midorikawa/music.html
---
Artist Shop - USA
RAIMUNDO RODULFO « Mare et Terra » FGBG 4792
It's the third album by this venezuelian artist, guitar virtuoso, living in Miami. Raimundo Rodulfo released in 2000 and 2002 two critically acclaimed albums, "Dreams" and "The dream concerto". "Mare et terra" is more than one step further, with contribution of south American prog stars like Carlos Plaza (leader of KOTEBEL), Pedro Castillo and Gerardo Ubieda (TEMPANO), among many others. Rodulfo uses here a "chamber orchestra": violins, cello, flutes, sax, clarinet, trumpets,…, added to usual the rock band, with male and female vocals. Two suites divided in two parts compose these 75 minutes of a fantastic symphonic and neo-classic rock, melodious and adventurous. Rodulfo's guitar playing reminds Steve HOWE (YES), and is combined with seventies orientated keyboards (including mini-moog), and groovy rythms, revealing hints of latin traditional music. This colourful and enthusiast music, constantly inspired and lively, is at the top of the symphonic nowadays production.
http://www.artist-shop.com
---
Clear Spot - Holland
RAIMUNDO RODULFO - MARE ET TERRA
A guitarist from Venezuela, living in Miami, with musicians from KOTEBEL, TEMPANO, and others (including a classic "chamber "orchestra) - A brilliant symphonic music, made of long and complex musical compositions, mixing progressive and latin influences.
http://www.clear-spot.nl
---
Ragazzi - Germany
RAIMUNDO RODULFO - MARE ET TERRA
"Mare et Terra" is the fifth album of the Venezuelan multi-instrumentalist Raimundo Rodulfo, if you include his two live "Bootleg" Internet publications. At the age of 12 years old Raimundo Rodulfo learned the playing of the acoustic guitar, and two years later the electric guitar. Before, he had been brought to the violin at the early age of 7 years. Today he maintains a small studio in Miami, Florida, USA. Ten years ago Raimundo Rodulfo was engaged in an organization in Venezuela, that organized concerts by Rick Wakeman, After Crying, Flower Kings, Steve Hackett, Camel, PFM and Focus among other artists. With his own band, Raimundo was the opening act for a Flower Kings concert. Moreover, he organized the ProgJazz festival in Barquisimeto, Venezuela in 2001, followed by further academic musical events.
"Mare et Terra", is his third studio album, after "Dreams" that was created in 2000 and "The Dreams Concerto" published in 2002; it was recorded in 2007 and contains four long tracks, two of which are assigned the theme of "Mare" and "Terra". The LP-length "Náufrago" (36:34) opened the CD. The stylistic and emotional variety of the composition is enormous and certainly will not be fully understood in one only listening. 12 guest musicians were in part only in individual songs or passages in recording parts, while others, such as a string trio and two wind instrumentists (flute, trumpet, flugelhorn), as keyboardist, percussionist and drummer can be heard in all the pieces. A long-flamenco acoustic guitar motif opens the CD on the non-subdivided track, until the band enters and plays classic virtuoso progressive rock. South American folklore and Symphonic Rock in a South American lyrical way of playing, but without the sometimes badly sweetish, shares hearty jazz rock go in different musical themes, and long instrumental parts of male and female vocals driving graceful vocal parts. The compositional effort will take place in the complex musical language and artistic quality of its counterpart. The long song, if it may ever be referreed as of "Song", is an illustrious masterpiece whose best features are first the acoustic, highly virtuosic guitar parts, that frequently returns in many ravishing solos and complex symphonic band arrangements. On his third album, Raimundo Rodulfo plays all guitars, bass and mandolin parts; all other instruments and vocal parts he left to his guests. Structurally, the following songs are constructed like the first one, on which the guitar is the foundation and a melodic solo instrument. The opulent and lyrical string and keyboard arrangements have a big harmonic and soloist space, but are subordinated to the guitar.
The 9-minute "Libertad" is a romantic ballad with a gentle, with catchy solos and choral singing, Crimson-esque bass parts, flamenco guitar and a symphonic orchestral presentation. Also here is the virtuoso guitar playing, acoustic folk and typical electric rock, technically excellent. Without the excellent guitar work on this song, its whole work would be fad and average. But the virtuosity with which Raimundo Rodulfo plays his instruments, the melodic and technical diversity of speed, the ultra-fast playing style, and quite funny presence are THE big proportion of Rodulfo's music.
Terra begins with " Blue," a jazzy score, which carries chaotic courses, without being extremely chaotic in the long run however. The free composition of the CD is disintegrated, is the least accessible, but it does not diminish in quality. Again, there is the excellent guitar playing alongside oblique winds sentences, abrupt rhythm changes and agogic instrumental peaks. The eleven minutes instrumental song has South American lightness and progressive complexity, symphonic and jazz poetry craze. This kind of wacky slanted blissful harmony can probably come only from South American climes.
Finally, the almost 20 minutes of "Thoughts" are subdivided in two equally long parts. Again bewitches the amazing concise and fast guitar playing, flits a technically stunning band, which never plays too accurate, and gladly loosely goes around with the arrangement without ruining it, quite the contrary, it is just so vibrant and effective to do with verve and dynamics through the complex parts.
It is not retro, in any case not in the classic type. The sound effects are subtle dusty, but in fact, timeless in its combination of lightness and complexity. The kind of mind and child spirit that German and European bands do not have to be. The music mentality of Raimundo Rodulfo knows accurate precision, and snatches it out of the useless mud and all music rubbish and plays therewith it in the highest virtuosity.
Mad Album. Tons of melodic material, countless ideas, coherent, plausible, and in particular sonic aesthetic beauty of enormous speed. In all, heavenly playful, accurate, precise uneven-ness...
Volkmar Mantei.
---
MovimentiProg - Italy
RAIMUNDO RODULFO - MARE ET TERRA
It was since 2002 that the musician and Venezuelan composer transplanted stable in the United States did not publish an album of new pieces. Raimundo Rodulfo from the times of "The Dreams Concerto" has gotten married with the French label Musea Records and finally published to the end of 2008 this "Mare et Terra", concept on two of the fundamental and precious elements of the ours so mistreated planet, water and land. Rodulfo composed and recorded "Mare et Terra" between 2004 and 2007 in his studios of Miami. Between the dear native land of Venezuela, Spain, and Weston (USA) have recorded their parts instead the numerous guest musicians, among whom we can mention the keyboardists Carlos Plaza and Richard Marichal, the drummer Gerardo Ubieda, the singers Cristo Aguado, Minerva Borjas Owen, and Pedro Castillo. To complete the crowd of artists a trios of string and of winds.
Guitarist from excellent technique and Latin sound, Rodulfo lavishes himself also to the organ, synth, percussion,s and to the voice, succeeding to unite the deep soul of the South American music with the ample spaces of true and actual progressive-rock. It begins with "Náufrago", a long musical journey of beyond 36 minutes in the conceptual and theme part dedicated to the "Mare", built on a tapestry of the epic guitars of Rodulfo, classic and electric, large technique and passion, interweave of wind instruments, keyboards, calms and motion, soft and restless. A marvellous expanse in the polyhedral musical universe of the Venezuelan/American guitarist. It is closed therefore with "Libertad" the Rodulfo's vision of the sea with infinite expanse in which he sounds really free, a Latin American piece that mixes jazzy and classical perfumes with long solos of minimoog that I recall sole and tightly from the prog, and of electric guitar.
Percussions bound to the ethnicity and to the heart of the peoples of the South of the world open "Blue", the part dedicated to the "Terra". Still complicated resonant plots in Rodulfo-style , complicated, confused but sublime and catchy at the same time, large quality of this Latin artist. It closes the album a suite divided in two parts, "Thoughts", almost 20 minutes of flash-Latinizing elaborate rock and palpitant technique, but fortunately not a goal for himself. Rodulfo in fact puts always to the first place the melody and leaves aside any type of abstruseness. "Mare et Terra" is another marvellous work of Raimundo Rodulfo, of large appeal, with not hypertrophic but nither simplistic arrangements. The little "Rodulfo orchestra" has come to the center again.
Daniele Cutali.
---
PsycheMusic.org - Belgium
RAIMUNDO RODULFO - MARE ET TERRA
Long time ago since I heard from Raimundo Rodulfo. He recorded this new album over a four year period. It also is an extremely ambitious project with lots of instruments, a progressive & neo-progressive/(neo-)symphonic piece stuffed with well arranged to semi-improvised band arrangements. The first piece of 36 minutes is most promising, like I know Raimundo is capable of, but now has even more musicians and instruments at his disposal than ever before, unfolding its ideas with acoustic nylon flamenco guitar, flute, piano, a classical string arrangement, trumpet and vocals, and some electric guitar/keyboards and vocals holding a mood in between the acoustic symphonic music of Los Jaivas and some 70s Italian progressive, with a neo-and jazzy touch here and there. After this the drums/bass/electric guitar parts and fast-melodic keyboards become a more steady part of the arrangements, adding a stuffed and saturating tension, tiring a bit with all its non-stop notes, despite its uplifting effects of jazzy flavours and flamenco castanets. More and more this band becomes a semi-improvised symphonic rock band. When some harpsichord and acoustic guitar part and flute breaks the mood a bit, for me it is a bit too late : I more had the feeling I was glad that they stopped playing. Raimundo with this album showed its full strength (track 1) but also his limitations of wanting too much perhaps. The complete album might not the best starter of his work, but still a welcome addition. Most tracks are just a bit more something for neo-progressive lovers compared to some of his other works. But the first, most perfect track however, of over 36 minutes, is worth alone checking out, and has already the value and perspective of a (great) full album.
Gerald Van Waes.
---
Video HiFi Forum - Italy
RAIMUNDO RODULFO - MARE ET TERRA
For the lovers of old and new symphonic prog I allow myself to recommend the last album, that according to me is very beautiful, of this Venezuelan guitarist. Surely one of the most beautiful of the entire South American progressive rock scene (and not only current).
At his myspace http://www.myspace.com/raimundorodulfo you won't have the possibility to listen to more than sound extracts. Take into consideration that the first piece lasts 40 minutes... which if is not even representative.
Antonio.
---
Dutch Progressive Rock Page (DPRP) - Holland
RAIMUNDO RODULFO - MARE ET TERRA
Raimundo Rodulfo is a guitar player from Venezuela who creates prog music with a Latin twist, and by using his acoustic guitar a lot he gives the music a taste of flamenco. Mare Et Terra is his third album, (both previous albums have been reviewed by DPRP), and in between he played a part on the Colossus project Dante's Inferno ~ The Divine Comedy Part 1, which my colleague reviewer stated about his contribution for that album as "one of the most distinctive and entertaining". Normally on a Colossus project bands play a song that lasts about twenty minutes. Raimundo only played 7 minutes on that album and keeps the epic songs for his solo release.
As an opener for his album he has written a song that lasts more than half an hour. Náufrago starts with acoustic flamenco guitar that is gradually joined by flute and piano. The electric guitar brings the melody that is repeated throughout this song, which itself bounces from one part of the musical spectrum to the other side. Many Latin flamenco influences with flute but also energetic electric guitar parts. The vocals are in Spanish but do not follow a predictable line, no standard pop song schemes can be found in this song. Due to the length it is a hard song to get in to and some parts seem a bit incoherent.
This is completely different on the second song, Libertad is "only" nine minutes long and follows a more predictable path. As a prog lover I certainly do not mind a epic song, but Libertad brings me more pleasant listening time than the first song. The chorus is very friendly and this song really shakes. More flamenco influences and certainly acceptable for a prog head like me. This song shows all the great parts from the first song but nicely packed within ten minutes. The track also features some nice violin, cello and some great Latin percussion.
Blue is completely instrumental and gives the Latin flamenco a bump towards jazz-fusion, at times it reminds me a bit of the music of Gong but also from Mike Oldfield. It is a very intriguing song, the pace is very slow and it really sucks you into your stereo set. A very impressive track which shows that Raimundo is a very good guitar player.
Thoughts is regarded as one song, but on the disc it is split into two pieces, both lasting almost ten minutes. The first part contains the lyrics and the second part starts when the soloing begins. The lyrics are in English, which is a shame, as although I do not speak Spanish, it suited the music better and gave it a bit more of a mystical side. The beginning is not so stretched as on the first song and stylistically reminds me of the Russian band Apple Pie. The faster pace of the first part makes it sound a bit nervous, with the second part at first continuing in that nervous pace, but breaks open for a collection of different solos. Keyboard, guitar and flute each get their spot without becoming separated. Nice transitions and all remains a very interesting collective.
So Mare Et Terra is a progressive album with many Latin influences, Spanish flamenco guitar, flute and percussion from this musician from Venezuela. The first song is very, very long and could scare away some listeners, whereas the much more compact song Libertad contains all the aspects of Raimundo Rodulfo's music but keeps it nicely compact. While writing this review summer is starting and only a few weeks before my vacation and certainly this album helps to get you in the mood. This album can be enjoyed with full attention or just as background music while holding a cold beverage by the side of the pool. Although I think mainstream music lovers will find this album too difficult, it is prog after all.
Edwin Roosjen.
---
Cosmos Music - France
RAIMUNDO RODULFO - MARE ET TERRA
Raimundo Rodulfo is a guitarist originally from Venezuela, who has already delivered a few instrumental works, unfortunately, little distributed in Europe. With this new album, released by Musea and therefore better able to meet a wider audience, the musician remains faithful to a style that takes both the touch of a Mike Oldfield and the romanticism of Camel, also incorporates jazz and rock with classical influences. Acoustic orchestrations (flute, violin, clarinet, cello, sax, vocal variety) and soaring electric coexist with the greatest happiness in 4 long pieces (36, 9, 11 and 20 minutes) instrumentals that make this Mare et Terra a real success!
http://www.cosmosmusic.fr
---
Harmonie Magazine - France
English - French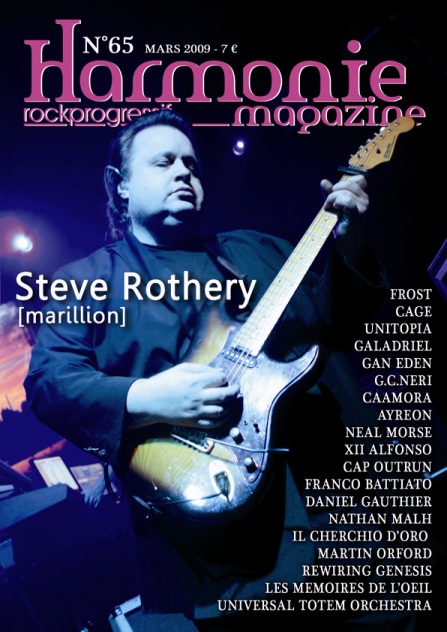 Raimundo Rodulfo - Mare et Terra - Musea
Venezuelan guitarist Raimundo Rodulfo is already the author of a strong nice instrumental solo album entitled "Suenos - Dreams", published in 2000, and The Dreams Concerto (2001), a magnificent fresco divided into three long movements.
He returns with this new opus Terra et Mare in which we found among other things, a musician from Tempano, drummer Gerardo Ubieda, and keyboardist Carlos Plaza, Kotebel leader. The musical style remains that of the beginnings, but the artist was able to push his art to great heights of control and beauty, leading to the quintessence of the meeting of electricity and acoustic orchestrations (flute, violin, clarinet, cello, voice...). This gives us an imposing work divided into two parts, divided themselves into two tracks. The particularity of this Opus is the presence of often mixed singing male and female, which allows a real variety of voice parts. In addition, classical instruments are present (flute, violin, clarinet, cello). The dominant is of course the guitar that illuminates throughout the opus. Raimundo Rodulfo seeks to vary the atmospheres within the long suite Naufrago, in which we find arpeggios of Flamenco guitar, an enchanting flute, a mastery in song and beautiful Symphonic acceleration. This suite is the symbol of a know-how and a typically South American musical fluidity. It retains a strong imprint of works from the 70's of Renaissance (for the classical side), but the style developed by our man and his guests can also be brought closer here to electric Flamenco such as Mike Oldfield, Camel, or even Steve Hackett. The three following pieces will further cloud the tracks because of the colors of jazz rock that will come and join the party (especially in Blue, almost free-jazz rock), and elements of traditional South American music.
The second part of the opus allows us to taste more rock at times, especially with the piece Thoughts and its many developments, in which keyboards/electric guitars dialogues are numerous.
Thus, this Mare et Terra leaves paths beaten because of its variety that allows us to appreciate all musical universes at the same time, including Flamenco, South American, Symphonic Rock, Jazz Rock, Prog, Classical Prog, and sometimes even rock. All these universes prove the width of the pallet of compositions of a guitarist who sees far, and offers us an opus with a great quality in which "variety" remains the key word.
Raymond Sérini
Raimundo Rodulfo - Mare et Terra - Musea
Le guitariste vénézuélien Raimundo Rodulfo est déjà auteur d'un fort agréable album instrumental en solitaire, intitulé Suenos - Dreams, paru en l'an 2000 et de The Dreams Concerto (2001), magnifique fresque décomposée en trois longs mouvements.
Il nous revient avec ce nouvel opus Mare et Terra dans lequel l'on retrouve entre autres un musicien de Tempano, le batteur Gerardo Ubieda ainsi que le claviériste Carlos Plaza, leader de Kotebel. Le style musical reste celui des débuts mais l'artiste a su pousser son art vers des sommets de maîtrise et de beauté, aboutissant à la quintessence de la rencontre de l'électricité et des orchestrations acoustiques (flûte, violon, clarinette, violoncelle, voix...). Cela nous donne une oeuvre imposante, divisée en deux parties, elles-mêmes découpées en deux pistes. La particularité de cet opus est la présence souvent mêlée des chants masculins et féminins qui permet une variété réelle des parties vocales. De plus, les instruments classiques sont très présents (flûte, violon, clarinette, violoncelle). La dominante est bien sûr la guitare qui illumine l'opus de part en part. Raimondo Rodulfo s'attache à varier les atmosphères avec la longue suite Naufrago dans laquelle nous trouvons des arpèges de guitare flamenco, une flûte enchanteresse, une maîtrise dans le chant et des accélérations symphoniques de toute beauté.
Cette suite est le symbole de tout un savoir-faire et d'une fluidité musicale typiquement sud-américains. Elle garde une forte empreinte des oeuvres des années 70 de Renaissance (pour le côté classisant) mais le style développé par notre homme et ses nombreux invités peut aussi bien être rapproché ici du flamenco électrique que de Mike Oldfield voire Camel ou Steve Hackett. Les trois morceaux suivants vont encore plus brouiller les pistes car des couleurs de jazz rock vont venir se mêler a la fête (surtout dans Blue, presque free-jazz rock), ainsi que des éléments de musique traditionnelle sud-américaine.
La seconde partie de l'opus nous permet de goûter à des moments plus rock avec surtout le morceau Thoughts et ses nombreux développements dans lesquels les dialogues claviers/guitares électriques sont nombreux.
Ce Mare et Terra sort donc des sentiers battus du fait de sa variété qui nous permet d'apprécier tout à la fois des univers musicaux flamencos, sud-américains, jazz rock, prog symphonique, prog classisant et même donc parfois rock. Tous ces univers prouvent la largeur de la palette de compositions d'un guitariste qui voit loin et nous offre un opus de grande qualité dans lequel « variété » demeure le maître mot.
Raymond Sérini
---
Progwalhalla - Holland
RAIMUNDO RODULFO - MARE ET TERRA
In 2000 I wrote a review for Dutch progrock paper Background Magazine about his first album Dreams in which I nicknamed him "The Latin-American Steve Howe" and hailed his outstanding guitarwork. Well, listening to this new (third solo) album entitled Mare Et Terra (2008), again I am impressed by his virtuosity on all guitars and again I notice strong hints of Steve Howe (and Yes). The CD starts with the epic, very alternating and melodic composition Naufrago (almost 37 minutes!): the intro delivers an excellent piece of solo classical guitar that alternates between classical, Spanish and flamenco, what a jawdropping technique but it also sounds very pleasant, not clinical or as 'scale-acrobatics'. When the music blends with flute, Dutch progfolk Flairck comes to my mind. Then we can enjoy cascades of shifting moods and breaks, from a slow rhythm with sensitive electric guitar and piano, a string-section, a blend of classical and Howe-inspired electric guitar with Grand piano to a swinging rhythm with saxophone, a compelling part with electric guitar and choir-Mellotron and a Seventies Yes oriented bombastic grand finale with jawdropping classical guitar runs, accompanied by castagnettes and lush choir-Mellotron, great! The other four tracks also showcase Raimundo his guitar skills and his pleasant and varied way of composing, I am delighted about the violin-Mellotron and warm clasical guitar in Libertad, the Santana-inspired atmosphere (guitar sound and conga's) with trumpet, flute and synthesizers in Blue, the Minimoog flights in Thoughts Part One and variety in the final track Thoughts Part Two, from a swinging rhythm with conga's and flute to bombastic Hammond and Minimoog with delicate steel-guitar work (evoking Yes) and the final part with tender classical guitar and violin, beautiful. If you are up to a varied, very tastefully arranged guitar driven album with a nice 'vintage keyboard flavor', this one is yours!
Erik Neuteboom
---
Progressia - France
English - French
Raimundo Rodulfo
Mare and Terra (2009)
(Musea) Recorded by Raimundo Rodulfo

01 - Mare: Náufrago
02 - Mare: Libertad
03 - Terra: Blue
04 - Terra: Thoughts
05 - Terra: Thoughts


Prog rock exists in Uzbekistan, so why not in Venezuela? It is precisely in this South American country that Musea went to find guitarist Raimundo Rodulfo, who defends with Terra et Mare the multiple colors of a progressive sun.

This album is conceptual needless to say, and uses all the trappings of a classic melodic art rock , complex and light at the same time. The queen of this colorful festival is called Guitar. Even thou it is marked by the obvious Latin roots, the playing of Raimundo Rodulfo goes through many other musical horizons, acoustic and electric, and especially jazz. The master of ceremony was surrounded, as in his two previous albums, by a car full of guests. Takes the presence of Carlos Plaza, keyboardist of Spanish group Kotebel, as well as the refreshing presence of several classical musicians. The conversations between the six-strings and acoustic instruments, flute, piano, violin, trumpet and saxophones, enhance the charm of this semi-exotic, semi-canonical prog rock, in the "Colossus Project" sense of the word! Raimundo Rodulfo also appears on the next episode of the Colossus series, a quadruple (!) Album based on "Inferno" of the Dante's Divine Comedy.

The thirty-six minutes of the opening ( "Náufrago") give the full measure of the instrumental richness developed on Mare et Terra. Vocals in Spanish, discreet and often welcome, are assured by three vocalists and once in a while invade the mostly instrumental titles. Only "Libertad" and the first part of the "Thoughts" feature the beautiful and special vocals of Pedro Castillo. The disc opens with gentleness and warmth, with the delicate notes of a guitar and a flute, and it closes in a flash of joy. Elevated, jumping, joyful, "Thoughts" will delight both fans of Yes than a neo-progressive scene.

The only regret that raises concerns on Terra et Mare is the production. Mixing, irregular, unbalanced, leaves something to be desired, and the instruments are in turn too much and too little present, so that one wonders sometimes if they do not play each one in their corner. This flaw is fortunately only in a few occasions and do not waste too much listening to an album with many surprises.

Jean-Philippe Haas
Raimundo Rodulfo
Mare and Terra (2009)
(Musea) Enregistré par Raimundo Rodulfo

01 - Mare: Náufrago
02 - Mare: Libertad
03 - Terra: Blue
04 - Terra: Thoughts
05 - Terra: Thoughts


Le rock prog existe bien en Ouzbékistan, alors pourquoi pas au Venezuela ? C'est précisément dans ce pays d'Amérique du Sud que Musea est allé dénicher le guitariste Raimundo Rodulfo, qui défend avec Mare et Terra les nombreuses couleurs d'un progressif ensoleillé.

Cet album, conceptuel est-il besoin de le préciser, fait appel à tout l'attirail mélodique d'un art rock classique, à la fois complexe et aérien. La reine de cette fête colorée s'appelle Guitare. S'il est fortement marqué par des origines latines évidentes, le jeu de Raimundo Rodulfo parcourt bien d'autres horizons musicaux, acoustiques et électriques, et plus particulièrement le jazz. Le maître de cérémonie s'est entouré, comme sur ses deux précédents albums, d'un wagon entier d'invités. On retiendra la présence de Carlos Plaza, claviériste du groupe espagnol Kotebel, ainsi que la prestation rafraîchissante de plusieurs musiciens classiques. Les conversations entre la six-cordes et les instruments acoustiques, flûte, piano, violon, trompette et autres saxophones, renforcent le charme particulier de ce prog mi-exotique, mi-canonique au sens « Colossus Project » du terme ! Raimundo Rodulfo figurera d'ailleurs sur le prochain épisode de la série, un quadruple (!) album basé sur « L'Enfer » de la Divine Comédie de Dante.

Les trente-six minutes d'ouverture (« Náufrago ») donnent toute la mesure de la richesse instrumentale développée sur Mare Et Terra. Le chant en espagnol, discret et souvent bienvenu, est assuré par trois vocalistes et n'envahit jamais des titres essentiellement instrumentaux. Seul « Libertad » et la première partie de « Thoughts » font la part belle au chant, et plus particulièrement à la voix de Pedro Castillo. Le disque s'ouvrait avec douceur et chaleur, par les notes délicates d'une guitare et d'une flûte, il se referme dans un éclat de joie. Enlevé, sautillant, joyeux, « Thoughts » ravira tout autant les amateurs de Yes que ceux d'un néo-progressif festif.

Le seul regret que suscite Mare et Terra concerne la production. Le mixage, irrégulier, déséquilibré, laisse parfois à désirer, les instruments sont tour à tour trop et trop peu présents, à tel point qu'on se demande parfois s'ils ne jouent pas chacun dans leur coin. Ce défaut n'apparaît heureusement qu'à quelques occasions précises et ne gâche pas outre mesure l'écoute d'un album aux multiples rebondissements.

Jean-Philippe Haas

---
Yahoo Forum - Japan
RAIMUNDO RODULFO - MARE ET TERRA
I bought the solo work of this Venezuelan guitarist because Mr. WD strongly pushed. He was right again. At the first listening I did not get it, but at the second and third time of listening, I instinctively cought the density of the content of this work. Flamenco-style guitar, but mostly symphonic rock, as hot as TRIANA but more refined and easy listening. In addition to the sound of the Melotron, this album comes with a classical orchestra, some times a reggae rhythm, fast playing mediterranean guitar in the style of Paco de Lucia, all made with cohesiveness and diversity in this work which comes with a standard impression and nearly 80 minutes to be fully enjoyed.
---
ProGGnosis / SilverDB - USA
RAIMUNDO RODULFO - MARE ET TERRA

This Venezuelan artist has been around for a while and constructing a good name for himself in the fusion circles. With Mare et Terre, Raimundo Rodulfo has gathered a good number of excellent guest musicians, which include Tempano's famous Pedro Castillo.
The result work is a perfect combination of symphonic prog with a distinctive South American flavor with plenty of jazz passages and scattered folksy intrusions. It is experimental and exotic while keeping a good ear-friendliness.
The album opens with Naufrago, a 36 minute+ opus that fully demonstrate not only the characteristics that I announced in the previous paragraph, but that really sets the mood of the listener forwhat is still to come. The remaining tracks keep up the task of presenting the listener with overviews to the fantastic sonic world of Raimundo. If Libertad is more on the folksy/sympho side, Blue tends to mix that same sympho with full jazz soloing and rhythmic section. The wind instruments in this track really implement that jazz feel while the keyboards bring back the music to more progressive grounds. But it all works well entwined.
The acoustic guitar is also worth noticing, as it adds a curious mix of medieval, flamenco and South American tones that add different colors to an already wide array of approaches. There seems to be no boundaries to hold the creativity that the artist tries to implement, and so the album flows freely, wondering through conscientious styles while mixing them in a sonic shaker.
Thoughts part 1 is a cheerful piece of music, with Gabrielesque singing and swirling guitars and keys, which impose a good rhythm and will make you start taping your foot accordingly. The second part has some experiences to propose, as it presents a more folksy approach, in slight reggae or rumba tones. Well…refreshing and challenging…
Overall this is a worthy album. It is very well played and it is original, which is something that is rarely found these days. And Mare et Terre is destined to finally give this artist the recognition that he deserves.
Nuno
---
Music in Belgium - Belgium
English - French
Raimundo Rodulfo
Mare and Terra
Born in 1970 in Venezuela, the guitarist and composer currently residing in Florida has already released five albums, including three in the studio. "Dreams" in 2000 and "The Dreams Concerto" in 2001 appear to have met a good review on this side of the Atlantic.

With this new recording, Raimundo Rodulfo was daring. Seventy-six minutes of music divided into two parts of two songs each, is both generous and risky, because we must stay the course.

The first part, "Mare", the longest, is undoubtedly the most successful. It includes all the warmth of the Latin South America, which has not yet too many Anglo-Saxon elements. Here, the author never wanted to confine his music in the restricted field of only a guitarist wanting to spread his knowledge and technique. Acoustic and electric guitars, keyboards, wind instruments, vocals and percussion mix with art, the creation of a complex and ambitious, always balanced, well constructed and clear. Raimundo Rodulfo managed to create a Progressive flamboyant, never bastard typically South American. Work close to perfection!

The tone changes in the second part, "Terra." The tempo accelerates but it does not throw into a panic. The song is not in Spanish but in English.

"Blue" enters the world of Jazz and North American Jazz-Rock, with some peaks of Free Jazz. The guitars go into demonstration, without any real restraint. The work of brass and wood becomes more important. The new keyboard brings a new hardness. If all this is excellent for jazz lovers especially, it loses all personality.

In contrast, "Thoughts" often disappoints because it hangs by bribes and cuts. Taking Yes and Steve Howe as models, Raimundo Rodulfo strayed here in so many solos that his technique certainly impressive cache poorly on the low point. Even partners are often drowned in a deluge of guitars. A disappointment!

In conclusion, "Mare et Terra" blows hot and cold. Fortunately, the balance remains significantly positive: 60% of an Art-Rock South American high-end (17/20), 15% of a Jazz-Rock Quality (15/20), 25% of a Progressive less inspired, modeled on the work of Steve Howe (10/20).

The titles (75'50):

"Naufrago" (36'34)
"Libertad" (9'01)
"Blue" (11'30)
"Thoughts" (19'45)

Interpreters:
Raimundo Rodulfo: Guitars, Bass, Mandolin & Compositions / Organ, Synth, Percussion & Vocals Additional
Gerardo Ubieda: Drums
Yoel del Sol: Percussions
Franklin Diaz: Flutes, Saxophones & Clarinet
Osvaldo Fleites: Trumpet & Flugelhorn
Carlos Plaza: Keyboards (1, 2)
Richard Marichal: Keyboard (3, 4)
Cristo Aguado: Vocals (1)
Minerva Borjas Owen: Vocals (1)
Pedro Castillo: Vocals (2, 4)
Anna Ventura: Violin
Mariana Carreras: Violin
Konstantin Litvinenko: Cello

Raimundo Rodulfo
Mare and Terra
Né en 1970 au Venezuela, ce guitariste et compositeur résidant actuellement en Floride a déjà publié cinq albums, dont trois en studio. « Dreams » en 2000 et « The Dreams Concerto » en 2001 semblent avoir rencontré une bonne critique de ce côté de l'Atlantique.

Avec ce nouvel enregistrement, Raimundo Rodulfo s'est montré audacieux. Septante-six minutes de musique subdivisées en deux parties de deux titres chacune, c'est à la fois généreux et risqué, car il faut tenir la distance.

La première partie, « Mare », la plus longue, est sans conteste la plus réussie. On y retrouve toute la chaleur latine de l'Amérique du Sud, celle qui n'a pas encore intégré trop d'éléments anglo-saxons. Ici, l'auteur n'a jamais voulu cantonner sa musique dans le champ restreint d'un guitariste uniquement désireux d'étaler son savoir et sa technique. Guitares acoustiques et électriques, claviers, instruments à vent, chant et percussions se mêlent avec art, au service d'une création ambitieuse et complexe, toujours équilibrée, bien construite et limpide. Raimundo Rodulfo est parvenu à créer un Progressif flamboyant, jamais bâtard, typiquement Sud-Américain. Un travail proche de la perfection !

Le ton change dans la seconde partie, « Terra ». Le tempo s'accélère lorsqu'il ne s'affole pas. Le chant n'est plus en Espagnol mais en Anglais.

« Blue » pénètre dans l'univers du Jazz et du Jazz-Rock Nord-Américain, avec quelques pointes de Free Jazz. Les guitares partent alors en démonstration, sans réelle retenue. Le travail des cuivres et des bois prend plus d'ampleur. Le nouveau claviériste amène une dureté nouvelle. Si tout cela reste excellent, pour l'amateur de Jazz particulièrement, l'ensemble perd en personnalité.

A l'opposé, « Thoughts » déçoit souvent, car n'accroche que par bribes et morceaux. Prenant Yes et Steve Howe comme modèles, Raimundo Rodulfo s'égare ici dans de nombreux solos où sa technique, certes impressionnante, cache mal la relative faiblesse du propos. Même ses partenaires se retrouvent souvent noyés sous un déluge de guitares. Une déception !

En conclusion, « Mare et Terra » souffle le chaud et le froid. Heureusement, la balance reste nettement favorable : 60% d'un Art-Rock Sud-Américain haut de gamme (17/20), 15% d'un Jazz-Rock de qualité (15/20), 25% d'un Progressif moins inspiré, calqué sur le travail de Steve Howe (10/20).

Les titres (75'50) :
« Naufrago » (36'34)

« Libertad » (9'01)

« Blue » (11'30)

« Thoughts » (19'45)
Les interprètes :
Raimundo Rodulfo : Guitares, Basse, Mandoline & Compositions / Orgue, Synthétiseurs, Percussions & Vocaux Additionnels

Gerardo Ubieda : Batterie

Yoel del Sol : Percussions

Franklin Diaz : Flûtes, Saxophones & Clarinette

Osvaldo Fleites : Trompette & Bugle

Carlos Plaza : Claviers (1, 2)

Richard Marichal : Claviers (3, 4)

Cristo Aguado : Chant (1)

Minerva Borjas Owen : Chant (1)

Pedro Castillo : Chant (2, 4)

Anna Ventura : Violon

Mariana Carreras : Violon

Konstantin Litvinenko : Violoncelle
---
Yahoo Auctions - Japan
RAIMUNDO RODULFO - MARE ET TERRA
"Mare Et Terra" is a masterpiece album of a beautiful melodic progressive and symphonic rock of RAIMUNDO RODULFO from South America (Venezuela).
It is the latest trascendent work with beautiful melody of the Venezuelan guitarist.
Please shed tears for the too beautiful development that he manages to create, making good use of thrilling guitar work, man and woman sweet vocals, violin, cello, flute, and clarinet, etc.
The wonderful expression of feelings from South America, and the beautiful melodic progressive and symphonic rock that exists in the picture are all developed in a dignified manner.
It is absolutely recommended for all the fans of beautiful melodic progressive and symphonic rock.
---
MikePortnoy.com Forum - USA
RAIMUNDO RODULFO - MARE ET TERRA
This South American guitarist and composer is, IMO, a genius in the progressive rock realm. It is absolutely criminal that his work is not widely known and recognized for its extraordinary quality. I am hopeful that this new release will help to change that somewhat, because it's absolutely brilliant. In addition to the amazing guitar work (both electric and acoustic), there are strings, horns, flutes, keyboards, male and female vocals, and a great rhythm section - everything a prog listener could possibly want! You can check out samples from the album at www.mindawn.com - and then, if you like what you hear (and you should, if you're a symphonic prog fan at all), you can then download it in either Ogg Vorbis (for a mere $6.99) or FLAC format (for $8.99) and convert it to mp3 if you wish. The physical CD is also available at www.kinesiscd.com (with a link to mp3 sample clips), and I cannot recommend it highly enough.
Tracks:
Naufrago (36:34)
Libertad (9:02)
Blue (11:30)
Thoughts - Part 1 (9:53)
Thoughts - Part 2 (9:52)
Check it out!
Jeff
http://www.mikeportnoy.com/forum
---
DiskUnion - Japan
RAIMUNDO RODULFO - MARE ET TERRA
Just released, 2008 work by Venezuelan-born guitarist and composer, currently active in North America. A large finished gorgeous Classical/Symphonic Rock masterpiece that makes the best use of the music background in which real Classic is mastered without reserve with 12 backing musician including Carlos Plaza (keyboards), Gerardo Ubieda (drums), Minerva Borjas Owen (vocals), and Anna Ventura (violin) among others. This is a gem where you can enjoy the beauty and originality of its own content, with dense Latin Folklore colors and great musical characteristics like SAGRADO from South America and CAST, and excellent arrangements of flowing elegant classic guitar that gracefully sprinkles the melody.
http://diskunion.net
---
Colossus Blog - Finland and Italy
RAIMUNDO RODULFO - Canto XXX of Dante's Divine Comedy "INFERNO"
Canto XXX – Raimundo Rodulfo (Venezuela) – "Falsedad y Castigo"....
The Venezuelan artist, accompanied by a strings ensemble, a drummer and a good number of guest vocalists, also deals with the Falsifiers and then follows Dante's story through his meeting with Gianni Schicchi. The song has a distinct operatic feel, with Rodulfo that avoids taking constantly centre stage as it could be expected from such a skilled artist recording under his own name. The guitars sometimes allow vague hints of the traditional South American style, but all of them skilfully hidden amongst traditional prog passages and rock riffs.
Marco Piva
http://blogs.myspace.com/index.cfm?fuseaction=blog.view&friendID=268018519&blogID=463280881
---
World Disque - http://www.marquee.co.jp/world_disque/d.w.frameset.html - Japan
RAIMUNDO RODULFO - MARE ET TERRA
Album by guitarist from Miami. It also features a group with flute and other instruments with a sound like Hackett/Genesis and Yes, with some vocals and Latin colors combined in a dynamic and dramatic development. This is a high level great masterpiece!
http://www.marquee.co.jp/world_disque/d.w.frameset.html
---
La Dosis Magazine - http://www.revistaladosis.com - Venezuela
RAIMUNDO RODULFO - MARE ET TERRA
Luego de 2 álbumes, Dreams y The Dreams Concerto, este excelso guitarrista y compositor venezolano nos entrega un álbum de fascinantes sonoridades con la densidad a la que nos tiene acostumbrados. Composiciones extensas que semejan episodios oníricos, con diversas texturas y casuales frases cargadas de emotividad que coquetean con el jazz y la musica clásica. Mare et Terra -enmarcado dentro del progrock- transpira barroco en temas como "Thoughts", pero revela aspectos "zappeanos" en "Blue", tal vez una marcada diferencia con respecto a sus predecesores. A lo largo de poco más de una hora y cuarto, las 5 piezas que conforman Mare et Terra no se desprenden enteramente de las fórmulas clásicas del género, y son las frases de la virtuosa ejecución de Raimundo un vehiculo idóneo que interconecta una idea con otra. El disco incluye a íconos del progrock venezolano como Pedro Castillo y Gerardo Ubieda, de Témpano.
Issue # 5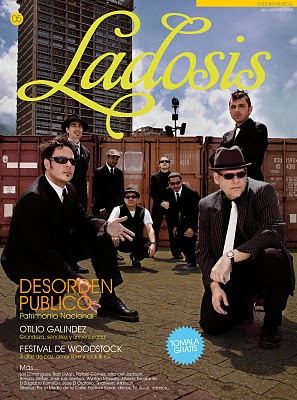 http://revistaladosis.blogspot.com/2010/02/ladosis-5-julio-agosto-2009.html
Leonardo Biggot
---
Tommy's Blog - Japan
RAIMUNDO RODULFO - MARE ET TERRA
His Myspace has the sound of an immediate buying decision!
Inherent to the guitar solos, in case by case, they are good works, and there are so many!

In "Naufrago", suddenly come the Spanish vocals, flute, trompet... good atmosphere.
Overall, I like that one, and it had like a fusion style
His guitar is in a sense, from various angles, and can be accomplished, one song, a very long.
There is comfort to its listening. One only song (Naufrago), that has more than 30 minutes!

I like that song, also a very beautiful song. Some elements of Folk, with a great melody after all!
And put the name of a solo guitarist, and amazing people involved!
He uses many instruments.
---
Euclid - Japan
RAIMUNDO RODULFO - MARE ET TERRA
New CD. Currently active in North America, this is a 2008 solo work from Venezuelan-born guitarist and composer. Carlos Plaza (keyboards), Gerardo Ubieda (dr), Minerva Borjas Owen (vo), Anna Ventura (violin), welcomed back a total of 12 other musicians, fully utilizing serious Classic background music mastered with big gorgeous classical / Symphonic Rock elaborated work, similar to Latin American bands SAGRADO and CAST.
This is an wonderful masterpiece that is unique in its content, shows elegant classical sounds in all its extension, with Latin / Folk dark melodies with originality and good taste gracefully present at the end of each arrangement.
---
RAIMUNDO RODULFO - MARE ET TERRA (French)
Vénézuelien résidant actuellement aux Etats-Unis (en Californie, plus précisément), ce guitariste (également compositeur) a plusieurs albums à son actif (cinq en tout). La liste des commentaires relatifs à son travail que l'on trouve sur son site Internet www.raimundorodulfo.com est impressionnante ! A croire que tout le gotha progressif chante les louanges de ce type… sauf nous (nous n'avons apparemment jamais parlé de son travail à ce jour). Mais qui est donc ce célèbre inconnu ? Né en 1970, il a d'abord pris des cours de violon à 7 ans, puis en autodidacte la guitare classique à 12 ans et la guitare électrique (qu'il étudie toujours à ce jour) à 14. Il fera partie de nombreux groupes pour lesquels il composera une musique mêlant le classique et le contemporain. Depuis 1992, il se consacre à son projet soliste. En 2000, il sort son premier album "Dreams", puis "The dreams concerto", un concerto pour guitare, groupe et orchestre de chambre en 3 mouvements, avec 15 invités dont des prestigieux musiciens. Cette musique sera jouée live avec 7 musiciens lors du 6ème festival Baja Prog au Mexique. En 2003, il sort 2 albums live uniquement téléchargeables sur son site web : "To LIVE a dream - Official bootleg" and "To LIVE a dream 2 - Official bootleg", qui reprennent des enregistrements tirés du Baja Prog, du Prog Jazz et même d'une première partie des Flower Kings. Pour ce nouveau disque, c'est pas moins de 76 minutes de musique très ambitieuse qu'il nous est donné de découvrir ! Commençons par les musiciens sur ce projet : outre Raimundo Rodulfo (guitares, basse, mandoline & compositions / orgue, synthétiseurs, percussions & vocaux additionnels), l'on trouve deux claviéristes (Carlos Plaza – de Kotebel - et Richard Marichal), trois chanteurs (Cristo Aguado, Minerva Borjas Owen et Pedro Castillo), deux violonistes (Anna Ventura et Mariana Carreras), un violoncelliste (Konstantin Litvinenko), ainsi que Franklin Diaz (flûtes, saxophones & clarinette), Osvaldo Fleites (trompette & bugle), Gerardo Ubieda (batterie) et Yoel del Sol (percussions). Ca fait du monde ! Résumer cet album tient de la gageure tant l'artiste a de multiples facettes : prog, bien sûr, mais aussi symphonique, jazz, jazz-rock, rock typiquement sud américain, etc. Avec "mare", c'est près de 37 minutes d'un epic qui ouvre l'album. Suivront un titre de 9 minutes, un de 11 et un de près de 20 (divisé en deux parties égales) ! J'avoue ne pas avoir compris pourquoi, sur mon exemplaire, les morceaux 1 et 3 sont inversés, mais bon, passons… Il va sans dire que le bonhomme a plus que du talent : tout est maîtrisé à l'extrême et il n'y a pas grand-chose à jeter. Amoureux de longs développements lyriques, ne pas s'abstenir. La guitare mène souvent le bal, mais les instrumentistes sont tous à la fête. Le travail de groupe est impressionnant, jamais l'on a affaire à un homme seul face à ses instruments. J'aime moins les parties chantées en anglais par rapport à celles en espagnol, mais tout dépend des goûts. Disons pour finir que cette oeuvre devrait plaire au plus grand nombre, vu le nombre de genres abordés. A découvrir…
Renaud Oualid
RAIMUNDO RODULFO - MARE ET TERRA (English Translation)
Currently residing in the United USA (California specifically), this Venezuelan guitarist (also composer) has several albums to his credit (five in total). The list of
comments on his work that we found on his website www.raimundorodulfo.com is impressive! To believe that all the Progressive elite sings the praises of this guy... except us (we apparently never spoken about his work to date). But who is this famous unknown? Born in 1970, he first took violin lessons at age 7, then self-tought on classical guitar at 12 years old, and the electric guitar at 14 (he is still studying to date). He was part of many groups in which he composed music mixing classical and contemporary. Since 1992, he devoted himself to his solo project. In 2000, he released his first album "Dreams", and then "The Dreams Concerto" a concerto for guitar and orchestra group Room in 3 movements, with 15 guests including prestigious musicians. He played this music with 7 musicians live at the 6th Baja Prog Festival in Mexico. In 2003 he released 2 live albums only downloadable from its website: "To Live a Dream - Official Bootleg" and "To Live a Dream 2 - Official Bootleg", which compile recordings from Baja Prog, ProgJazz, and even an opening show for The Flower Kings. For this new disc, is not less than 76 minutes of very ambitious music that we are given to discover! Let's start with the musicians on this project: Raimundo Rodulfo (guitars, bass, mandolin & compositions / organ, synthesizers, percussion & vocals additional), also there are two keyboardists (Carlos Plaza - of Kotebel - and Richard Marichal), three singers (Cristo Aguado, Minerva Borjas Owen, and Pedro Castillo,) two violinists (Anna Ventura and Mariana Carreras), a cellist (Konstantin Litvinenko), and Franklin Diaz (flutes, Saxophone & clarinet), Osvaldo Fleites (Trumpet & flugelhorn), Gerardo Ubieda (drums) and Yoel del Sol (percussion). It feels like the world! Summarizing this album takes the challenge as the multifaceted artist: prog, although course, but also symphonic, jazz, jazz-rock, rock typically South American, etc.. With "Náufrago" is about 37 minutes of an epic openiong the album. Follow a 9-minute track, a 11, and a nearly 20 (divided into two equal parts)! I admit I do not understand why, on my copy, pieces 1 and 3 are reversed, but hey, let it go ... without saying that the guy has more than the talent: everything is under control to the extreme and there is not much to throw. Lovers of long developments lyric, not to abstain. The guitar often leads the ball, but instrumentalists are all at the feast. The work of the group is impressive, never one is dealing with a man alone with his instrument. I least favor the parts sung in English compared with those in Spanish, but it depends on tastes. Let us say finally that this work should appeal to many, given the number of genres covered. Discover...
Renaud Walid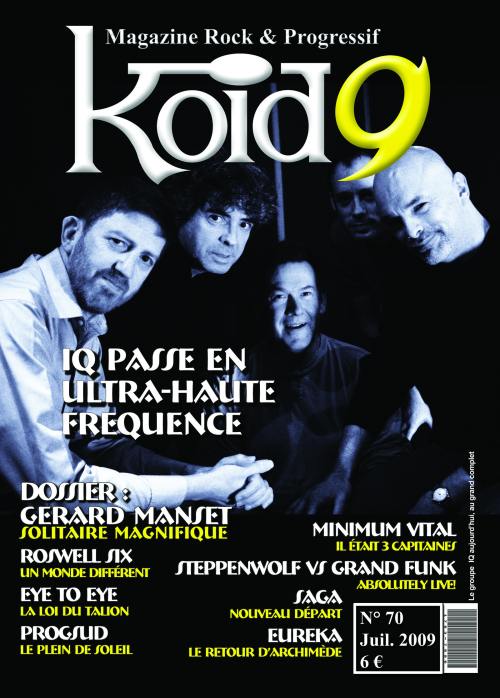 ---
Yahoo Japan
RAIMUNDO RODULFO - MARE ET TERRA
Introducing "MARE ET TERRA" from Venezuelan guitarist RAIMUNDO RODULFO. It sorprises you at the beginning with a song of more than 30 minutes duration that is epic beyond scales, with brass and strings ensembles. You will be amazed with the Flamenco and orchestral symphonic development of this masterpiece.
The next songs sound like a Spanish group involving a jazzy piano, and bring a unique sound.
Very talented people!
---
Gardenshed - www.gardenshedcd.com - Japan
RAIMUNDO RODULFO - MARE ET TERRA
Guitarist from Venezuela. 2008 work. Orchestral music with male and female vocalists, classical instruments such as violins, cellos, flutes and clarinets, centering on his guitar that shows from sweet phrases to superior excellence playing. The first half presents South America flavor with a Spanish color that evolves similar to JEAN-PASCAL BOFFO. The second half is what we could call a band product, featuring the rhythm section and the keyboard player's technical solos, and a fantastic artistic impression that does not cease to overwhelm you with its multi-colored diversity. It produces an impression similar to OVNI from El Salvador. A masterpiece.
www.gardenshedcd.com/best
RAIMUNDO RODULFO - THE DREAMS CONCERTO
New second work of South American Venezuelan guitarist. The previous production is exceeded as much as possible, with its became. Full heart work including a beautiful voice woman, many musical instrument such as flute, violin, horn and harp were introduced, classical color was added to the ensemble substantially, as a symphonic work. It seems like the masterpiece EN BUSCA DE UNA NUEVA FLOR of the same South American Cuban GRUPO SINTESIS, I think, delicacy that keeps putting the world together with classical arrangement. Book type special case edition.
www.gardenshedcd.com/best
---
Gates of Dawn - http://homepage2.nifty.com/gdawn/ - Japan

RAIMUNDO RODULFO - THE DREAMS CONCERTO
New work (year 2002) and 2nd album of the Venezuelan guitarist. It is released in a deluxe edition, with an almost 40 pages booklet. Contents have become well enough serious, featuring the classic & electric guitar which Raimundo Rodulfo plays as soloist, at the same time the classic guitar with the chamber orchestra, and the electric band which is playing in the back among different parts of the concerto. It makes enormously good, but it has a kind of air from the past. Track 1 is a great opening of woman vocals entering and twisting Latin winds. This tune has class.
Gates of Dawn
---
August Carol - http://fc2bbs.com/bbs?action=all&uid=31990 - Japan

RAIMUNDO RODULFO - THE DREAMS CONCERTO
Sueños (Dreams) was the first album of this guitarist who receives the alias of the "Latin Gordon Giltrap". His second album, The Dreams Concerto, features keyboard, violin, and introduces a woman on vocals and the guest participation of TEMPANO's singer. Everything very well built in a symphonic album of high level, improving from the first one. Also improving with the attached 40-page color booklet.
August Carol
---
Yahoo Auctions Japan - http://auctions.yahoo.co.jp - Japan

RAIMUNDO RODULFO - THE DREAMS CONCERTO
The second album of RAIMUNDO RODULFO from Venezuela. As per its content, rather than calling it the solo album of a guitarist, it sounds with the power of a real symphonic rock band, especially on the first movement which has lots of female vocals, and where the music has a high degree of completion which makes you think of ESTRUCTURA from the same country. Equipped with luxurious booklet this CD is difficult to find.
Yahoo Auctions Japan
---
Proglands - www.Proglands.com - Canada

Raimundo Rodulfo's The Dreams Concerto.
Hum ! That's a gem this one, an hystorical album for myself, with a 37 pages booklet in which it contain the CD right on the first inside centerfold page, the box is made from a soft cardboard an all are decorated with painting from Peter Rodulfo, I don't know if they are brother. The booklet is also pretty well documented, containing 10 pages only for the explanation of the Maths model of 'Mathematica y Arte II'. "It is rather the effect of my little orthodox, non-academic way of doing music, which is mainly by ear and heart" say Raymundo. I don't know in what consist the 1st project called 'Dream', but here, we are in front of an excellent Classical progressive concept album and for the first time Raimundo had incorporated "a traditional rock group" in his music.
In this album "I want to render tribute to the unswavering spirit of the human being in his endeavors to fullfill his dreams and discern his surrounding universe" say Raimundo. 15 years ago when Raimundo wrote his Suite for Guitar and Chamber orchestra, the first notes of 'The Dream Concerto' were borned and titled 'Baroque' as an hommage to his favorite period of music, this is mostly a 15 minutes of Classical acoustic music with guitar, flute, violin and viola. "Started to expand itself to a second suite" called 'La gran Epopeya de la Musica y las Ciencias' (The great Epic of Music and Science), togheter these 2 tracks complete the third movement" and simultaneously the album with a suite of 17 minutes for Electric guitar, Group and Chamber orchestra. A quite progressive ending.
The first song 'Suenos', "a sort of modern symphony...including a great deal of new elements... of contemporary music". A superb 24 minutes of pure progressive music devided in seven part with lot of Classical arrangements. Raimundo has a Classical background behind him and he used many other styles. The drumming of Andrès Briceno is absolutly superb at 3 time (2:14-3:00), (12:29-13:20), (21:56-. I try to do the beat with my two hand on my thighs, hum ! highly progressive beat! like the one I prefer. From the 10 others musicians, Beatriz Riva enhanced the music with her particular voices. 'Suenos' is both the longer song and the best one from the album. Believe me this song is one of the best progressive songs I never heard. Absolutly Superb ! The movement finish with the 4 minutes song 'Ezperanza' which is mostly a traditional folk song, because of "the melodic treatment dragged a trace of melancholy...I felt that would produced a final impression of sadness. I created a 'Coda'...with a essentially sense of hapiness, providing an optimist finale" to the movement. 'Esperanza', is a traditional song with Venezuelan's instrument like a the folk Harp and Maracas.
"The second movement was born in a completely different way...having...fascination for the science...my professional formation in engeneering has strengthened my contact with several branches of physics and mathematics. This radically changed my conception of the music...beginning to understand the links between maths and the different forms of art. The first attempt result in the song 'Matematica y Arte' from the album 'Dream', then I devellop a Mathematical model of timming for this project in a segment of the second movement of this work, which became the song 'Mathematica y Arte II'". This song is almost a fusion song, with a harder trend. 10 page show his maths model on the booklet with graphic, equation and explination, good chance! The song seems like normal ! so don't worry. The second part of the movement is an experiment with the Digital Signal Processing (DSP)... the random patterns and Fibonaci... applied to an electric guitar and to voice". The 2nd movement "abruptly breaks the predominance of the classic essence in the music of this work and insert experimental, electronic and fusion ingredients". 'Muestreo al Azar' is effectively starting with an electronic/experimental trends before moving into symphonic-rock and with a harder guitar sound pratically without Classic influences.
A really well good album coming out in 2002, with lot of Classical elements, traditional Folk, in a prog format that I highly recommand. Excellent work...
Denis Taillefer

Raimundo Rodulfo: To LIVE a Dream - Official Bootleg
This comes out at a great moment, it's an excellent idea to release a live CD only after two previous official releases, even if is not an official release. The CD is availaible only by internet and by the way under Mp3 format, it comes with the cover artworks at the size of a real CD. It is free by the way if you can get the password: so if you are already into the possession of the two previous recording, or if you buy them, 'Dreams' and 'The Dream Concerto' are also available in the Raimondo website. "I decided to don't issue it as a commercial CD, but as an official bootleg. And then I wondered: Why don't release it as a virtual album in the Internet? And actually, a downloadable CD, in both artwork and music" is available, say Raimondo. It's a real gift...
The music comes from the last three years of live performances in 3 different places and one song from a studio recording from 1986, it's a recording in solo on electric guitar of a piece from Bach called 'Bourre'. 'Duet' was recorded in duo with Manuel Rojas on flute during a TV Show. All the other songs were from two bigger show with the rock band togheter at the Baja prog Festival and a ProgJazz show. "The sound quality is not the greatest, but it is good enough to enjoy the music well. In those performances there are some fantastic moments that won't be repeated with special guest musicians and very inspired heart playing" say Raimondo. The recording really is not so bad and give a great idea of what the band sound live. Also they are over an hour of free music here, so it worst to buy the previous one just to have this one, good chance.
Denis Taillefer
---
Prog-Résiste Magazine - www.progresiste.com - Belgium

-Issue # 31

Raimundo Rodulfo: The Dreams Concerto.
French - English
Raimundo Rodulfo announce la couleur et tient parole. Après son premier album paru il y a deux ans (Dreams - Sueños), voici ce que l'on pourrait appeler son grand oeuvre, avec un concerto pour guitare, groupe et orchestre de chambre. Rien n'est fait à moitié: de la durée de l'oeuvre (qui équivaut à un double vinyle, au bas mot) à la grosseur du livret (40 pages, en couleur, explications, paroles, photos, biographie des musiciens et formules mathématiques à l'appui), jusqu'au boîtier cartonné et aux magnifiques peintures de Peter Rodulfo qui illustrent et jalonnent le concept.
Ce disque aura l'heur de plaire à un nombreux public, de mon avis. Aux amateurs de rock symphonique, bien sûr, car c'est le ciment de l'édifice. Mais ce gigantesque monument est, à l'instar de certaines constructions du passé, travaillé, peaufiné et inventé de telle manière qu'il s'y creusent des niches permettant à une multitude de styles de s'intercaler, rendant la visite guidée agréable et passionnante. Une grande place est dédiée au baroque classique, naviguant dans les eaux territoriales des quatours à cordes, agrémentés d'électricité et de rythmique dentellière.
La construction fut édifiée sous le soleil vénézuélien et il se dégage une chaleur latine bienvenue, particulièrement lors des interventions vocales illuminées de la jolie Beatriz Rivas. Cette chaleur transpire dans le jeu de guitare fluide et délié de Raimundo Rodulfo, qui se veut rond, enjôleur et caressant. Mais ces qualités ne suffiraient pas à soutenir notre attention une heure et quart durant, lors de cette visite et c'est pour cette raison que notre architecte a rajouté moult couloirs parallèles et autres labyrinthes, d'aucuns sont imbriqués dans le classicisme latent, d'autres sont présentés en une fourmilière complexe digne du meilleur jazz-rock (la partie centrale du bâtiment). De nombreux artisans ont contribué à l'élaboration de cette oeuvre, mettant leurs instruments variés au service du maître des travaux (qui est responsable de tous les instruments à cordes): basson, viole, violon, harpe, flûtes, saxophones, maracas et autres instruments électriques classiques.
Le tout a été construit et réfléchi, bâti avec sensibilité, mais avec une rigueur mathématique qui est expliquée par de nombreuses formules de progressions aritmétiques et géométriques, tendant à démontrer l'implication d'un modèle mathématique pour une construction musicale qui, au final, s'avère d'une facilité d'écoute séduisante et d'une beauté chaleureuse.
Gilles Arend

Automatic french - english translation.
Raimundo Rodulfo: The Dreams Concerto.
English - French
Raimundo Rodulfo announces the color and holds his word. After his first published album two years ago (Dreams - Sueños), here is what one could call his grand work, with a concerto for guitar, group and chamber orchestra. Nothing is half done: duration of the work (which is equivalent to a double vinyl, with the low word) with the size of the booklet (40 pages, color, explanations, texts, photographs, biography of the musicians and mathematical formulas for support), to the hard-bound case and splendid paintings of Peter Rodulfo, who illustrate and mark out the concept.
This disc will have the hor to like many public, in my opinion. With symphonic rock lovers, of course, because it is the cement of the building. But this gigantic monument is, following the example of certain constructions of the past, worked, polished and invented in such manner that it dig niches there allowing a multitude styles to intercalate itself, making the guided tour pleasant and enthralling. A great place is dedicated to the traditional baroque, sailing in territorial waters of the string quartets, decorated of electricity and rhythmic lacemakers.
The construction was built under the Venezuelan sun and it releases a welcome Latin heat, particularly at the time of the illuminated vocal interventions of pretty Beatriz Rivas. This heat perspires in the fluid and untied guitar playing of Raimundo Rodulfo, which wants to be round, enjolor and cherishing. But these qualities would not be enough to support our attention one hour and quarter during, at the time of this visit and for this reason our architect added grinds parallel corridors and other labyrinths, of aucuns that are overlapping in latent classicisme, others are presented in a complex anthill worthy of the best jazz-rock (the central part of the building). Many craftsmen contributed to the development of this work, putting their varied instruments at the service of the Master of work (who is responsible for all the string instruments): bassoon, viola, violin, harp, flutes, saxophones, maracas and other traditional electric instruments.
The whole was built and reflected, built with sensitivity, but with a mathematical rigour which is explained by many aritmetic formulas and geometrical progressions, tending to show the implication of a mathematical model for a musical construction which, finally, are proves of a facility of tempting listening and a cordial beauty.
Gilles Arend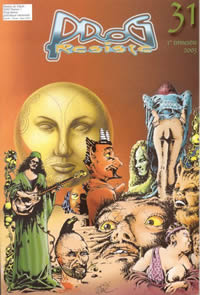 -Issue # 57

Raimundo Rodulfo: Mare et Terra.
French - English
Ha mais RAIMUNDO RODULFO n'est pas un inconnu de nos colonnes. Vous le reconnaîtrez, chers lecteurs, l'index des chroniques sur notre site de Prog-Résiste est un outil somme toute très effi cace.
C'est grâce à lui que j'ai pu retrouver le numéro dans lequel nous avions déjà parlé de Raimundo.
Mazette ! C'est qu'avec 57 numéros et plusieurs centaines de disques chroniqués à chaque numéro, un petit index pour rafraîchir la mémoire est souvent le bienvenu. Bon, donc, Raimundo Rodulfo nous avait fait l'honneur en 2003 de sa présence dans nos colonnes à l'occasion de la sortie de son deuxième album, The Dreams Concerto sorti en 2002 et qui suivait alors de près le premier sorti en 2000, Suenos – Dreams. Et puis plus rien pendant près de 7 ans. C'est que, sans doute, la création musicale progressive est faite d'embûches. Selon le livret, l'oeuvre daterait de 2007, mais n'aurait été enregistrée à Miami qu'en 2008 et enfi n publiée chez Musea cette année. Musicalement, alors que le premier album consistait en une oeuvre en solitaire et quasi essentiellement à la guitare et que le second, avec ambition, s'embarquait dans une aventure symphonique, Mare et Terra est une oeuvre typiquement progressive exécutée en groupe avec un combo de base (guitare, clavi ers, basse, batterie) et d'autres intervenants à des instruments qui ont, eux aussi, fait les beaux jours du Prog, comme le violon, la fl ûte et le saxophone. Bien que structurellement parfaitement Rock progressif, les compositions sont (origine vénézuélienne oblige…) fortement hispanisantes. La guitare classique, souvent jouée en solo lors de nombreux breaks a souvent des accents de Villa-Lobos, voire même de Rodrigo, ce qui trahit la formation classique de son auteur. Mais très vite, les breaks à la guitare électrique donnent le ton progressif qui alors va prendre des accents de Mike Oldfi eld, Steve Hacket ou de Carlos Santana (ha ! bien sûr, toujours ce coté hispanisant…).
Quand c'est la fl ûte qui s'en mêle, c'est alors plutôt à Jethro Tull que l'on a envie de penser, cette idée étant renforcée par le support de la guitare électrique qui peut alors prendre des accents à la Martin Barre. Et puis restent ces claviers, tantôt Mellotronesque, tantôt Moogesque qui vont défi - nitivement apporter ces touches typiquement Prog ou Néo-Prog. Reste le chant en espagnol qui peut-être fonctionne mieux quand il s'agit de Salsa ou de Mambo. Mais bon, la part belle est donnée aux parties instrumentales, alors… Même si elles ne sont pas une révolution ni n'apportent une grande révolution dans le genre, les compositions apportent un petit vent de fraîcheur venu du sud ou plutôt du sud-ouest qui fait plaisir à entendre.
Alex Willem

French to English Automatic Translation.
Raimundo Rodulfo: Mare et Terra.
English - French
Ha, RAIMUNDO Rodulfo is not an unknown in these columns. You will recognize, dear readers, the index of reviews on our website Prog-resistant is a tool after all, very efficient. Thanks to it I could find the issue in which we had already talked about Raimundo.
Duffer! It is only 57 numbers and several hundred disks chronic each issue, a quick index to refresh the memory is often welcome. Well, then, Raimundo Rodulfo we had the honor in 2003 of his presence in our columns to mark the release of his second album, The Dreams Concerto released in 2002 and was following closely the first out in 2000, Suenos - Dreams. And then nothing for almost 7 years. Because, without doubt, the progressive musical creation is made with pitfalls. According to the booklet, the work dates from 2007 but have been recorded in Miami in 2008 and fi nally published Musea by this year. Musically, while the first album was a solo work and almost essentially on guitar and the second, with ambition, embarked on an adventure Symphony, and Terra Mare is a typical progressive work done in groups with a combo basis (guitar, claviers, bass, drums) and others on instruments that have, too, made the heyday of prog, like the violin, flute and saxophone. Although structurally quite progressive rock, the compositions are (Venezuelan born forces...) heavily Hispanic. The classical guitar, often performed solo at many breaks often have accents of Villa-Lobos, Rodrigo and even, suggesting the classical training of its author. But very quickly, breaks the electric guitar and the tone is progressive, so take notes of Mike Oldfield, Steve Hackett and Carlos Santana (ha! Course, always the Hispanic side...).
When is the flute that gets involved, then it is rather to Jethro Tull as one wants to think this idea is strengthened by the support of the electric guitar that can then take accents of Martin Barre. And then these keyboards are sometimes Mellotronesque, sometimes going Moogesque challenge - definitively make these keys typically Neo-Prog or Prog. The rest of the song in Spanish that perhaps works best when it comes to Salsa or Mambo. Anyway, the spotlight is given to the instrumental parts, so... Even if they are not a revolution or a contribution to a great revolution in the genre, the compositions provide a fresh breeze from the south or southwest rather which is a pleasure to hear.
Alex Willem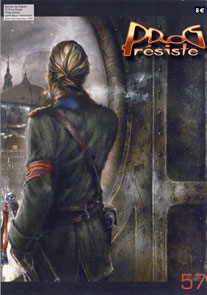 ---
Escursioni Musicali - http://francescofabbri.firenze.net - Italy
Arlequins - www.arlequins.net - Italy

Raimundo Rodulfo. The Dreams Concerto.
Italian - English
Ecco un disco che si inserisce a pieno diritto nella categoria "irrinunciabili". Raimundo Rodulfo, chitarrista e compositore venezuelano dal grande talento, con "The Dreams Concerto" è al secondo lavoro: l'opera si presenta intrigante fin dal bellissimo booklet, in cui sono riprodotti i variopinti quadri di Peter Rodulfo, quantomai in tema con la musica di Raimundo, che è puro prog al 100%, di quello sfavillante e indimenticabile!
La mezz'ora lungo la quale si distende il "First Movement" è davvero notevole: in "Sueños" i preziosi, delicati intrecci chitarra acustica/flauto si alternano a crescendo sinfonici da pelle d'oca, per un sound sempre caldo e melodicamente sopraffino. Chi ha già ascoltato gruppi come Iconoclasta e Via Lumini, ma soprattutto Sagrado e Quaterna Requiem, andrà a nozze con i sontuosi arrangiamenti di Rodulfo, molto ben elaborati. E non c'è dubbio che il feeling del CD sia assolutamente latino, tant'è che spesso tornano alla memoria anche bands nostrane quali Banco e Locanda Delle Fate; forse non è un caso, vista l'origine italiana della famiglia materna di Raimundo. Tornando alla suite, eccellenti sono pure le parti vocali femminili (in spagnolo), affidate a Beatriz Rivas; vivace è l'ultima parte strumentale, la folkish "Esperanza". Su basi differenti si muove il "Second Movement", per comporre il quale Rodulfo, che fra l'altro è ingegnere elettronico, si è servito di un complicato modello matematico di sua creazione, esaurientemente descritto nel libretto. Ciò resterà astruso per i più; nondimeno la musica che ne esce è affascinante, oscillando da trame Camel-canterburiane a passaggi maggiormente jazzy e avanguardistici. Largo spazio alla sezione ritmica e a strani effetti e filtri applicati alla chitarra, ora oldfieldiana, ora aggressivamente distorta: 17 minuti di geniale originalità. "Baroque", prima parte del "Third Movement", esplicita per contro fin dal titolo tutto l'amore che Rodulfo nutre per quello stile e per Vivaldi in particolare. Nei dialoghi fra chitarra classica e strumenti da camera l'energia è più contenuta che altrove, ma comunque non mancano buone soluzioni armoniche. La suite prosegue con "La Gran Epopeya de la Música y las Ciencias", sulla scia dei New Trolls di "Concerto Grosso" e del Rovescio della Medaglia di "Contaminazione": il connubio fra musica classica e rock è spumeggiante e non artificioso, proprio come nei capolavori del maestro Bacalov.
Dunque il buon Rodulfo, vero virtuoso della chitarra (e anche del basso, aggiungo) pur senza indulgere in compiaciute e masturbatorie elucubrazioni, possiede l'innato dono di rapire l'ascoltatore. Un sincero plauso a lui e allo stuolo di abili collaboratori di cui ha saputo circondarsi: tra flauto, sax, violini, tastiere e percussioni è davvero un bel sentire. Il pubblico europeo, in primis quello italiano, non può ignorare questo Artista!
Contatti: www.RaimundoRodulfo.com
Francesco Fabbri - luglio 2003

Italian-English translation:
Raimundo Rodulfo. The Dreams Concerto.
English - Italian
Here is a disc that becomes part with full authority of the category "irrenounceable". Raimundo Rodulfo, Venezuelan guitarist and composer of great talent, with "The Dreams Concerto" is at his second work. The work introduces intriguer due to the beautifulst booklet, in which the colorful pictures of Peter Rodulfo are reproduced, so related in topic with Raimundo's music, that is pure prog to 100%, of that sparkling and unforgettable one! The long half hour which stretches the "First Movement" is really remarkable: in "Sueños" the precious, delicate acoustic guitar and flute intertwins are alternated with a symphony in crescendo which gets a goose flesh, for an always warm and melodically excellent sound. Those who have already listened to groups like Iconoclasta and Via Lumini, but above all Sagrado and Quaterna Requiem, will go married with the sumptuous arrangements of Rodulfo, a lot quite elaborated. And there is no doubt that the feeling of the CD is absolutely Latin, so much that often return also to the memory local bands like Banco and Locanda Delle Fate; perhaps it's not a casualty, sight the Italian origin of the maternal family of Raimundo. Returning to the suite, it's excellent too the female vocal parts (in Spanish), entrusted to Beatriz Rivas; lively is the last instrumental part, the folkish "Esperanza". On different bases moves the "Second Movement", due to the composition which Rodulfo, who among other things is electronics engineer, has served of a complicated mathematical model for its creation, described in grand length in the booklet. This will stay abstruse for many people; nevertheless the music that goes out is fascinating, oscillating from Camel-Canterbury structures to mainly jazzy and avant-garde passages. Wide space is left to the rhythmic section and to strange effects and filters applied to the guitar, at times Oldfield-ish, at times aggressively distorted: 17 minutes of brilliant originality. "Baroque", first part of the "Third Movement", explicit title since it shows all the love that Rodulfo rise for that style and Vivaldi in particular. In the conversations between classic guitar and chamber instruments the energy is more contained than elsewhere, but however it doesn't lack of good harmonic solutions. The suite continues with " La Gran Epopeya de la Música y las Ciencias", with airs of New Trolls's "Concerto Grosso" and Rovescio della Medaglia's "Contaminazione": the marriage between classic music and rock is sparkling and not cunning, just as in the masterpieces of Maestro Bacalov. Therefore the good Rodulfo, true virtuoso of guitar (and also of bass, I add) simply without to comply in accommodating and self-pleasing elucubrations, possess the innate gift of to charm the listener. A sincere applause to him and the crowd of skillful collaborators of whom he knew how to surround himself: between flute, sax, violins, keyboards and percussions is indeed a beautiful feeling. The European public, mainly the Italian one, must not to ignore this Artist!
Contact: www.RaimundoRodulfo.com
Francesco Fabbri - July 2003
---
Tales of Wonder - http://web.tiscali.it/talesofwonder/ - Italy

Raimundo Rodulfo. The Dreams Concerto.
Italian - English
A monumental and very ambitious cd that I recommend to everyone's looking for complex music played with heart and brain.
Per molti di voi Raimundo Rodulfo potrebbe tranquillamente essere un attore di soap-opere sudamericane, belloccio e sempre pettinato in modo impeccabile. Invece è solo un ben pettinato ma poliedrico e virtuoso artista venezuelano tanto conosciuto in patria quanto sconosciuto all'estero, soprattutto in Europa.
"The Dreams Concerto" è un album composto, suonato e confezionato tutto in famiglia Rodulfo, potremmo dire. Infatti se le composizioni sono tutte di Raimundo, i quadri ed i disegni presenti nella bellissima confezione del cd (ben 37 pagine di booklet) sono opera del fratello Peter.
Il lungo cd è veramente un ricco calderone delle principali scuole progressive che la storia della musica ci ha regalato. Il tutto personalizzato dal gusto latino, dall' immensa tecnica chitarristica e dall'approccio intellettuale di un musicista certamente preparatissimo. Si passa con grande disinvoltura dal prog sinfonico e lineare al prog-jazz più tecnico ed improvvisato lambendo i territori art-rock. Ma non mancano neanche alcuni momenti di estrazione più classical-prog come nella prima parte del terzo movimento dove l'artista venezuelano ci delizia con delle evoluzioni di chitarra classica accompagnata da flauto, viole e violini. Il tutto corredato (nel booklet) dalla rappresentazione geometrica, con tanto di formule matematiche dettagliate, della musica contenuta nella ambiziosissima "Matematica Y Arte".
Un album eccellente dal punto di vista del tasso tecnico esibito, di fronte al quale si rimane annichiliti e che tuttavia per molti potrebbe dimostrarsi un polpettone in alcuni frangenti duro da digerire.
Un album monumentale ed intellettualmente molto ambizioso da ascoltare con le orecchie ben collegate al cervello !!
Luca Alberici

Italian to English translation
Raimundo Rodulfo. The Dreams Concerto.
English - Italian
A monumental and very ambitious cd that I recommend to everyone's looking for complex music played with heart and brain.
For many of you Raimundo Rodulfo could easyly be an actor of South American soap-operas, fairly good-looking and always combed in impeccable way. Instead he is not only well combed but a versatile and virtuoso Venezuelan artist, quite well known in his country but totally unknown outside, especially in Europe.
" The Dreams Concerto " is an album composed, played and packaged by Rodulfo family in its entirety, we could say. In fact, the compositions are all of Raimundo, and his brother Peter made the paintings that make the 37 pages booklet a small jewel of colours and contents.
This cd is truly a wide kettle of the main progressive schools that the history of music has given to us, enriched by an unique latin taste, a superior guitar playing technique and an impressive intellectual approach to music from a sure well-informed musician.
Here music passes with great sprightliness from the symphonic and linear prog to the more technician and improvised prog-jazz walking on the territories of art-rock. But it doesn't lack of some moments of more classical-prog extraction like in first part of the third movement where the Venezuelan artist delight us with the evolutions of classic guitar accompanied with flute, viola and violins. There is a full development (in the booklet) of the geometric representation, with a lot of mathematical formulas detailed, of contained music in the most ambitious " Matematica y Arte ".
An excellent album from the point of view of the exhibited technical rate, of forehead to which you remaine annihilated and that however for many people it could show itself in some parts a little hard to digest.
A monumental and intellectually very ambitious album for listen with the ears well connected to the brain !!
Luca Alberici

Raimundo Rodulfo. To LIVE a Dream - Oficial Bootleg.
Italian - English
Raimundo Rodulfo è un virtuoso della chitarra proveniente dal Venezuela che si sta pian piano imponendo alla ribalta della scena prog mondiale.
"To Live A Dream" è il suo primo album dal vivo, anche se in realtà è un bootleg ufficiale, scaricabile esclusivamente dal suo sito web; per avere accesso all'area protetta è necessario possedere i suoi primi due album e da questi ottenere la password di accesso.
L'ascolto di questo live, la cui registrazione in verità è lontana da una qualità eccellente, mi da l'opportunità di confermare quanto di positivo scrissi sulla sua ultima fatica ufficiale "The Dreams Concerto": Raimundo è un musicista incredibilmente tecnico, che sa pizzicare le corde ed usare gli armonici come pochi ma che sa anche "abbassarsi" e mettersi al servizio di una maggiore accessibilità.
La sua musica è come il petrolio venezuelano: è abbondante (beati loro), ti contagia a macchia d'olio e qundo si infiamma ti riscalda al punto giusto. Vi sono chiare influenze progressive, quelle più classiche e sinfoniche (alla Jethro Tull e Curved Air ) grazie all'uso molto frequente di strumenti quali violino, viole e flauti; ma non vengono disdegnati ripetuti sconfinamenti verso il folk di matrice sudamericana, cioè molto allegro e ritmato come da tradizione.
Ascoltare la sua musica è proprio come vivere un sogno colorato, molto simile alle rappresentazioni pittoriche del fratello Peter che puntualmente fanno da corredo ai cd di Raimundo.
Vi consiglio di procurarvi i 2 album che ho menzionato e di iniziare subito dopo il download di questo concerto. Il sito lo trovate all'indirizzo www.RaimundoRodulfo.com
Luca Alberici

Italian to English translation
Raimundo Rodulfo. To LIVE a Dream - Oficial Bootleg.
English - Italian
Raimundo Rodulfo is a virtouso guitarist coming from Venezuela, whose popularity is slowly growing up in the classical progressive scene. "To Live A Dream" is his first live album, even if it's only an official bootleg downloadable exclusively from Raimundo's website; you can enter the protected area only if you have his previous two albums which you take the password from.
Althought the recording quality is not so high and clear, this live performance gives me the opportunity to confirm my very positive feedback I wrote about "The Dreams Concerto" album.
Raimundo is an incredibly high-skilled musician able to pinch the chords of his guitar as few guitarist can do; but he also knows how to "go lower" and to work for a greater accessibility. He has a very classical background and a clever intellectual approach to music.
Nevertheless his music is far from being boring and too complex. Inside each track (usually quite long lasting) you can find progressive influences, as well as classical and symphonic (like Jethro Tull and Curved Air), thanks to the very frequent use of instruments as violin, violas and flutes; but also South American folk influences, very cheerful and rhythmical as per tradition.
His music is like the petroleum which Venezuela has plenty of and which recently caused some walk-outs in that country; it's contagious like an oil-stain and when it caught fire you feel very excited.
Listening to his music is actually like "to live a dream", an intense and multicoloured dream, so well represented by Peter Rodulfo's paintings.
My deep recommendations is to buy his two official albums and to start the download immediately afterward at www.RaimundoRodulfo.com
Luca Alberici
---
Movimenti Prog - www.movimentiprog.net - Italia

RAIMUNDO RODULFO (Venezuela). The Dreams Concerto.
Italian - English
Un genio dal paese delle telenovelas
Si è sempre data una definizione del rock progressive come una miscela, un blend di tantissimi generi musicali uniti a formare una sinergia unica e potente nelle emozioni che regala. Questo disco rispecchia in pieno tale definizione e lo fa in modo veramente egregio.
Raimundo Rodulfo è un trentaduenne venezuelano polistrumentista su strumenti a corde e percussioni, laureato in ingegneria elettronica che ha profonde nozioni di fisica e matematica.
Il suo carattere lo ha sempre portato a cercare di capire l'influenza che hanno i sogni sulla psicologia dell'uomo e la positività filosofica che ne scaturisce da essi.
Questa vena onirica di Rodulfo è ben contemplata nei suoi due unici dischi, il precedente, "Dreams" del 2000, e quest'ultimo "The Dreams Concerto" del 2002, tutti autoprodotti e distribuiti da un'etichetta indipendente, la Musical Mind.
E' incredibile come Rodulfo, in mezzo ad un'oceanica influenza di stili tra i quali svettano in primis Steve Hackett e Steve Howe, Jethro Tull, Yes e un pizzico di sapori jazzati, riesca ad unire con una personalissima rivisitazione delle sinfonie classiche e barocche in chiave latineggiante così tante sonorità strumentali diverse senza far sì che le stesse oberino e sommergano l'ascoltatore senza fargli perdere interesse.
Eredità dei suoi studi in ingegneria elettronica è invece la scomposizione in mere formule matematiche della musica da lui suonata. Direttamente dal suo sito si può addirittura scaricare un programma di modeste dimensioni (circa 3 MB), che sulle note del "Secondo Movimento - Matematica y Arte II" costruisce una rappresentazione grafica frattale dinamica basata sulle formule matematiche sui cui si basa la musica stessa.
Tutto questo può però essere meno interessante per l'ascoltatore attento. D'altronde Rodulfo sottolinea nel corposo booklet di 38 pagine che fa tutt'uno con l'elegante digipack del CD, delle quali 10 impegnate nella spiegazione delle sue teorie matematiche, che chi non fosse interessato alle elucubrazioni astruse da lui trattate vada pure avanti e si goda il lavoro artistico e prettamente musicale. E questo è veramente da godere.
E' però comunque un bene notare come al giorno d'oggi un'artista si applichi e s'impegni culturalmente da ogni punto di vista intellettivo, e anche quello visuale è molto curato. Questa è una parte assegnata al pittore americano Peter Rodulfo (nessuna relazione di parentela con Raimundo), il quale tratteggia benissimo il significato di ciò che vuole esprimere il musicista. Dato che anche il concept art del disco precedente del chitarrista venezuelano era disegnato dallo stesso artista, si può dire che Peter Rodulfo è diventato un po' come Roger Dean per gli Yes: un'estensione visuale della concezione sonora del musicista stesso.
Come curiosità si può notare che è presente tra i numerosi musicisti del disco un altro Rodulfo che non ha nessuna relazione con Raimundo: il sassofonista statunitense Pablo Gil.
L'album è diviso in Tre Movimenti, come nella più classica concezione delle sinfonie dei secoli scorsi, a loro volta suddivisi in altri due sotto-capitoli per ogni Movimento. Ogni traccia del disco è arte allo stato puro.
Il Primo Movimento, nella parte della suite di oltre 24 minuti "Sueños", comincia con un motivo molto classicheggiante cantato dalla soave voce di Beatriz Rivas, famosa cantante in madre patria e anche bella ragazza, il che non guasta mai, fino all'incirca il quinto minuto, accompagnata da una precisa ritmica. Dopo di che c'è un intermezzo, energico e di flauto molto tulliano, che fa intravedere quel che verrà dopo. Si riprende con il motivo iniziale orchestrato con violini e chitarra classica e poi si parte con una cadenza molto rock sempre con stacchi classici cantati dalla Rivas.
Da circa il dodicesimo minuto inizia il motivo principale del Movimento sottolineato dalle voci della Rivas e di Pedro Castillo insieme, con una ritmica movimentata e stacchi ben congegnati di chitarra elettrica suonati con egregia tecnica da Rodulfo su controtempi e tempi dispari. Un'orgia di suoni, tecnica e progressive allo stesso tempo unita ad una sinfonia di stampo classico.
Si chiude in crescendo, dopo un intermezzo d'atmosfera yessiana e violini, con le voci della Rivas e di Castillo che volteggiano splendidamente ed esplosioni orchestrali a iosa mentre Rodulfo non smette mai con i suoi solos tecnicissimi fino alla fine. Splendido brano. Un tripudio.
Per cercare di rimettere in strada l'ascoltatore, Rodulfo prosegue con la coda del Primo Movimento, "Esperanza", motivo allegro e movimentato per chitarre varie in stile molto Howe nelle atmosfere ma anche molto personale su una ritmica cadenzata e dispari e con una bella chiusura di flauto.
Eccezionale Rodulfo nell'utilizzo perfetto, tecnico, preciso e soprattutto appassionato degli strumenti a corda acustici. E' bravo e suona con cuore, caratteristica dell'artista latino di lontane origini italiane.
Passiamo al pezzo forte per gli appassionati delle sonorità prepotentemente progressive: il "Secondo Movimento", formato da "Matematica y Arte II" e "Muestro al Azar" due pezzi che sono la summa degli studi matematici di Rodulfo tradotti in arte musicale.
"Matematica y Arte II", ideale proseguimento di "Matematica y Arte" presente nel primo disco, parte con un inizio al fulmicotone in stile Yes, con scale velocissime di chitarra che ancora una volta esaltano la bravura di Rodulfo su tempi dispari e stacchi in controtempo e che faranno andare in brodo di giuggiole gli amanti di queste sonorità. Si prosegue con un tempo cadenzato e giochi strumentali di chitarra e basso. Si conclude con gli assoli impazziti di sax di Pablo Gil Rodulfo e di chitarra, sul tempo sostenuto dal basso di Ricardo Furiati e dagli splendidi stacchi di batteria di Andrés Briceño. Brano perfetto che sfuma sui giochi di effetti di chitarra in "Muestro al Azar". Effetti che svaniscono quando attacca la batteria, con balzelli di drum-kit elettronici come quelli utilizzati da Bill Bruford durante la tourneè di "Union"nel '91, e la chitarra apre con accordi d'atmosfera in secondo piano che ricordano qualcosa dei Pink Floyd. Entrate di synth molto ariose completano le rotondità sonore, mentre Rodulfo chiude svisando in lontananza e sfumando fino alla fine, nella quale gioca con gli effetti. Ancora un plauso al chitarrista venezuelano che in questo brano ha applicato una generazione casuale di pattern elettronici alla chitarra producendo effetti molto suggestivi.
Si sentono parecchie influenze in questo lavoro ma il sound e le composizioni sono tutte molto personali.
Il "Terzo Movimento" è composto da "Baroque" e "La Gran Epopeya de la Musica y las Cencias".
"Baroque" è un omaggio di quasi un quarto d'ora al periodo musicale preferito da Rodulfo.
Un concentrato di stile barocco composto per chitarra classica, violino, clavicembalo, flauto e arpa. Brano forse un po' soporifero per chi non è abituato a queste atmosfere classiche di periodi ormai quasi dimenticati. Però a farceli tenere bene a mente c'è Rodulfo con la sua splendida tecnica, ed è interessante notare come un musicista moderno sia ancora in grado di comporre un'opera del genere che sembra scaturita direttamente dal XVII secolo.
Questo è il brano che lo fa avvicinare di più in assoluto ad un compositore classico che non ad un musicista rock. Un altro bravo.
"La Gran Epopeya de la Musica y las Cencias" è il proseguimento naturale di "Baroque", come spiega Rodulfo stesso nel booklet, soltanto che che sulle sonorità precedenti ha inserito, a perfetta chiusura dell'album e a favore della varietà sonora, il suo perfetto chitarrismo e tutta la strumentazione elettrica di un gruppo rock che riprende in tutto e per tutto gli stilemi di questa musica.
Questo rende il pezzo di quasi sedici minuti un perfetto connubio di barocco, classica e rock il quale alla fine non è nient'altro che la mera definizione del progressive, per tornare al discorso iniziale, ma che comunque infine si trasforma in qualcosa che non è progressive nella comune accezione del termine.
Rodulfo nella sua genialità riesce a completare questa sua sinfonia in modo perfetto ricordando addirittura a volte, ma solo nelle atmosfere e nelle modalità di giuntura tra i diversissimi mondi musicali del classicheggiante e del rock, un altro "mostro" della chitarra: Yngwie J. Malmsteen, che ha fatto dell'unione tra i sinfonismi e l'heavy metal la sua bandiera. Rodulfo lo fa però in modo molto più elegante, meno pesante e monotono, bloccando all'improvviso le sue sfuriate di chitarra e riprendendo nel bel mezzo le melodie di chitarra classica e i barocchismi dei violini quando capisce che sta per sforare in un campo che non gli appartiene. Un altro brano memorabile del suo repertorio.
In conclusione questo è un lavoro prettamente strumentale, nel quale le voci della Rivas e di Castillo sono soltanto di contorno e nel quale vengono esaltate le capacità strumentali e compositive di Raimundo Rodulfo, vero e proprio mattatore e protagonista del disco come è giusto che sia.
E' un artista contemporaneo tra i migliori e più geniali in circolazione ed è un peccato che non trovi un contratto adeguato presso una major. Ma si sa: questo non è un genere assolutamente trainante su cui investire, in barba alla validità del musicista.
Se non viene dato il massimo dei voti è soltanto per la cattivissima distribuzione europea, quasi totalmente assente, che rende di difficile reperibilità questo capolavoro autoprodotto, forse uno dei migliori del 2002.
Daniel Cutali

Italian to English translation:
RAIMUNDO RODULFO (Venezuela). The Dreams Concerto.
English - Italian
A genius from the country of the soap-operas
Always has been given a definition of rock progressive as a mixture, a blend of so many musical genres united to form a powerful and unique synergy of the emotions that it gives. This disc fully reflects such definition and does it in a really distinguished way.
Raimundo Rodulfo is a thirty-two-years-old Venezuelan multi-instrumentalist on strings and percussion instruments, graduated in electronics engineering that has deep knowledge of physics and mathematics. His character has always made him want to understand the influence that dreams have on the psychology of man and the philosophical positivism that springs of that. This dreamlike vein of Rodulfo is quite contemplated in his two soloist discs, the precedent, "Dreams" of 2000, and this last one "The Dreams Concerto" of 2002, all self-productions.
And it's incredible how Rodulfo, in the middle of an ocean of style influences between which stand out primarily Steve Hackett and Steve Howe, Jethro Tull, Yes and a bite of jazzy tastes, succeeds to unite with a personal revisiting of the classic symphonies and baroque in latin key so much different instrumental sounds without being overwhelming and submerging the listeners without making them lose interest.
Inherited of his studies in electronics engineering is instead the decomposition in pure mathematical formulas of the music that he plays. Directly from his site is possible to download a program of modest dimensions (about 3 MB), that builds on the notes of the "Second Movement - Matemática y Arte II" a graphic dynamic fractals representation based on the mathematical formulas on whose the same music is based. However, all this is less interesting for the careful listener. On the other hand Rodulfo underlines in the thick 38-pages booklet that forms the elegant CD digipack, of which 10 are dedicated to the explanation of his mathematic theories, that those don't interested in his abstract elucubrations can go ahead and enjoy the artistic and truly musical work. And this is really to enjoy.
However, is good to notice how, like the nowadays artists, he is culturally dedicated and engaged to every intellectual point of view, and also the visual one is deeply treated. This is a part assigned to the American painter Peter Rodulfo (no connection of relations with Raimundo), who sketches well the meaning of what the musician wants to express. As the Venezuelan guitarist previous disc art concept was also drawn by the same artist, that means that Peter Rodulfo became a little like Roger Dean for Yes: a visual extension of the sound conception of the musician himself.
As a curious note, between the numerous musicians of the disc is present another Rodulfo that has no connection with Raimundo: the American saxophonist Pablo Gil.
The album is divided in three movements, like in most classic conception of the past centuries symphonies, at the same time subdivided in other two sub-chapters for every movement. Every track of the disc is art in pure state.
The First Movement, in the part of the beyond-24-minutes suite "Sueños", begins with a very classical theme sung by the gentle voice of Beatriz Rivas, well-known singer in mother homeland and also attractive girl, what never is out of order, until it changes over the fifth minute, accompanied of a precise rhythmic theme. After that comes an interval, energetic and with lot of Tull-like flute, that foresees what comes after. It comes again with the initial theme orchestrated with violins and classic guitar and then it is left with a very rockish cadence always with classic gaps sung by Rivas. From about the twelfth minute it begins the main theme of the movement underlined from the voice of Rivas and Pedro Castillo together, with a lively rhythmic theme and breaks quite devised of electric guitar played with notable technique by Rodulfo on polyrhythmic and uneven tempos. An orgy of sounds, technique and progressive united at the same time to a symphony of classic estructure. It is closed in crescendo, after an interval of Yes-ish atmosphere and violins, with the voice of Rivas and Castillo which splendidly return and orchestral explosions in abundance while Rodulfo never stops with his technical solos through the end. Splendid piece. A rejoice. In order to put the listener again in the road, Rodulfo continues with the tail of the First Movement, "Esperanza", cheerful and lively with varied guitars very Howe style in the atmospheres but also very personal on the rhythmic cadence and uneven tempo and with an attractive closing of flute. Exceptional Rodulfo in the perfect utilization, technique, precise and passionate above all in the acoustic strings instruments. And capable to plays with heart, characteristic of the Latin artist of distant Italian origins.
We go next to the strong theme for the fascinating predominantly progressive sound: the "Second Movement", formed by "Matemática y Arte II" and "Muestreo al Azar", two tracks that are the summa of the mathematics studies of Rodulfo translated to musical art. "Matemática y Arte II", ideal sequel of "Matemática y Arte" present in the first disc, starts with a fulminant beginning in a Yes style, with the fastest scales of guitar that once again exalt the skill of Rodulfo on uneven times and tempo breaks and that will make the lovers of these sound happy. It continues with a time cadence and instrumental guitar and bass playing. It is concluded with the mad sax solo of Pablo Gil Rodulfo and the guitar solo, over the continuous bass of Ricardo Furiati and the splendid drum playing of Andrés Briceño. Perfect piece that vanishes on the guitar effects playing in "Muestro al Azar". Effects that vanish when drums attack, with heavy doses of electronic drum-kit as those used by Bill Bruford during the '91 "Union" tour, and the guitar opens with atmospheric chords in the background which remembers Pink Floyd. Then the synth enters pompously completing the soundscape, while Rodulfo closes harmonizing in the distance and vanishing through the end, in which he plays with the effects. Still an approval to the Venezuelan guitarist that in this track applied an aleatory generation of electronic patterns to the guitar producing very evocative effects. Several infuences can be felt in this job but the sound and the compositions are all very personal.
The "Third Movement" is composed of "Baroque" and "La Gran Epopeya de la Música y las Ciencias". "Baroque" is a tribute of almost quarter an hour to Rodulfo's favorite musical period. A compendium of baroque style composition for classic guitar, violin, clavicembalo, flute and harp. A suite perhaps a little soporific for who is not used to these classic atmospheres of periods now almost forgotten. However let's keep well in mind that there Rodulfo is with his splendid technique, and it's interesting to note how a modern musician is still in a position of to compose a work of the kind that seems sprung directly from the XVII century. This is the theme that he approaches more absolutely as a classic composer than as a rock musician. Another Bravo!.
"La Gran Epopeya de la Música y las Ciencias" is the natural sequel of "Baroque", how Rodulfo himself explains in the booklet, only that on this theme he introduced, as a perfect closing for the album and in favor of the varied sound, his perfect guitar playing and all the electric instrumentation of a rock group that takes it in all again and for all the styles of this music. This renders the suite of almost sixteen minutes a perfect marriage of baroque, classic and rock which finally is nothing but the mere definition of progressive, to return to the initial speech, but that however is finally transformed in something that is not progressive in the common meaning of the word.
Rodulfo in his brilliance succeeds to complete his symphony in perfect manner quite remembering in times, but just in atmospheres and the modalities of making an union between the most various musical worlds of classics and rock, another guitar "monster": Yngwie J. Malmsteen, who did of the union between symphonic music and heavy metal his flag. Rodulfo does it however in a more elegant way, without being weighing and monotonous, blocking unexpectedly his guitar picking and taking again in the beautiful intermezzo the melodies of classic guitar and the baroque feeling of violins when he understands that is about to overrun in a field that does not belong him. Another memorable piece of his repertory.
In conclusion this is a truly instrumental work, in which the voice of Rivas and Castillo are just surrounding and in which is excited the instrumental and compositive capacity of Raimundo Rodulfo, true and actual director and protagonist of the disc just the way it is. And a contemporary artist between the best and most brilliant ones in circulation, and is a sin that he doesn't find an adequate major distribution contract. But it is known: this is not an absolutely pulling ahead genre on which invest, in spite of the value of the musician. If it doesn't get the maximum of the votes is just for the worst European distribution, nearly totally absent, that renders of difficult availability this self-produced masterpiece, perhaps one of the best of 2002.
Daniel Cutali
---
Eventyr Magazine - www.eventyr-records.it - Italy

Raimundo Rodulfo - Sueños
Italian - English
Autoproduzione - 2000
Raimundo Rodulfo è un compositore e polistrumentista venezuelano autore di due album, entrambi recensiti in questo decimo numero di Eventyr Magazine. In questo lavoro d'esordio Rodulfo, oltre ad aver composto tutte le partiture, si è fatto carico di suonare le chitarre (elettriche, acustiche, classiche e slide), il mandolino, il basso e le percussioni. A coadiuvarlo in questa impresa vi è una folta schiera di musicisti: Frank Alburjas (flauto), Lermit Martinez (tastiere), Jesus Perez (batteria), Alfredo Suarez (percusioni), Carlo Rodriguez (basso), Cesar Romano (violino), Efrain Ramirez (viola), Edgar Rodriguez (sax). Lo stile compositivo di Rodulfo trae ispirazione principalmente dagli Yes, soprattutto per quanto riguarda la maniera di suonare la chitarra: il buon Raimundo infatti, sia che si esibisca con l'elettrica o con l'acustica, sembra essere cresciuto con in mente i soli del grande Steve Howe e con una gran voglia di emularli. L'influenza Yes non è tuttavia così assoluta (e ingombrante) nei quasi 70 minuti del disco. La presenza di flauto e violino fa si che le composizioni virino talvolta verso un folk piuttosto gradevole mentre altre volte è il jazz a fare capolino grazie sia alla presenza del sax (strumento purtroppo non così utilizzato in ambito prog) che al "cambio di stile" della chitarra che prende le distanze da Howe e confeziona improvvisazioni non proprio degne di John Scofield ma tutto sommato non spiacevoli. Per concludere possiamo dire che i brani sono tutti piuttosto gradevoli e non privi di una certa originalità, caratteristica quest'ultima che trova la massima espressione nella quarta traccia, intitolata non a caso "Tormenta de ideas", nella quale si passa con una certa efficacia dalla fusion al reggae fino ad arrivare al jazz e al blues, a confezionare sette minuti di ottimo progressive. Stranamente il brano più debole dell'album è forse proprio la canonica, onnipresente mega-suite (oltre 21 minuti), a volte orientata verso una insipida new age e nella quale le idee risultano comunque un po' annacquate ed eccessivamente dilatate forse proprio allo scopo di raggiungere l'elevato minutaggio sempre gradito ai prog fan (che alle volte sembrano dimenticare come si possa fare dell'ottimo progressive anche in brani di 4 o 5 minuti. Gentle Giant docet...). Da ascoltare.
Paolo Formichetti

Italian to English Translation:
Raimundo Rodulfo - Sueños
English - Italian
Self Production - 2000
Raimundo Rodulfo is a Venezuelan composer and multiinstrumentalist author of two albums, both reviewed in this tenth issue of Eventyr Magazine. In this debut work of Rodulfo, beyond having composed all the scores, he has played the guitars (electric, acoustic, classic and slide), the mandolin, the bass and the percussions. To help him in this endeavour is a large rank of musicians: Frank Alburjas (flute), Lermit Martinez (keyboards), Jesus Perez (drums), Alfredo Suarez (percussion), Carlos Rodriguez (bass), Cesar Romano (violin), Efrain Ramirez (viola), Edgar Rodriguez (sax).
The compossing style of Rodulfo take inspiration mainly from Yes, mainly regarding the way to play the guitar: actually the good Raimundo, whether is exhibited with the electric or the acoustic, seems to have been grown up with the unique grand Steve Howe in mind and with a big desire to emulate him. The Yes infuence is not however therefore absolute (and cumbersome) in the almost 70 minutes of the disk. The presence of flute and violin does itself that the compositions turn sometimes towards a rather pleasant folk while other times is the jazz predominating thanks to the presence of the sax (instrument unfortunately therefore not used in within prog) and to the "change of style" of the guitar that keeps a distance from Howe and manifactures improvisations worthy of John Scofield but all together pleasantly.
To conclude we can say that all the tracks are rather pleasant and not lacking of a certain originality, feature this last which finds the greatest expression in the fourth track, not randomly titled "Brainstorm", in which is gone with a certain effectiveness from fusion to reggae until arriving to jazz and blues, making seven minutes of the best progressive. Strangely the weakest piece of the album is perhaps actual the canonical, omnipresent mega-suite (beyond 21 minutes), sometimes orientated towards an insipid new age and in which the ideas result however a little one watered down and ecessively expanded perhaps actual to the purpose of to reach the high timing always appreciated by prog fan (that sometimes seem to forget how is possible to do the best progressive in 4 or 5 minutes: Gentle Giant). To listen to.
Paolo Formichetti

Raimundo Rodulfo - The Dreams Concerto
Italian - English
Autoproduzione - 2002
Secondo album per il bravo compositore venezuelano Raimundo Rodulfo e seconda recensione sullo stesso numero di Eventyr Magazine. In questo lavoro le cose si fanno ancora più complesse ed ambiziose che nel precedente, Sueños. Il disco è sottotitolato infatti "Concerto per chitarra, gruppo e orchestra da camera" e consta infatti di 3 movimenti, 3 mega-suite che durano, rispettivamente, 28, 16 e 33 minuti. L'elenco dei musicisti utilizzati per registrare quest'opera è lunghissimo: oltre allo stesso Rodulfo (chitarre, mandolino, percussioni, basso, voce) la lista comprende Lermit Martinez (tastiere), Carlo Rodriguez (basso), già presenti nel lavoro precedente, nonchè Pablo Rodulfo (sax), Pedro Castillo e Beatrice Rivas (voce), Andres Briceno (batteria), Cesar Romano (violino, viola), Carlos Orozco (arpa), Manuel Rojas (flauto), solo per citarne alcuni. Passando ai contenuti diciamo subito, tanto per essere chiari, che si tratta di un disco veramente molto bello in cui la musica classica, a seconda dei casi, si affianca o si fonde quasi alla perfezione con il progressive. Le parti più classicheggianti, per inciso le migliori del disco, rimandano alla mente ora Bach, ora Vivaldi, ora alcune composizioni per chitarra classica ed orchestra (le opere di Rodrigo, ad esempio), e sono caratterizzate dall'assenza assoluta di batteria o strumenti elettrici e, al contrario, da sontuosi arrangiamenti acustici con archi, flauto e chitarra classica a ricamare di continuo bellissime melodie. In altri momenti, invece, con l'ingresso della batteria e con Rodulfo che imbraccia la chitarra elettrica, abbiamo una perfetta fusione tra musica classica e moderna. I risultati sono quasi sempre piuttosto apprezzabili tranne quando Rodulfo si fa prendere un po' troppo la mano e si lancia in veloci soli di Malmsteeniana memoria. In ogni caso anche in questi frangenti non si scade fortunatamente mai nel cattivo gusto che invece caratterizza il pingue guitar-hero svedese, anche se va sottolineato come Rodulfo dia il meglio di se dal punto di vista compositivo più quando ricama con la chitarra elettrica parti lente e melodiche che quando si lancia in scale barocche eseguite ad iper-velocità, che poi, se vogliamo dirla tutta, non è neanche così iper... (almeno in questo caso dobbiamo spezzare una lancia in favore dell'adiposo Yngwie e riconoscerne la superiorità). Delle tre suite, la prima e la terza, a parte piccolissime cadute di tono, sono veramente molto belle e richiedono un ascolto attento e partecipe per essere apprezzate fino in fondo. Oltre alle influenze classiche prima citate fanno venire alla mente, per restare in ambito prog, Quaterna Requiem, Sagrado, Iconoclasta, vale a dire la crema del progressive centro-sud americano, nonché il mitico "Concerto grosso" dei New Trolls. La seconda suite, fortunatamente la più breve delle tre, si lascia apprezzare un po' meno a causa del suo carattere maggiormente sperimentale ed avanguardistico che lascia l'ascoltatore un po' spiazzato specie a causa dell'inevitabile confronto con il calore sprigionato dalle altre due composizioni. In ogni caso si tratta di un cd veramente molto bello che rifulge di luce assai brillante tra le produzioni che negli ultimi anni sono provenute dal Sud-America. Promosso a pieni voti.
Paolo Formichetti

Italian to English Translation:
Raimundo Rodulfo – The Dreams Concerto
English - Italian
Self Production - 2002
Second album of the clever Venezuelan composer Raimundo Rodulfo and second review on the same number of Eventyr Magazine. In this work the things go even more complex and ambitious than in the precedent, Sueños. The disk is actually subtitled "Concert for Guitar, Group and Chamber Orchestra" and in fact contains 3 movements, 3 mega-suites that last, respectively, 28, 16 and 33 minutes. The list of the musicians used to record this work is long: besides Rodulfo himself (guitars, mandolin, percussions, bass, vocals) the list includes Lermit Martinez (keyboards), Carlos Rodriguez (bass), already present in the previous work, and Pablo Rodulfo (sax), Pedro Castillo and Beatriz Rivas (vocals), Andres Briceño (drums), Cesar Romano (violin, viola), Carlos Orozco (harp), Manuel Rojas (flute), just to name some. Passing to the contents immediately we say, just to be clear, that it is a really very attractive disk in which the classic music, second of the cases, is placed side by side or almost perfectly melted with progressive rock. The more classic parts, bytheway the best of the disk, bring again to mind sometimes Bach, sometimes Vivaldi, and some compositions for classic guitar and orchestra (the works of Rodrigo, for example), and are characterized for the absolute absence of drums or electric instruments and, on the contrary, by sumptuous acoustic arrangiamenti with strings, flute and classic guitar to weave continually the beautifulst melodies. In other moments, instead, with the arrival of drums and with Rodulfo who takes the electric guitar, we have a perfect merger between classic and modern music. The results are almost always rather valuable except when Rodulfo is done to take a little too much the hand and it is thrown in a fast solo of Malmsteenian tradition. In any case also in these fragments it is never ended fortunately in the bad taste that instead characterizes the fat swedish guitar-hero, even if goes emphasized how Rodulfo gives the best of himself from the composing point of view more when weaves with the electric guitar slow and melodic parts than when goes on baroque scales executed with hypervelocity, and then, if we want to say it all, is not therefore that hiper... (at least in this case we must break one lance in favor of the fat Yngwie and recognize his superiority). Of the three suite, the first one and the third one, besides smallest tone falls, are truly much beautiful and demand careful and participating listening to be deeply appreciated. Besides the classic influences named before, came to mind, in order to remain in within prog, Quaterna Requiem, Sagrado, Iconoclasta, farewell to say the cream of the Center and South American progressive, as well as the mythical "Concerto Grosso" of the New Trolls. The second suite, fortunately the shorter of the three, lets appreciate a little less itself except for because of its much more experimental character and avant garde that leaves the listener a little moved out of position specialy because of the inevitable comparison with the heat emitted from the other two compositions. At any case it is a really very beautiful CD that shines with much bright light between the productions that have come from South America in the last years. Recommended with the highest rating.
Paolo Formichetti

---
Classic Rock Society - www.classicrocksociety.com - UK

Rock Society Magazine
-Issue # 129

"The Dreams Concerto" - Raimundo Rodulfo
Raimundo Rodulfo is a Venezuelan musician. With this album, subtitled "Concerto for guitar, group and orchestra", he has written a modern classical composition featuring his playing of classical, acoustic and electric guitar accompanied by a group of over 12 accomplished musicians and vocalists. In essence the 3 movements that comprise this piece form variations on a theme with a general classical Baroque feel. The only break from this general form is at the end of the second movement where Raimundo has used a Digital Sound Processor on the main theme to generate electronic and fusion ingredients. Conceptually the pieces are supposed to represent "the unswerving spirit of the human being in his endeavours to fulfil his dreams and discern his surrounding universe", but the lyrics present in the first movement, although excellently sung in a classical style by Beatriz Rivas, are not in English, so I cannot comment as to how well they draw out this theme. What is clear is that Raimundo has spent considerable time developing the mathematics and musical patterns behind these pieces, which are depicted by computer generated equations and geometrical fractals in the very detailed booklet that accompanies this album. While mentioning this booklet I must also point out the stunning artwork provided by Brit artist Peter Rodulfo. Whilst not rock music as such, I feel that many people with an interest in classical music, especially of the Baroque style, will get a lot out of this album. It is certainly well conceived and presented. For more info see Raimundo's website at www.RaimundoRodulfo.com.
Paul Allwood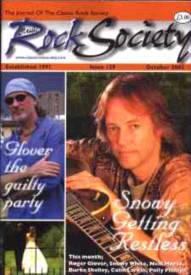 ---
ProgNaut - www.ProgNaut.com - USA

Raimundo Rodulfo's The Dreams Concerto.
A prog gem came to me via Venezuela late last month in the form of Raimundo Rodulfo's The Dreams Concerto.
This 6 track 78+ minute cd is done in three major movements, all epic in sound and production.
Guitarist/Composer Raimundo Rodulfo brings symphonic/classic prog back into the new millennium with nods to the giants of the 70's while adding a latin flavor all it's own. Beautiful instrumentation can be found throughout especially in the guitar playing which goes from classical to flamenco to rock within a few moments.
The only "flaw" I hear is the low key vocals. They are almost like background instrument.
There is a full orchestra at work too but they are a part of the band rather than an augmented after-thought.
Powerful yet melodic symphonic rock dominates this fine release.
This was a late entry in the year 2002 and almost snuck in so Raimundo is one to watch for in years to come.
In the meantime buy this cd as it's well worth the money to hear this fabulous piece of music.
Ron Suchs [February 16th, 2003]

Raimundo Rodulfo's Mare et Terra
1. Who is the band? What is their history? What motivates them?
"Raimundo Rodulfo is a Venezuelan-born artist, guitarist and composer, currently living in South Florida. To date he has produced three studio albums and two live albums, all featuring his own compositions performed with a wide group of talented and renowned guest musicians from several countries." (Raimundo Rodulfo My Space.com, 2009).
"Rodulfo's music does not follow any kind of genre or style. Nevertheless, specialized media from around the world refer to it as Symphonic and Progressive Rock, Jazz Fusion, Folk Rock, and other forms. In the artists own words: I agree with all of them; I just create the kind of music I would like to enjoy as a listener, and it is simply all the good music, regardless of its kind" (Raimundo Rodulfo My Space.com, 2009).
"The last studio albums of Rodulfo's discography are Mare et Terra (Musea Records, 2008) and The Dreams Concerto. The first one has just been released by Musea Records and was recorded in the US, Spain and Venezuela between 2004 and 2008, featuring a mixture of classical and contemporary elements in composition and performance. The second one is a Concerto for Guitar, Group, and Chamber Orchestra, featuring fifteen musicians playing both classical acoustic and modern electric instruments. This album includes a three-movement work performed over almost eighty minutes, with influences from classical music and the contemporary genres of Rock and Jazz, as well as the inevitable element of South American Folk music he was exposed to growing up. This work also features some experimental elements, including a mathematical model applied to music and other research works involving both music and engineering fields" (Raimundo Rodulfo My Space.com, 2009).
"With his band Rodulfo has performed at the Baja Prog Progressive Rock Festival in Baja California, Mexico, and the Prog Jazz Festival in Venezuela, among other events. Rodulfo and the band have also opened for International artists The Flower Kings (Sweden), Little Atlas (USA,) and Pablo Gil (USA/France/Venezuela)" (Raimundo Rodulfo My Space.com, 2009).
"All of Raimundo Rodulfo's albums feature the artistic work of Peter Rodulfo, a famed British painter, whose paintings show in art galleries in Miami, New York, London, Rio de Janeiro and other cities in America and Europe. Peter and Raimundo met at a genealogical forum on the Internet when Peter was looking for far-flung relatives in South America, and he discovered their common ancestry in Venezuela two centuries ago" (Raimundo Rodulfo My Space.com, 2009).
2. Why did they make this album? What was the passion or message that forced them to produce what they have? Or, simply what was their motivation for the themes they chose for this album?
The latest release in the career of a musician with great critical acclaim.
3. What message are they delivering through their lyrics and music?
MARE (OCEAN)
1. Náufrago - Shipwrecked, the literal translation. An over 36 minute piece of music starting from beachside with the ocean breezes and sounds surrounding you. Then the flamenco guitar takes over and sets the music in motion. The ocean fades away and you are left with awesome guitar strumming and picking. Then some flute and piano as the pace begins to pick up. Unbelievably complex work on the guitar and flutes abound. Electric guitar, piano, keys, percussion and then violins come in adding to the musical portrait as the song builds. Trumpets to bring in the Spanish sound. This part makes you want to get up and dance. Can you really dance to prog…well you can to this!
So many sounds surrounding you that you are wondering what's next. Good strong Latin beat, but the song is full of wonderful changes of tempo and you are never bored.
Then some vocals and synths, as if you needed more. But the song just keep building and getting stronger with each minute. I do love the epics and this guy knows how to build a song and fill it with the sounds of the ocean and every wonderful instrument from this Earth!
Very progressive with a Latin vibe. Then heavy bass followed by synths and keyboards to provide more variation and excitement. Maracas and more great percussion followed by soaring guitar riffs. Spacey keys, then bass and drums following a Latin beat, as if you are traveling on the coast of some South American beach!
Violins and brass help bring the music to a close, with the wonderful sound of the tide rolling back out into the ocean, and although you have enjoyed over 36 minutes of music you are ready for more. Very inspired work! How do you top this!
2. Libertad - Violins, keys, and guitar open this before vocals add to the variety. Definitely a Latin rhythm to this one. Freedom, and you can feel it in this song! I do speak Spanish and all the vocals on this album are in Spanish.
A more earthy mix, with flutes, drums, guitar, piano and then some synths kick in to remind you this is a prog mix. The guitar work is wonderful throughout. The sounds of the ocean end this side or part of the album. Off to the land.
TERRA (LAND)
3. Blue - Sounds of percussion start this one off with what sounds like construction machinery or the sounds of the city with cars beeping and you know where I'd rather be…back on the beach! But the guitar work and Latin rhythm continues supported by some very good synthesizer work.
Saxophone and rougher, darker guitar strings to highlight the change from sea to the city. Jazzier with trumpets and heavier piano and synths. Flutes and faster beats then the relaxing flutes sooth and slow things down. Piano and the rhythm settle back into a South Florida relaxing feel.
4. Thoughts I – Solo flute and birds in the background sound like a warm summer or spring day. Then some acoustic guitar and what sounds like a harpsichord, before rocking guitars and drums launch into a new rhythm. Maracas and English vocals, A love song that closes with these lyrics, "moments I remember, I dreamed of our future." "Thoughts I won't surrender, reality of delusion."
5. Thoughts II – Racing guitars that remind me of some of Jimmy page's solo material and synths to open the closer. Then flute and drums to a soft Latin rhythm. Then all the instruments from the previous songs accompanied by synths and keys.
4. Does this music improve, change, or add to the genre? What does the listener receive from listening to the music?
This is just completely different than anything I have heard. Yes there are elements of Santana and many other prog heroes, but never together in the same way. The Latin influence adds variety to a genre that desperately needs variety. The album closes as it began with the sounds of nature, acoustic guitars, and violins.
6. Does it have longevity? Is it something a fan will like to play again and again?
Yes, I will be playing it often, now that I have discovered it.
Rating: 8/10 – Very good and original. Music that experiments and always varies throughout.
Reviewed by Prof on August 12th, 2009
---
DPRP - www.dprp.vuurwerk.nl - The Netherlands

RAIMUNDO RODULFO'S DREAMS
It is not often that we get a South American album to review. Indeed it is quite a gem if you are interested in calm, moody and semi-acoustic music. This must also be the reason that Musea Records has selected this album as their pick of the month January. Behind the CD lies quite a story that can be read on his Internet page (see above, you can also find soundclips etc. there)... The band recently opened for The Flower Kings, again giving a testimony to their musical skills.
Now to the album itself: the Steve Howe-like acoustic guitar opening of Labyrinth sets the scene for what is to come. The song continues a bit folky, bringing seventies bands like Happy The Man or the highly symphonic Sebastian Hardy albums to mind. As such, the compositions sound a bit dated, but well, good music never dies. The guitar, both electric and acoustic, plays the most prominent role on this track, supported by a very strong rhythm section. In the guitar lines I sometimes seem to hear a couple of bars of the odd Yes songs (which also were clearly an influence to Raimundo). All in all a really nice uptempo, sometimes even edging to jazz, opener of the album. The folky influences continue in the next track, Friendship. Here, the Sebastian Hardy reference is even stronger. The interplay between a violin and the guitar is very nicely done. New Horizons starts very Howe-like again, fingering the acoustic guitar in top speed. The flute and violin over it gives it a calm mood, almost like Granchester's Meadow (Pink Floyd)... The song combines uptempo almost danceable pieces with very withdrawn parts, keeping it interesting... Brainstorm is more electric, a bit more in the vein of the jazzier French jazz-fusion-proggers like Spheroe (although they keep it quite easy at first, with a 2-4 beat rasta rhythm as the most shocking part before entering a truly jazzy part, even featuring some trumpet)... It is understandable why especially Musea showed interest in this album, seeing the preference they show for the more jazzier and complex progressive music, as well as the symphonic highlights of the seventies. This album fits in seamlessly with the rest of their catalogue. Therefore, I don't think this will remain an independent production for long. It has all the quality to deserve a good marketing and distribution channel.
Remco Schoenmakers
RAIMUNDO RODULFO'S THE DREAMS CONCERTO
This album is something really special. Rodulfo mixes classical music with rock in a way I have not yet heard before, all sounding perfectly natural. His music on this album is an enormously rich blend of many many genres, from Latin folk music, gypsy influences, Bach to Steve Howe (some sections on the first movement sound like Soon). All this is played on the original instruments (which doesn't mean that there are no keyboards on the album, like organ sounds). He states that, being an autodidact, he had some difficulty in getting his ideas across to the players on the album, but in the end this rather unorthodox ways have paid off. When listening to this album, and especially the first movement, you never know whether you are listening to classical music or rock. So it is definitely not like Ekseption, playing classical tunes with electrical instruments, nor is is like the London Philharmonic playing Pink Floyd, no, Rodulfo is a genre on his own right.
The compositions are a real enjoyment to listen to if you can take the time to absorb them, even though the more experimental Second Movement is a tough one. Many elements of seventies progressive rock, like on his first album Dreams, are mixed between other styles. Here you pick up some Steve Howe, there some Sebastian Hardy, some Ian Anderson or even Keith Emerson (by the way, he does quote these artists in his "thank you" section).
There is no time to drift away too far, this music deserves your full attention while listening to it, and would best be performed live in a "classical" concert hall, even despite the very rocky guitar work at the end of the first movement. The second movement is hard to digest, as I mentioned before. The whole section is based on a quite ingenious mathematical model he has developed, which is presented in Spanish in the booklet. I could not follow it completely, but it seems quite well worked out, despite the occasional "for musical reasons we adopt ..." statements, which throw in a more inexact component into the otherwise abstract theory. The end result is a quite jazzy piece, reminding of for instance Spheroe, or other French experimental jazz bands.
In Muestreo al Azar he starts to experiment with digital signal processing techniques. I am not quite sure where these come in and what their effect is on the final result, which is quite abstract and psychedelic in the beginning and subsequently becomes more "rock"-like. There is no bigger contrast between the emotional and impressive first movement and this experimental, mathematical and almost "cold" second movement, even though the last section has its merits.
The third movement is closest to classical music, with the classical, Spanish guitar playing a lead role. There are almost no rock elements, and it is a mixture between the Baroque period and composers like De Falla or Ravel. Only in La Gran Epopeya de la Música y las Ciencias does the rock element return when the drums set in, giving the classical music a new rhythmic drive with the use of syncopes.
In conclusion: for people with a classical music background, combined with a love for prog rock, I believe this album is essential, due to the First Movement. Maybe I've missed out on something, but this First Movement was a unique experience to me, such a joy in creating music that irradiates from this piece. Minor details are the somewhat "dry" mix and some sections are a bit "thin" sounding, could have benefited from a more massive keyboard sound (or even better, a choir). Especially in the third movement I tend to loose my concentration due to fact that no real climax is build. The Second Movement is very interesting in terms of experiment, but the music is not too overwhelming from an emotional point of view there. But still, there is so much to be experienced on this album, it is so out-of-the-ordinary that I will grant it a ´DPRP recommended´ tag. But caution: if you do not like complex classical compositions, and just wanna rock, this is not for you!
Conclusion: 8 out of 10.
Remco Schoenmakers
---
Kinesis - www.kinesiscd.com - USA
RAIMUNDO RODULFO - MARE ET TERRA
Mare et Terra is Rodulfo's 2008 studio CD, recorded in the US, Spain and Venezuela between 2004-2008, featuring the usual large cast of supporting musicians, among them Carlos Plaza, keyboardist and leader of Kotebel, Tempano's Pedro Castillo (vocals) and Gerardo Ubieda (drums), musicians on violin, cello, woodwinds and trumpet, and more male and female vocalists. It's an imposing 77-minute rock symphony of great sophistication, primarily instrumental, with more Yes influence than on Rodulfo's earlier works, especially in the guitar and bass. Think of this as Rodulfo's Tales from Topographic Oceans, but distinguished by the inclusion of Spanish/Latin American, classical, and jazz-rock colors. Impressive.
Larry Kolota.
DREAMS and THE DREAMS CONCERTO
Venezuelan Raimundo Rodulfo is a highly-skilled guitarist, whether playing acoustic, classical, electric, or bass guitar or even mandolin. He leads a large cast of musicians, including keys, drums, flute, violin, and sax. The Dreams Concerto is his new 78-minute large-scale work, also featuring a chamber orchestra and female lead vocals. Tempano's singer Pedro Castillo guests. Rodulfo often sounds like a South American Steve Howe or Gordon Giltrap, playing long tracks of a bounteous, symphonic style of guitar-dominated prog rock, often with electric guitar playing lead while acoustic guitar provides a foundation, solo acoustic guitar passages contrasting with full ensemble sections. Beautiful packaging on these CDs, featuring the works of British painter Peter Rodulfo; The Dreams Concerto has a full-color 40-page booklet inside a slipcase. Both are highly recommended.
Larry Kolota.
---
Musea Records - www.musearecords.com - France

RAIMUNDO RODULFO - MARE ET TERRA
Singer Pedro CASTILLO and drummer Gerardo UBIEDA, musician of TEMPANO, are found along with Raimundo RODULFO on his third album "Mare et Terra" (2008). Also note the participation of another big name of the current Hispanic progressive rock scene: keyboardist Carlos plaza, known as the leader of KOTEBEL. The musical style is the same one of his early releases, but the artist has managed to push his art to great heights of beauty and control, leading to the quintessence meeting of electrical and acoustic orchestrations (Flute, violin, clarinet, cello, vocals ...). This gives us an impressive work, divided into two parts, divided themselves into two tracks. It also starts directly with the 36 minutes of "Náufrago"! And finally, the last significant feature, "Mare et Terra" is the first opus of the Venezuelan artist published on the Musea label. Conclusion? Not discovering this little symphonic jewel is a true crime of lese-majesty!
Musea Records
THE DREAMS CONCERTO and DREAMS
French - English
Le guitariste vénézuélien Raimundo RODULFO est l'auteur d'un fort agréable album instrumental en solitaire, intitulé "Suenos - Dreams" et paru en l'an 2000. Le style développé par notre homme et ses nombreux invités peut aussi bien être rapproché du flamenco électrique que de Mike OLDFIELD voire CAMEL. La six-cordes se taille bien entendu la part du lion, dans un style à la fois mélodique et échevelé. Les influences jazz-rock ou classisantes sont parfaitement assimilées, au sein d'un tourbillonnement musical exotique et coloré. "The Dreams Concerto" (2001) est une magnifique fresque décomposée en trois longs mouvements, pour un total de près de 80 minutes. Une multitude d'intervenants, parmi lesquels l'on retrouve par exemple le chanteur Pedro CASTILLO, contribuent à la richesse de l'œuvre.
Musea Records

French-English translation:
English - French
The Venezuelan guitarist Raimundo RODULFO is the author of a pleasant strong instrumental album in solitary, entitled "Suenos - Dreams" and appeared in the year 2000. The style developed by our man and his many guests can as well be brought closer to the electric flamenco as of Mike OLDFIELD even CAMEL. The six-strings take the leading part of course, in a style at the same time melodic and dishevelled. The jazz-rock or classic influences are perfectly assimilated, within an exotic and coloured musical vortex. "The Dreams Concerto" (2001) is a magnificent fresco broken up into three long movements, for a total of almost 80 minutes. A multitude of performers, among whom one finds for example the singer Pedro CASTILLO, contribute to the richness of work.
Musea Records
"Dreams" in MUSEA's Selection of the Month, January 2001:
MUSEA Selection of the Month
Many music fans informed us about their doubts when receiving our catalog and additions, facing the huge quantity of new releases offered by today's progressive scene.
Here, at MUSEA, we receive almost all new progressive releases published in the world; after listening to them, we make a selection to include in our catalog only the works which seem really interesting; all other releases are rejected and do not appear in this catalog. Theorically, we could then recommend to you ALL new releases from this catalog. In fact, since the date of our last addition, in less than five month, more than 200 new references are here proposed to you, ie more than one every day ! Obviously only very rich people could afford such an expense !
This is the reason why we offer you our MUSEA Selection of the month for two purposes:
- to select amongst those many new relesases the few most important ones and help you to choose.
- eventually, this selection is offered with an important discount.
By this initiative, we wish to satisfy you still more and share with you the pleasure we have with these musical discoveries.
And for January:
GERARD " The Ruins of A Glassfortress" - SOLAR PROJECT "5" - RAIMUNDO RODULFO "Suenos Dreams"
Alain ROBERT. (C) 2000 by MUSEA
---
SomethingProg - www.somethingprog.com - France

Raimundo Rodulfo. The Dreams Concerto.
French - English
Si vous ne connaissez pas encore Raimundo Rodulfo et que vous aimez entendre quelque chose de frais et de nouveau, alors vous serez peut-être intéressé de savoir que Raimundo Rodulfo, compositeur vénézuélien, a écrit une véritable œuvre classico-progressive avec de fortes connotations espagnoles (forcément). Le disque mélange toutes les atmosphères, que ce soit du Genesis (et surtout le touché de guitare de Steve Hackett), ou de groupes tels Notturno Concertante ou d'autres groupes italiens du même genre. Entouré par de nombreux musiciens (on en compte pas moins de quatorze, qui jouent de la flûte, du violon, du saxophone, ou même de la harpe), Raimundo est un excellent guitariste, que ce soit de la guitare classique ou électrique. L'ambiance du disque est assez fraîche et apporte à l'auditeur une relative quiétude, impression accrue par la voix de la chanteuse, très douce, assistée par moment d'une voix masculine, pleine de sensualité. Ne cherchez pas chez Raimundo Rodulfo des passages torturés ou alambiqués. Non. La musique est limpide et coule comme une cascade dans vos oreilles grandes ouvertes. De la très belle œuvre. Sans aucun doute.
Jerome Vié

French - English translation:
English - French
If you don't still know Raimundo Rodulfo, and if you like listening to something fresh and new, then you will maybe be interested to know that Raimundo Rodulfo, Venezuelan composer, wrote a real classical-progressive work with strong Spanish connotations (necessarily). The disc mixes all the atmospheres, whether of Genesis (and especially the touch of Steve Hackett's guitar), or of groups as Notturno Concertante or the other Italian groups of the same genre. Surrounded by numerous musicians (we counted not less than fourteen, who plays flute, violin, saxophone, or even harp), Raimundo is an excellent guitarist, whether of classic or electric guitar. The atmosphere of the disc is rather fresh and brings to the listener a relative peace of mind, an impression increased by the vocals of the female singer, very sweet, assisted in moments by male vocals, full of sensualism. Don't look at Raimundo's Rodulfo's music for the tortured or over-subtle passages. No. The music is crystal clear and pours as a waterfall into your wide opened ears. A very beautiful work. Doubtless.
Jerome Vié
---
Axiom of Choice - www.cs.ruu.nl/people/jur/reviews - The Netherlands
IOPages Magazine - io.net4u.nl/io/archief/io34.htm - The Netherlands

Raimundo Rodulfo - Suenos/Dreams
The music
The first track is a guitar piece with fingerquick playing, Latin American influences by means of the flute of Alburjas, and a rather dance like character, but with compositionally classical influences. The music has that fiddly aspect of jazz rock and as such plenty of variation... The next track is a bit shorter and features again a far away sounding electric guitar and a violin, more up front... New Horizons opens a bit in the acoustic Yes style. In fact I was even waiting for the bass of Chris Squire to barge in, as on Roundabout. The music is rather quiet in the beginning here with willowy, tranquil flute and a bit of viola as well... Brainstorm is another nervous piece with plenty (too much) alternations and up to this point it is probably the most progressive among the tracks. Also because the keyboards are more prominent here. The guitar meanders through labyrinthine melodies. Later on a sax breaks into the song and the song becomes more jazzy. Towards the end a nice theme sets in and the music becomes rather Yes like (also in quality)... Math & Arts opens with an okay melody, which has something military to it. Again rather labyrinthine and with some brassy keyboards in the back. Again the music has references to Yes. The music is definitely jazzrock and not of the blistering kind... The final track Universal Codes is with over twenty minutes by far the longest track on the album. Divided into seven parts, it seems to describe the story of mankind on Earth by starting with Nova, going to the Naked Ape, the Restless Warriors up to the Atomic Giants and finally the Global Village. The track opens with nice cosmic keyboards and ethereal sounds. The optimistic guitar that sets in the second part is soon taken over by a more majestic overture to the rest of track... This takes form by a percussive continuation which is rather playful. Sharp electric guitar follows again, again in a more introspective way, contrasting with the playful playing of just before. The guitar sound also gets a bit rougher here, but the music never becomes really loud. A certain tenseness is created here, but suddenly it seems the sun breaks through, with light acoustic guitar and the waves on the beach... It takes a while before the choral keyboards return and Rodulfo tries his hand and some more meandering electric guitar playing. The sound of the guitar is quite high and ethereal here, and melodically quite nice. After over 17 minutes some pace comes into the music, especially in the drumming and the music becomes more likable at that point. Rodulfo continues to play quick runs on the guitar at this point, but the music gets a bit more energy. Some themes are bound to return here, including some rather nice ones, accompanied by some cosmic keyboards.
A nice puzzle is to discover in the frontside of the backside of the disc all references to parts and titles of the songs.
Conclusion
If you liked Steve Howe's acoustic pieces on Fragile, then this might be something for you. The music has complexity, is often classically styled, but is also filled with various folk music influences (and I mean Latin American folk then). In the busier parts, the music is most like Latin American jazzrock. For the rest there are more echoes of Yes, than just the acoustic influences...
© Jurriaan Hage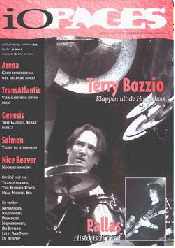 Issue #34
Raimundo Rodulfo - The Dreams Concerto
Summary
Following his related Suenos - Dreams album, this is the second works of Raimundo Rodulfo with an extremely thick booklet (about 38 pages) detailing all there is to know about the music and the people involved. The music has been evolving over the last 15 years as the man states in the booklet. Pedro Castillo you might know from his involvement with Tempano.
The music
The first track, Suenos, is a twenty four minute study opening with very classical oriented stylings and melodic female, dolorous vocals in the Spanish language. In the continuation we get some strong guitar playing following the main theme of the modern symphony (as the writer himself states it), based in his love for baroque music. Some of the vocal lines are a bit too trite for my tastes, but the music certainly has its appeal. Although in a way it has its own definite identity, it combines the European sounds of Focus and Tull with a more classical approach (say Ekseption), chamber orchestra like arrangements, some Hackettish guitar playing and the temparement and melancholy of South America. Most of the time the music is quite accessible and the music is not what we might call typically progressive, only sophisticated. Later however, the music enters more into the rock format with drums and the like. Violins and high pitched guitars (way back in the mix) continue to reveal a sadness in this track, although halfway the vocals sound almost hopeful and are quite energetic with good vocal melodies. Following this the music reaches another guitaristic climax with nods to old Genesis (yes, again in the guitar work), but also a melodic flute setting in. I am getting to like this. Time for some more frolic music now, with a folky feel: violin, flute, dancing acoustics and the like. The rolling drums are fine here, but the keyboards sound a bit cheesy. It also seems to me the production at time leaves something to be desired. The rolling drums continue when also a male vocalist, probably Raimundo himself (Raimundo later told me this is Tempano's Pedro Castillo), enters the picture. This part is one of heavily punctuated, but still slow moving symphonic rock, quite bombastic and climactic, lined with saxophone. In the final few minutes, some of the strong vocal melodies recur again sung in a loud emotional fashion, but also revealing that the recording could have been done better. The song ends with a long climax on guitar. Notwithstanding some cheesier parts a good attempt at a long epic and one in which the length of 24 minutes does not stand in the way at all. Esperanza is a much shorter coda in which Rudolfo wanted to have a more optimistic antidote to the emotionally rather moody first part. Esperanze is indeed a frolic tune with plenty of Latin American influences, both in the way of playing and the instrumentation.
The second movement opens with Matematica Y Arte II, a continuation of the first part from Rodulfo's first album. This is a rather fast and flashy track, very progressive sounding, a strong bass presence, and with some abrupt breaks as well. Instrumental rock of the more fiddly kind, but with a good groove. For those interested in the mathematics, consult the booklet. The rhythm section in this track takes on a different guise later on with the guitar soloing over various complicated percussion patterns. The music has gone from melodramatic classical inspired to something more claustrophobic reminiscent of experimentalism in Crimson style, or even more avant-garde. Quite a step. On the other hand, some of the melodic Suenos themes are still with us. However, the saxophone gets some heavy duty wringing out, it barely survives. On track 4, Muestra Al Azar, the experimentation continues and if you are looking for pointers, look to the great Crim. The music is often percussive and sparse, with ethereal guitars, and lots of electronic percussion. The music continues with more fluency and drive, but also some dull sounding drum computers. And yes the Suenos theme is still with us, although less overt than earlier.
The third movement consists of the Baroque track, written fifteen years earlier and La Gran Epopeya De La Música Y Las Ciencias. The first of these opens nicely with acoustic guitar, later the music gets more frolic when the somewhat manic chamber orchestra sets in. I am actually not fond of baroque at all, so most of this music is not really for me, although admittedly it has its moments. I especially can appreciate the acoustic guitar playing, but not the stateliness of the harpsichord/chamber orchestra parts. Fortunately, it is not all like that, because Rodulfo also includes some more somber modes into the music along the way, for instance around the seven minute mark. Around the ten minute mark, the music gets a bit too fiddly, and there is too little fluency. Then however, the music seems to pick up again. The finale seems to be quite moody with plenty of flute. The second part of the third movement continues in the same vein (and like the previous track also features the Suenos theme again, but much more overt). One could say that the music here is a return to the first track, and it also includes vocals with intricate arrangements and the clear vocals of Rivas. The middle part contains some typical classical phrasings as well as some up tempo progressive rock, but never too rocky. The electric guitar features quite prominently here. Surprising is the fast guitar playing evident towards the end, but unfortunately for me the music does not continue the drive of that part.
Conclusion
For those who like classical music as well as progressive rock, this might be a concept worthy of attention. Rodulfo really thinks about what he does and for those who like, the story can be followed in the booklet. Rodulfo tries to do a lot, but never forces his hand: the music is varied, the second movement being totally different from the other two, but I had not problems following it. In the third movement there is a predominance of Hackett influences combined with the temparement of Latin America. One might also think of Focus or Ekseption here, classical influences abounding. The second movement sees us in a more experimental waters with Crimsonesque electronic percussion and guitars. The third movement sees us back with the classical influences, and because I am not that fond of baroque music myself, this movement I liked least. However, if you have no such problems you should soon feel at home with both the intellecual first part and the more active and varied second part. The recording was not always great, but do not mar the overal end result which is packaged in way that ought to discourage cd copiers.
© Jurriaan Hage
---
Unger's Wonderful World of Progressive Rock - www.geocities.com/SunsetStrip/Backstage/8250/index.html - Canada

My All Time Favorite Prog Rock Recordings...

Raimundo Rodulfo - Suenos Dream, 2000, Sacven Records, Venezuela (69 Mins)
Here is a great little album that I came across recently which completely took me by surprise…..Raimundo's music offers soft seductive acoustic Spanish guitar with some lovely symphonia . Suenos Dream is a delicate album which really does work like a dream with the flowing flute and soft drum and percussion. Raimundo's guitar work is the centre piece of this work with some amazing guitar fretting and phrasing. Throughout we are treated to a wide array of guitars with electric, acoustic, classical, spanish, banjo and mandolin. His music is melodic and ever flowing with lots of dream-like passages and sounds used throughout. The focal point of the album rests in his 21 min epic suite "Universal Codes" which gives the listener the best of all worlds.
James Unger
---
MilleRecords - http://digilander.libero.it/stratocaster67/ - Italy
Tempi Duri - http://digilander.libero.it/tempi_duri/ - Italy

Raimundo Rodulfo. The Dreams Concerto.
Italian - English
Per quanto possa ricordare non rammento musicisti particolarmente famosi provenienti dal Venezuela, nazione che, rispetto soprattutto al Brasile, non ha una grande tradizione nel campo del rock progressivo. E' grazie a Google che ho potuto pero' smentire, in parte, i fatti, trovando un musicista che non ha nulla da invidiare a bands che hanno trovato un buon contratto discografico. Il suo nome e' Raimundo Rodulfo, chitarrista, ma in questo caso il termine musicista sarebbe piu' appropriato, che ha registrato un cd semplicemente unico. " The Dreams Concerto " e' un progetto musicale basato su tre movimenti, di cui il secondo ed il terzo sono supportati da una vera e propria orchestra. Lo stile tecnico di Rodulfo tradisce una passione sviscerale pet il neo-classicismo, ma l'intera opera e' influenzata da gruppi quali Jethro Tull, Mike Oldfield e Genesis. Un prodotto da ascoltare secondo dopo secondo e impreziosito da un booklet di 36 pagine davvero bello.
Roberto Guarnieri

Italian to English translation:
Raimundo Rodulfo. The Dreams Concerto.
English - Italian
As much as I can remember I don't remind particularly famous musicians coming from Venezuela, nation that, respect mainly to Brasil, doesn't have a great tradition in the field of progressive rock. And is thanks to Google, and in part to the facts, that I have been able to find a musician that doesn't have anything to envy to bands that have found a good contract record. His name is Raimundo Rodulfo, guitarist, but in this case the term musician would be more appropriated, that has recorded a cd simply unique. "The Dreams Concerto" is a musical project based on three movements, of which the second and the third are supported by a true and own orchestra. The technical style of Rodulfo betrays a visceral passion for neo-classicism, but the entire work is influenced by groups as Jethro Tull, Mike Oldfield and Genesis. A product to listen second to second, and with an amazing 36 pages booklet indeed beautiful.
Roberto Guarnieri
---
Pedro Castillo - www.pedrocastillo.com - Venezuela

ALGO DIFERENTE
Si quieren escuchar algo diferente, interesante y hecho en Venezuela les recomiendo un disco del Barquisimetano Raimundo Rodulfo , llamado "dreams". Raimundo es un virtuoso guitarrista y este es su primer trabajo que pueden conseguir en las tiendas especializadas.
Pedro Castillo. Guitarrista y vocalista fundador de Témpano. Cantautor, Locutor y caracterizador.
---
La Corte Final - www.lacortefinal.com - Mexico

RAIMUNDO RODULFO - Dreams
EL progresivo latino o hispano ha permanecido tras bambalinas injustamente, desde Mexico hasta Chile (sin olvidar España) siempre han habido fenomenales bandas y artistas que luego son eclipsados por otros con el apellido o escuela de cierta nacionalidad.
Es por eso que de pronto no nos enteramos de valientes y sensibles propuestas como la de este artista Venezolano que con su guitarra crea y recrea paisajes musicales de distintas tonalidades, pero siempre con un color y armonia notables. Por su forma de tocar, se le ha comparado con Roine Stolt (inclusive ha compartido escenario con the Flower Kings), pero esto resulta tambien injusto, ya que Raimundo tiene su propia vision, su propia forma interpretativa y un toque de jazz francamente exquisito.
Las composiciones juntas forman un todo instrumental que uno escucha de arriba a abajo, de principio a fin. Es ese tipo de discos que se disfrutan, no cansan y siempre esta uno dispuesto a escuchar de nuevo, lleno de esos acentos musicales que nos encantan a quienes disfrutamos el progresivo sinfonico y aquel en el que la guitarra se da tiempo para cantar.
Raimundo ha tocado en varios festivales y conciertos. Su historial, fotos, arte y sobre todo, audio en mp3, se puede accesar en su pagina www.RaimundoRodulfo.com , se las recomiendo bastante y felicitaciones a Raimundo por un trabajo de tan buen nivel. Muy recomendable.
Carlos Malvido
---
Exposé Magazine - www.expose.org - USA

-Issue # 22

Raimundo Rodulfo - "Sueños/ Dreams"
Venezuelan guitarist Raimundo Rodulfo's Sueños has had a long time to germinate. Its seven songs were composed in the early 80's, but got recorded and released only last year. From the lively 6/8 opener 'Laberinto" to the 21-minute, seven-part closing suite "Códigos Universales:' the CD offers some of the most exciting instrumental symphonic rock that I've heard in a long time. The compositions are melodic ensemble arrangements, with five or six different players on each. Flute, sax, violin/viola sometimes take the lead, and keyboards, bass, and drums are used in most tracks, but the focus here is Rodulfo's guitar work (both acoustic and electric). Stylistically, Rodulfo reminds me of Steve Howe (particularly on "Laberinto"), although there are touches of Hackett and McLaughlin as well. The latter's influence is especially noticeable on the jazzier "Matemática y Arte". My only real criticism is that Rodulfo's playing could profit from a bit more restraint... All in all, though, that's a minor complaint about an album that has been getting heavy rotation in my CD-player for the past three months. Very highly recommended.
Jim Chokey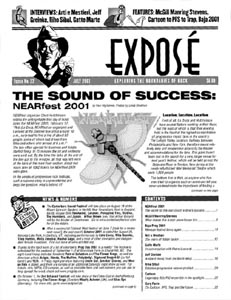 -Issue # 25

Raimundo Rodulfo - "The Dreams Concerto"
FoIIowíng up on his 2000 debut, Venezuelan Raimundo Rodulfo is back with a vengeance. Though Dreams (reviewed in Exposé #22) was Impressive, The Dreams Concerto is even more. Whereas Dreams sounded like a guitar album on which a few other musicians helped out, this CD shows Rodulfo composing for a large rock ensemble in a way that makes the most out of all instruments and musicians, rather than just treating them as accompaniment. His virtuoso guitar work remains front and center, but sax, harp, flute, violin, bass, drums, flugelhorn, keyboards, Latin percussion, and vocals (both male and female) are used to create a whole rock 'orchestra' with complex arrangements. Even more impressive, however is the grand scope of Rodulfo's musical vision. The Dreams Concerto is, in fact a concerto in the classical tradition, comprising three movements structured around the statement, development, and restatement of complex musical themes (Atypically, however each movement is further subdivided two parts each of which is assigned its own track). The overall style is that of pure symphonic rock with heavy baroque infIuences (especially on the third movement). The standout segment, though is the 28-minute first movement, the first half of which features stunning
vocals by Beatriz Rivas and is, simply put, one of the most gorgeous pieces of symphonic rock to come along in recent memory. Highly recommended to symphonic fans who like lots of guitar and baroque influences. One of my favorites so far this year!
Jim Chokey
Raimundo Rodulfo - "The Dreams Concerto"
After our reviews of Raimundo's first disc and his Baja '01 performance, this new disc lives up to my expectations and more. The 24-minute Sueños portrays a strong mix of baroque-era classical with a Venezuelan flavor and occasional Celtic turns. The main theme provides a thread that is introduced and revisited after invigorating detours, and provides a solid cohesion as well as a grandeur that befits this genre. Beatnz Rivas' voice is beautiful and the sonic palette is luxurious, from the orchestral instruments (classical guitar, 1st and 2nd violins/viola, piano/organ/clavier, harp, flute, percussion and flugelhorn), to the rock instruments (electric guitars, drums, synth, sax and bass). The classical portions have clarity and a lightness of touch, while the rock explodes with vigor, lending muscular weight as opposed to pseudo-rock pussyfooting. Next up is a rigorous folk instrumental, displaying a Venezuelan character with its flute. Harp, maracas, and lovely acoustic guitar/slide work. "Matematica y Arte II" opens with a frenetically wound progressive rock work out that'll keep tempo counters busy, morphing into a fussion jam, then returning to the main theme from "Sueños" before a screaming sax explodes over an almost out of control backdrop. Two opposites follow: "Muestreo al Azar" is a cool rock ensemble piece, and "Baroque" is strictly classical - and a bit long. The closer is an 18-minute symphonic prog instrumental with some cool flamenco elements which can be forgiven for not quite living up to the first track, but is a solid track nonetheless. This disc has class.
Mac Beaulieu

---
Progressive Ears - www.progressiveears.com - USA

Raimundo Rodulfo - Suenos/Dreams
This artist is a guitarist from Venezuela. This CD release is a tour de force of guitar playing. Raimundo has fashioned a wonderful and varied CD of incredible playing. He plays the following: acoustic guitar, classical guitar, electric guitar, mandolin, bass and also some percussion.
On this CD he is joined by a group of very fine musicians including Frank Alburjas on the flute, Lermit Martinez on keys, Jesus Perez on drums, Alfredo Suarez on percussion, Carlos Rodriguez on bass, Cesar Romano on violin, Efrain Ramirez on viola and Edgar Rodriguez on the sax. A most formidable and tight band.
All the tunes were written by Raimundo and are a concept about what can be encountered in dreams. Its based on a story about a man and woman: Crilo and Marta. The tunes tell about their relationship as they meet and begin a life together.
There are 7 songs that total over 68 minutes of music. The music is almost like a "can you guess who's the influence here thing". Raimundo's playing shows echoes of Steve Tibbetts, Mike Oldfield, John Scofield, Steve Howe, and Al Dimeola. The music is very lush and upbeat for the most part. The more romantic of the Italian groups can be heard in some of the songwriting and arranging. Now take that and mix in inventive, super fast (at times), versatile guitar playing (classical and jazz guitar along with a Mike Oldfield tone on e.guitar) and you may get an idea of what this sounds like. Now on top of all that you add sax, violin and flute and you have the makings of a south American guitar classic. Oh yeah don't forget the local flavorings of percussion i.e. congas, bongos, etc.
While I think this is incredible in its wonderful playing and musicality, I did at times think that there was too much going on. The keys that are played here are mostly for tonal coloring and not much in the way of solos and are a little quiet in the mix. The trade offs and dueling is mostly played between steel stringed acoustic guitar and flute and sax. I think he is incredibly fast on this instrument and while he plays the electric expertly he flat burns on the steel string acoustic guitar. There are no vocals except for some samples at the beginning of the 21 minute closer: "Universal Codes" and the center piece of the CD. I'm not saying that its a bad thing only that the onslaught could have been varied and not seem so "samey" with guitar playing. Here is where the keys/synths take a more upfront role and I must say its about time and a welcome addition. This piece has many parts to it as it tells of the beginning of the world, just a little ambitious huh? Well, it works very well but it could have been placed in the middle of the CD to ensure that the listener would be paying attention.
This is a great sampler of new prog/rock fusiony instrumental kinds of things that are beginning to come out of South America.It may be a little hard to find. I think you can get it direct from his website. Great instrumental prowess with a wonderful band!
Bill Mathis
---
Música Progresiva - www.musicaprogresiva.com - Costa Rica

RAIMUNDO RODULFO'S THE DREAMS CONCERTO
Concerto for guitar, group and chamber orchestra
Qué difícil me ha resultado comentar este disco, no porque no lo merezca o no tenga nada interesante mas bien todo lo contrario, es uno de los mejores discos que se hayan editado en el ámbito latinoamericano, en los últimos años. Es una obra maestra del músico Raimundo Rodulfo, de nacionalidad venezolana.
Es un disco que nos demuestra la grandeza que se puede obtener de la fusión entre diversos géneros musicales, desde la música clásica hasta el rock y el jazz. Diríamos que es una pieza de música formal contemporánea. Tal y como algunos lo dicen de la "música clásica de este milenio" ( Frase utilizada por el programa de radio argentino "The Musical Box"). Este calificativo le sienta muy bien a esta música de Raimundo.
Recuerdo que la primera vez que escuché a Raimundo y su grupo fue en el Baja Prog 2002 en Mexicali, su presentación me motivó de inmediato a comprar su disco. Fue un gran éxito en Mexicali, por la calidad de sus músicos y la exquisitez de sus composiciones, también por la belleza y excelente voz de su cantante Beatriz Rivas.
También recuerdo que leyendo el libro interno del disco me encontré con la explicación de la técnica de composición de Raimundo (la cual el mismo Raimundo comenzó a comentarme en el Hotel Araiza de Mexicali). Esta la utiliza para el segundo movimiento. Consiste en un modelo matemático sobre el cual compuso toda la música de este movimiento. Un asunto ya de por sí complicado y que mi cerebro se niega a tratar siquiera de ojear, pero mis sentimientos encuentran en la música, de este movimiento, unos ambientes, texturas y emociones que distan muchísimo de los fríos e incomprensibles números que dieron origen a tan espléndida suite.
El concepto del disco son los soñadores. Aquellos que se atrevieron a ver al mundo de forma diferente, y que con su empeño lograron hacer que este mundo avanzara. Esas personas que ante problemas sencillos y limitaciones idearon formas diferentes de hacer las cosas y de resolver esos problemas y limitaciones, esos aventureros que lucharon contra los estereotipos y se negaron a creer en las barreras de la mente y sobre todo de las tradiciones y mitos. Hombres que fueron capaces de cruzar el océano arriesgándose a caer en el abismo, en el cual sus detractores ya se encontraban pues estaban sumergidos en el abismo de la ignorancia y el conformismo.
A esos visionarios que nos dieron un nuevo continente, aunque algunos después lo saquearan, nos dieron la rueda, máquinas que facilitaron nuestra vida diaria y que nos hacen comprender quienes somos y a dónde vamos, a esos es que Raimundo con este disco rinde homenaje. Un homenaje que se vuelve auto homenaje por que este chico también es un soñador que ha materializado un gran proyecto musical.
El disco consta de tres movimientos, en el primero se desarrolla el tema de los sueños el primer ingrediente, el horizonte la meta, la visión del soñador la lucha de David (el soñador) y Goliat (los escépticos y los conformistas) y lo que todo soñador espera, el éxito. Un primer movimiento lleno de un matiz totalmente clásico, sin embargo como lo dice Raimundo "...el tratamiento melódico arrastraba un marcado dejo de melancolía, produciendo a mi parecer una impresión final de tristeza." Es por esto que Raimundo le agrega una coda con una melodía mas alegre. En la coda la intervención de la flauta y percusiones le da al tema una mayor viveza y corresponde a la alegría que da la esperanza de un mundo mejor y de lograr los objetivos trazados.
El segundo movimiento, como ya mencione, se basa en un modelo matemático. Quizás no tenga la capacidad suficiente para explicar los pormenores del modelo pero está en el libro del disco. Lo que sí es prudente indicar es que esta suite para guitarra eléctrica es un recorrido por una serie de ambientes alegres guiados por la guitarra. Es un movimiento más eléctrico menos barroco que el anterior, pero de igual desligue de belleza y complejas interpretaciones. Es una mezcla de jazz fusión y rock con la rica intervención del saxofón y unos solos espectaculares de guitarra eléctrica, sintetizador y batería eléctrica en algunos pasajes.
Nos comenta el propio Raimundo "...este movimiento rompe de manera abrupta el predominio de la esencia clásica en la música de la obra, para insertar ingredientes experimentales, electrónicos y de fusión, donde dejo al oyente la tarea de descubrir la presencia oculta y camuflada del tema principal." Eso es Matemática y Arte.
El tercer movimiento el más largo y espléndido del disco es una suite para guitarra y grupo que nos remonta a la época de Bach. Una emocionante y rauda guitarra nos lleva por un mundo de matices barrocos, mas con la introducción del clavicordio deja completa la magia de una obra que dura aproximadamente 33 minutos, los cuales están llenos de apasionantes pasajes.
Y no podemos olvidar el arte con que esta decorado el disco. Peter Rodulfo un extraordinario pintor fue el encargado de las decoraciones tanto interiores como de la tapa del disco. Ciertamente fue un acierto pues interpretó con belleza y audacia los pensamientos vertidos por Raimundo en su música.
Espero sinceramente acercarme un poco a lo que es este gran legado musical de Raimundo, quizás mis letras se queden cortas pero sinceramente les recomiendo escuchar esta obra.
Para MúsicaProgresiva.com :
Johnny Coto Cerdas
jcoto@musicaprogresiva.com
---
Progression Magazine - www.progressionmagazine.com - USA

Raimundo Rodulfo's The Dreams Concerto
Something you can enjoy right now by ordering from one of the usual suspects is The Dreams Concerto by Raimundo Rodulfo. Part of an increasingly happening Venezuelan prog-rock scene, senor Rodulfo has put together a three-movement acoustic/electric guitar concerto that is really six parts. A chamber orchestra, vocals, percussionists, and your basic prog-rock band elements are featured in very colorful arrangements.
Rodulfo's extensive liner note explications of compositional strategy might remind one of Robert Fripp's explanations of Frippertronics, after he abandoned his yin-yang collaborations with the more romantically inclined Peter Sinfield for King Crimson's early work. Yet the results are more often full of passion and melodic intensity than sounding sterile or clinical. Part 1 of the first movement is a 24-minute medley including lovely vocals and very baroque/classical-sounding themes melded with warmer stuff more in the Genesis vein. The quality is consistently high even though there are no surpassingly dramatic peaks. Here, as on the rest, the recording is a little faint, is just a little lacking in presence. This doesn't detract from the exhilarating experience. But hopefully, Raimundo will improve on this as he learns to better juggle and balance having so much stuff going on at the same time via percussion, orchestra, vocals and rock band.
The 17-minute second movement is based on calculus and trigonometric equations detailed in mystifying detail in the CD booklet. But again, the result includes something for even the most passionate listener. Melodies from the first movement are revisited in deconstructed form that might recall the logic of King Crimson pieces such as the "Fracture" instrumental on Starless and Bible Black, and there are some great melodic ascents. If anything on the concerto gets overwhelmed by compositional theory, it's the first half of the third movement for chamber orchestra and acoustic guitar. Happily, the 17-minute second half is a real showpiece full to the brim with drama and energy, thanks to a bit of flamenco juxtaposed with the more baroque classical directions, not to mention some very Steve Howe-ish speed guitar by the composer.
More happily stiII, Raimundo Rodulfo is hard at work on a new concept work entitled Libertad (Freedom). In six parts including a 34-minute suite, Libertad also wiII incorporate a chamber orchestra. So much to look forward to!
David Taylor
Progression Magazine
Issue 46 Spring/Summer 2004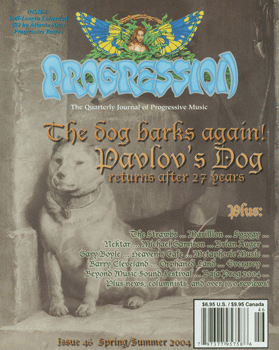 Progression Magazine
Issue 46 Spring/Summer 2004
---
Progresiva70s - www.progresiva70s.com - Argentina

Raimundo Rodulfo: "To Live a Dream", Official Bootleg, 2003
Es necesario que manifieste que no he escuchado la anterior discografía de este guitarrista y compositor venezolano. Debido a las elogiosas críticas que había leído y los elogiosos comentarios recibidos era mi deseo conocer alguno de sus trabajos. Esta edición tan peculiar fue y es hasta ahora mi única aproximación a la obra de este autor. Al decir peculiar me refiero a la forma en que se consigue este álbum. Raimundo Rodulfo decidió que no iba a vender este trabajo por considerar que no alcanza el estándar de calidad sonora que él requiere para su obra. En cambio, y bajo el formato CD está disponible en la red, desde el sitio www.RaimundoRodulfo.com para los poseedores de los dos trabajos anteriores, que podrán bajar el material en formato mp3, empleando una clave que se obtiene a partir de dos códigos de los CDs. Si tuviera que resumir mi impresión a través de este trabajo diría que Rodulfo es uno de esos músicos que recurre a elementos muy diversos para un desarrollo musical que trasciende las barreras de los estilos. Siendo este un sitio dedicado al rock progresivo, tal vez sería más cómodo, e igualmente cierto, decir que Rodulfo es progresivo sin esforzarse para serlo, sin encerrase en las artificiales limitaciones que algunos músicos se autoimponen. Por el contrario, parece tener muy en claro que alguien para ser progresivo debe tender a expandir las fronteras de la música, y debe combatir la fastidiosa tendencia a la homogeneidad, que hace sentir cómodo a tanto anodino. En los comentarios que he leído se hacen referencias a Howe, Hackett, Zappa, Jethro Tull o Mike Oldfield entre tantos otros. Es cierto que uno puede encontrar improntas de diversos músicos, particularmente de los años 70s. Sin embargo no encuentro intencionalidad alguna en asemejarse a nadie y en cambio veo un desarrollo personal, tanto en sus roles en la guitarra acústica como en la eléctrica. Como compositor se encarga de que el rock, la música barroca, el folclore venezolano y hasta un ingrediente jazzero estén patentes en la obra. La incorporación de flauta, arpa y violín además de los tradicionales instrumentos del rock, es enriquecedora de la obra. Los registros pertenecen al Baja Prog 2002, ProgJazz 2002, a una presentación televisiva y como bonus se incorpora una versión de Bouré de Bach de estudio con guitarra solista en 1986. El sonido no me pareció tan malo. A esta altura del relato creo innecesario aclarar que he quedado gratamente impresionado por esta música. Espero pronto dar más impresiones de este excelente autor.
Humberto Luna
---
Musical Box Magazine - www.musical-box.org - Brazil

-Issue # 3

Raimundo Rodulfo - "Sueños"
I had a nice surprise in listening to the work of this new Venezuelan progressive (artist): the guitarist Raimundo Rodulfo performs with excellency symphonic themes added with ethnical elements, joined by competent guest players such as Frank Alburjas (flute), Lermit Martínez (keyboards), Jesús Pérez (drums), Alfredo Suárez (percussion), Carlos Rodríguez (bass), César Romano (violin), Efraín Ramírez (viola), and Édgar Rodríguez (sax). The music in "Sueños", totally instrumental, sounds in certain parts like Mike Oldfield and, in others, during his performance with the acoustic guitar, you can feel a clear influence of great guitar players as Steve Howe and Steve Hackett.
A quality work that will surely please the Symphonic Progressive lovers.
Emerlist Davjack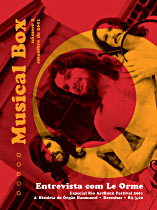 ---
Acid Dragon Magazine - perso.club-internet.fr/acidrago/ad2.htm - France

-Issue # 31

Raimundo Rodulfo "Suenos/Dreams"
Teacher: Can you give me names of Progressive rock artists from Venezuela?
Pupil: Well, Tempano, Sir!
Teacher: Very good! Have you ever hear of Raimundo Rodulfo?
Pupil: No, Sir!
Teacher: This musician is close to Gordon Giltrap or Mike Oldfield with a fusion attitude and jazz-rock hints. The music is rich featuring flutes, sax, violin, viola, mandolin, Latin percussives... The cover, drawn by Peter Rodulfo (his brother, I think) is awesome.
Those who have a computer, will discover two nice videos too (the band playing live in the studio).
Pupil: Finally, this is a must have, Sir?
Teacher: Yes, certainly!
Roland Roque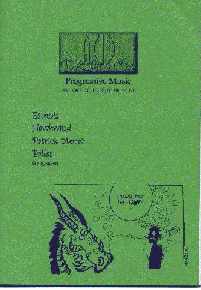 -Issue # 35

Raimundo Rodulfo. "The Dreams Concerto"
This is the second by this excellent musician from Venezuela. Second achievement. The music is more symphonic (divided in 3 movements), featuring a wide range of instruments: sax, violin, flute, mandolin, harpsichord ... And of course great guitars (both acoustic and electric). You'll find elegant female vocals (Beatriz Rivas) too, some fusion and folklore hints too. I forgot to mention the delicate cover art and full cover booklet and digipack. On a whole, this production by the Latino Mike Oldfield should please to all adventurous ears.
Roland Roque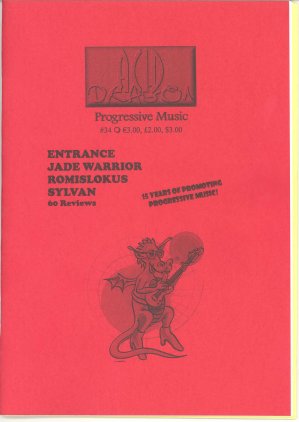 ---
Tarkus Magazine - www.tarkus.org - Norway

-Issue #23

Raimundo Rodulfo: The Dreams Concerto
Concerto for guitar, group and chamber orchestra is the subtitle to this ambitious project from Venezuela, a rather unusual country in a prog aspect. Similarities with other South Amercan bands like Sagrado can be traced, but the music also contains many elements of classical music from the time around Vivaldi.
It alternates between rock parts, orchestra parts, and both in unision, and Rodulfo plays both electric and acoustic guitar with high technical skill. The opening is promising with the 24 minute long "Sueños", a symphonic cascade with exquisit interplay between Rodulfo's guitars, the band, orchestra and vocalists. It continues with great folk-prog parts lending an ear to both Tull and Focus. But after that, it turns into a long-winding guitar solo, and from here on the record just doesn't manage to keep the positive elements from the first half hour (i.e. the first movement of the concert). Movement no 2 becomes mainly tiresome guitar wanking, while the third movement is split in two parts. The first part is a co-operation between classical guitar and chamber orchestra, which unfortunately is not able to grab me. Even if the final part sees the group back in the fold, we only now and then see glimpses of the fine tendencies of the beginning of the record.
If you think that half an hour of exciting music is acceptable in a record lasting almost 80 minutes, then you're welcome.
Sven Eriksen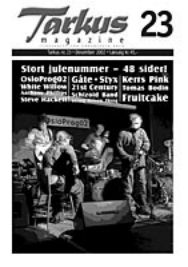 -Issue # 49

Raimundo Rodulfo: Mare et Terra
Raimundo Rodulfo is one of the great, (relatively) young guitar heroes in the Latin American progressive rock. He has a style that makes it tempting to compare him with the dimensions of Steve Howe and Steve Hackett, but at the same time his music has a very distinctive Latin American style.
Mare et Terra is a strangely structured album. The first half is "Naufrago," a 36 minutes long suite that alternates between flamenco and symphonic rock, and gradually sliding more in the latter. Particularly well structured, it is apparently not - in fact it is probably a long time since I've heard a composition that jumps so much back and forth as "Naufrago". The suite is complex and requires some listenings through, but it is also exciting and intense in its mixture of acoustic and electric instruments, and traditional prog rock with southern music.
Then, a half of the album is dedicated to four shorter songs (well, they last close to ten minutes each). The first, "Libertad", is a collection of fine melody lines which moves in the intersection of ethnic, but the result seems a mind blast and directionless in relation to the rest of the material.
Things look up considerably with the atmospheric jazz composition "Blue", and culminates with "Thoughts" parts 1 and 2. This dual composition is the heaviest and most structured part of the album. Again, the North/South central theme: melodic jazz, reggae and Latin American traditional music meet the Americanized progressive rock, and the result are strikingly fresh and exhilarated.
Raimundo Rodulfo lives in Miami now, but he still represents some of the best that South American prog has to offer.
Trond Sätre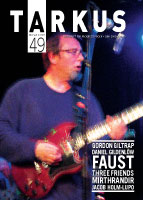 ---
Colossus Magazine - www.colossus.fi - Finland

-Issue # 14

Raimundo Rodulfo: Dreams
(Private release UMC-001)
Finnish - English
Venezuelalaisen kitaristin Raimundo Rodulfon soololevy "Dreams" sisältää monipuolista instru-mentaalista musiikkia vaihdellen fuusiosta lähes he-vin kautta sinfoniseen progeen. Rodulfo sävelsi osan levyn kappaleista jo 80-luvulla, mutta musiikki on äänitetty kokonaisuudessaan vuonna 2000. Rodulfo on todella näppärä kitaristi olipa sitten ky-seessä sähkökitara tai akustinen kitara. Useissa kappaleissa on mukana suuri joukko erilaisia soitti-mia huilusta, viulusta ja saksofoneista alkaen. Moni-puolista tavaraa, joka huipentuu yli 21-minuuttiseen suiteen "Codigos Universales". Levyä voi suositella fuusion ja jazzahtavan progen ystäville.
Raimo Eurasto

Finnish to English translation (Thanks to Jari Pakkanen)
Raimundo Rodulfo: Dreams
(Private release UMC-001)
English - Finnish
Venezuelan guitar player Raimundo Rodulfo solo album "Dreams" includes diverse instrumental music, from fusion, via heavy rock until symphonic prog music.
Rodulfo composed part of the music (which is in his album "Dreams"), allready between 1980 and 1990, but the music has been recorded totally during year 2000.
Rodulfo is a really skilful guitarist, playing electric and acoustic guitar. In many of his songs there is a big group of different kind of instruments starting from flute, violin and saxophone. This album has diverse songs, which culminates with the more than 21 minutes long suite "Codigos Universales". This album can be recommended for the people who like jazz fusion and progressive music.
Raimo Eurasto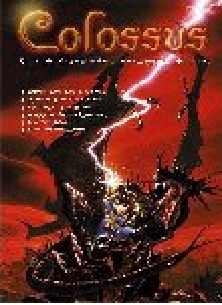 Issue #14
-Issue # 20

Raimundo Rodulfo: The Dreams Concerto
Finnish - English
Venezuelasta kotoisin oleva Raimundo Rodulfo osoitti ensimmäisellä albumillaan "Suenos" olevansa mielenkiintoista nykymusiikkia tekevä artisti. Toisella albumillaan Rodulfo on mennyt vielä pitemmälle ja julkaissut kolmiosaisen mammuttimaisen yli 78-minuttisen teoksen "The Dreams Concerto - Concerto for guitar group and chamber orchestra". Levyn mukana tulee myös 38-sivuinen lehdykkä, jossa on tarinaa teoksesta ja siinä soittavista muusikoista. Rodulfo on valmistellut teoksen musiikkia jo 15 vuoden ajan, joten kyse ei ole mistään nopeasti purkkiin pistetystä lurittelusta, vaan hiljalleen kypsyneestä kokonaisuudesta. Rodulfo hoitaa itse mallikkaasti kaikki kitaraosuudet ja apunaan hänellä on suuri joukko eri instrumentteja soittavia muusikoita sekä myös useita eri laulajia. Rodulfo sekoittaa mukavasti klassisen musiikin rockin kanssa ja teoksen kolme osaa sisältävät vaihtelevaa ja monipuolista musiikkia laidasta laitaan. Välillä rankaksikin äityvä kitarointi pitää huolen siitä, että klassisemmat osat eivät pääse pitkästyttämään kuuntelua ja albumin kokonaisuus tuntuu toimivan hienosti. "The Dreams Concerto" on kunnianhimoinen omakustannetyö lahjakkaalta artistilta.
Raimo Eurasto

Finnish to English translation (Thanks to Jari Pakkanen)
Raimundo Rodulfo: The Dreams Concerto
English - Finnish
Raimundo Rodulfo was born in Venezuela and showed on his first album "Suenos" that he is an artist who can make interesting modern music. On his second album Rodulfo has gone even further and he has announced a three-part gigantic 78 minute long song called "The Dreams Concerto - Concerto for guitar group and chamber orchestra". There is a 38 page booklet attached to this album, booklet tells more info about the songs and the artists who are playing on the album. Rodulfo has been preparing music for this album already for 15 years, so we are not talking about any kind of fast built-up rubbish, but a gradually developed entity. Rodulfo takes care of all guitar playing parts by himself in a very professional way, there is also a big group of musicians who are playing different king of instruments and several singers who are helping him. Rodulfo is mixing nicely classic and rock music and his three-part album includes diverse and all-around music from one side to another. Sometimes his guitar playing gets heavy, and this takes care of that the classical parts of the album do not feel so boring and the whole aggregate seems to be working perfectly. "The Dreams Concerto" is an ambitious prime album from a very talented artist.
Raimo Eurasto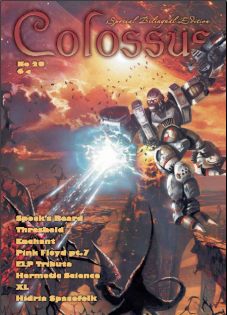 Issue #20
---
Progressive World - www.progressiveworld.net - USA

www.progressiveworld.net/rodulfo.html
Raimundo Rodulfo - Suenos/Dreams
December 2001
Although based in Venezuela, there is a slight Celtic element to Rodulfo's music. Dreams is an all instrumental progressive rock album. In a rather broad way, one can say that it contains elements of Italian prog with its rich instrumentation - along side the guitar you'll hear flute, violin, viola, and sax - but also it makes me think of Yes. The thought that came to me was: if Steve Howe released an instrumental album, expanding his solos from the music of Yes into pieces themselves, this is what it would sound like. Classical structures form the lattice over which Rodulfo weaves his magic. Inevitably, Al DiMeola and John Scofield also come to mind, at least for me. Rodulfo has assembled a number of guests to help him realize this project, a sci-fi themed concept album: Frank Alburjas on flute, Lérmit Martinez on keyboards, Jesús Pérez on drums, Alfredo Su´rez on percussion, Carlos Rodriquez on bass for a couple of tracks, César Romano on violin for "Friendship," Efrain Ramirez on viola for a pair of tracks, and Édgar Rodriquez on sax for two tracks. Rodulfo can be heard on, in addition to acoustic, electric, and classical guitar, mandolin (on one track) and bass (most of the album).
"Laberinto/Labyrinth" is, as the name suggests, an intricate journey which starts off the album in whirling manner. "Amistad/Friendship" has an open style not unlike a waltz; in fact, there is so much energy here, that one thinks it must have been written to be danced to. The music is light and lyrical, uplifting and positive. "Nuevos Horizontes/New Horizons" has a southwestern/country feel to it, and due to more than just the acoustic guitar of Rodulfo. I thought of Emerson Lake and Palmer's "From The Beginning" every once in a while, due to the sound of the bass during the opening section of this 10-minute plus track (also Rodulfo). "Tormenta De Ideas/Brainstorm" made me think of latter-day Djam Karet (from Reflections From The Firepool on). Even though this track still maintains that positive, upbeat feel, there are darker tones woven in. Rodriquez joins in on sax, as this track takes a jazzy turn. "Tiempos Dificiles/Hard Times" is, as elsewhere, mostly upbeat, but at about two-thirds in, we get some moody reflection as well, providing a nice contrast. The centerpiece to the album is the 21-plus minute suite "Códigos Universales/Universal Codes." Here some other textures come into play: atmospheric keys and voices, giving the first movement of this track, "Nova," a spacey feel (tinkling percussion only helps to enhance this feeling). Another section of this track reminds me strongly of Craig Chaquico, and not for the reason you think, though Rodulfo is playing a steel string here. Here is it more broad than that, as the same feel and mood is captured by the same instrumentation -- like Chaquico, it is a very naturalistic, outdoorsy feel. Because each section isn't a separate track, I don't know if this is "El Mono Desnudo/The Naked Monkey" or "Guerreros Incansables/Restless Warriors" (though the latter matches the essence of the piece). The remaining movements are entitled "Los Últimos Elefantes/The Last Elephants," "Tigres Ancestrales/Ancestral Tigers," "Gigantes Atomicos/Atomic Giants," and "La Aldea Global/Global Village."
There is also a multimedia component - designed by Rodulfo - that includes bios, pictures, two video segments (one a live-in-the-studio clip of "Amistad/Friendship") and the story behind the concept, written by Rodulfo. Each track is a chapter, telling the story of Crilo and Marta, illustrated by Anabella Delgado. The artwork that graces the album's cover and the interior is by Peter Rodulfo, a distant relative of Raimundo's that Raimundo came into contact with as he was searching the internet for an artist to realize his vision artistically.
All in all this is a fantastic album. Very warm in both tone and style. There is a live feel to the music, despite the fact that with Rodulfo playing multiple instruments on a single piece, it had to be multi-tracked. You'd never guess as his interplay with/between himself and others is quite organic.
Stephanie Sollow

www.progressiveworld.net/rodulfo2.html - USA
Raimundo Rodulfo. The Dreams Concerto
April 2003
I regret that this CD has waited so long for review because it is absolutely stunning. But I'm getting ahead of myself.
The Dreams Concerto is the second CD from Venezuelan musician Raimundo Rodulfo. Lavishly packaged in a 19 page booklet and slipcase, both featuring the artwork of Peter Rodulfo, the music inside is a mix of classical and rock. Rodulfo developed a mathematical formula to map out the structure of the music, allowing room for improvisation – the maps and charts of the formula also included in the booklet.
The The Dreams Concerto, a concerto for guitar, group and chamber orchestra, consists of three movements. This is a work of such scope that I don't know really where to begin. It is amazing and beautiful, encompassing varying moods, styles and colours… Rodulfo is a fantastic guitarist (rather, multi-instrumentalist), surrounded by equally talented folks on a variety of instruments. Some sections feature vocals (Beatriz Rivas and Pedro Castillo), but overall it is an instrumental work. The concept behind the concerto is a "tribute to the unswerving spirit of the human being in his endeavors to fulfill his dreams and discern his surrounding universe."
In Rodulfo's guitar work you will hear elements of both a Steve Hackett and a Steve Howe influence, though suggesting that any of the music here sounds like Genesis or Yes would be misleading. Though, of course, the latter's experimental spirit is certainly here – that sense of what if… that which makes progressive music progressive. It is of Hackett that I think of at about the 14 min mark of "First Movement: Sueños" and later in the CD of Howe, especially in Rodulfo's acoustic playing. You might think of early Genesis however at the 18 minute mark of this same track… and I must make note of the sweet sax solo that Pablo Gil Rodulfo (no mentioned relation) plays at the 20 min mark. This is by no means the only highlight – Rivas is a powerful vocalist who can hit the high notes with aplomb. Add into the over all mix on the piece violins, violas, flugelhorn, harp, flute, piano… well, it is quite an intoxicating mix without being heady. It can be both heavy and light.
Rodulfo mentions in his essay in the liner notes that he found that the conclusion of "Sueños" was too melancholic, and so added the coda, the more hopeful "Esperanza." This shorter piece is certainly lighter, the latin-tinged acoustic arrangement almost inviting one to dance… More than almost. Rodulfo's playing is finely textured accompanied by flute, harp, drums and percussion, and maracas.
Once past the darkly intriguing intro of "Matemática y Arte II" – I can't really describe it other than as a deep, cool blue – Rodulfo impresses again on guitar, bringing to mind the for really the first time Howe, and more specifically Yes. Echoes of the solo work in "Roundabout," though this piece doesn't sound like "Roundabout." The crisp percussion at the 2:50 mark (or so) is so… real and close sounding, it sounds live. So live it sounds as if it were being played in an open air theater. Though Rodulfo's darker, slightly angry guitar phrases are very much evident, it is the percussion that has the lead here, throbbing bass filling the gap. A moment later… man, I love the sound of a sax played well, and again Pablo Gil Rodulfo delivers. This piece is given three subparts – "I. Modelo Inexacto de 7!," "II. Modelo Exacto de 7!" and "III. Modelo Inexacto Traspuesto de 7!" The "inexacto" and "exacto" refer back to Rodulfo's structure. This piece rocks. Fans of Yes' rockier moments will love this. I love it – high energy without losing texture.
The colours are darker in "Muestreo Al Azar," the second part of the "Second Movement," a suite for electric guitar, group, and DSP (Digital Sound Processing). Here Rodulfo paints with a flurry of guitar notes that are simply amazing … The fifteen minute "Baroque" brings back the acoustic guitar and is placed in an old world setting. The music is bucolic, light and airy, bringing forth images of the Italian countryside. Violinist César Romano plays an especially sweet phrase, matched a moment later by Manuel Rojas on the flute … The last piece and second part of the "Third Movement" is "La Gran Epopeya De La Música Y Las Ciencias" (The Grand Epic Of Music And Science), a tribute to folks like Copernicus and Galileo on the science side and to Mozart on the music side. There is a passage at the 14 minute mark that for a brief moment will have you thinking of Rush ("Spirit Of Radio"), before it launches itself into a playful, near romp hinting more at Copeland's "Bolero" than heavy rock. Of course, this shows that amongst all the seriousness, Rodulfo and company can have a bit of fun. In fact, there were a few times where I could almost identify some referenced phrases. At the end, I was reminded of some of the scores heard in films from the late 40s-early 50s… no one movie in particular, but just some style and sound that I associate with classic film.
The Dreams Concerto is a thoroughly stunning and epic work that is a pleasure to listen to. Varied enough that you will discover something new upon each listen, but not so varied as to be disjoined - everything flows seamlessly together with a measured ebb and flow. Seek this one out.
Rating: 5/5
Stephanie Sollow
---
Psyche Van Het Folk - www.radiocentraal.be/psychevanhetfolk - Belgium
http://progressive.homestead.com/VENREVIEW.html

Private - Raimundo Rodulfo : Suenos / Dreams (VEN,2000) ***
"Dreams" is a multimedia-CD which includes the tale on which the music is based, the related WebPages, in both English and Spanish, and a live in studio video recording. The style is symphonic progressive instrumental on the first track with dense melodies, skilfully and pacefully played (somewhat fusion like) electric guitar accompanied by a progressive rock band : flute, drums, keyboards.. Also the second, more relaxed track -again the guitar has this fusion ability quality- is clearly led by the electric guitar, in duo with the violin and like on the first track with a few touches of more happy Latin American rhythmic melodic aspects within the symphonic rock structure. The third track "Nuevos Horizontes" starts much more modestly with acoustic guitars, flute and violin, like some of the better Spanish groups I know, with very beautiful acoustic guitars, and a well balanced structural openness. The following track "Tormenta de Ideas" I did not know how to approach it at first for it started quickly with slightly less interesting keyboards, a few more easy beats on the drums, then a jazzbluesrhythmic structure, and an improvising over convoluted electric-guitar, but never the less the total composition gives it some sense. "Tiempos Dificiles" following on has much more extra interesting percussion, a rock flute, some saxophone, latin jazz rock rhythmic skill, virtuoso acoustic guitars and violin. It's been played by a well balanced group with chamber music rock sensebilities. And the composition is structurally interesting too. Great. Oddly structured should be "Matématica y Arte" (Mathematics and Arts) for there Raimundo played with the contraposition of rigid rhythmic patterns combined with jazzrock free improvisation segments. It's an interactive play between automatic mathematical models and creative improvising. Last 22 minute track "Códigos Universales" is the best from all I mentioned before, mostly in a relaxed mode but with the full band. A recommended CD if you like both symphonic and fusion guitar progressive music. But you haven't read or heard anything yet. Check out Raimundo's next album reviewed underneath.
Gerald Van Waes

Private - Raimundo Rodulfo : The Dreams Concerto
Concerto for guitar, group and chamber orchestra (VEN,2002)****
Symphonic progressive. Full of tremendous and beautiful parts. Especially the acoustic guitar parts are superb. The acoustic part are so good / the arrangements are refined enough...
Raimundo evolved a lot since his first album, and developed various of his ideas as if a dream came true. The compositions are much richer, arranged and performed. A lot of work went into this. Not only because the compositions are richly orchestrated (played by carefully chosen musicians, like Pedro Castillo from Tempano, .. with a beautiful female voice, chamber orchestra) but a lot of attention went also in the booklet. Peter Rodulfo made inspired drawings with each composition. Making Long compositions is not an easy task to preserve spontaneity, but Raimundo succeeds. He also used some mathematical models in this album. The theory is carefully explained in the thick booklet, still without clearly saying how he used the graphic patern included. The mood on this album is no longer symphonic, but more art rock and symphonic art folk. For various reasons very recommended. Both acoustic guitars as electric guitar playing / arrangements are splendid. Also ecommended for those interested in groups like Amarok (Spain/Venezuela) or Baccamarte (Brazil).
The mathematical model, Audio files as well as extra pictures and reviews can be found at Rodulfo's personal website.
Gerald Van Waes

Raimundo Rodulfo : to LIVE a dream -official bootleg (VEN,2003)***° (VG/EG)
With a progressive/art/symphonic group we never know the quality and the amount of spontaneous effect of the group playing live before we actually hear them play live or hear a good live recording. It's clear this group has such a fine tension. First track with art folk tension, various tracks with a folk stage fusion symphonic craftsmanship, with some improvisations of the musicians involved, and one with progressive / symphonic feel. I was especially surprised by the harp / flute / maracas / strangely tuned guitar ? -with "tumbpiano feel" medley & some violin / classical guitar and drums at the end, "Esperanza", recorded on Progjazz show, 2002. A must have heard track. "Suenos" goes beyond the craftsmanship's symphonic music early Genesis explored, with Latin American female voice, progressive rock guitar, etc. Beautiful.
Gerald Van Waes
---
Tombstone - www.tombstone.gr - Greece

RODULFO RAIMUNDO - The Dreams Concerto
This is the second album of the man and it is a concerto for guitar, group and chamber orchestra. You might ask what this has to do in the CD-Reviews section of a metal web site and we will answer a lot. A lot, because the music is mainly rock, with influences from progressive, but with very classical arrangements and with a full orchestra behind the band providing rich musical textures. The vocals are both male and female, with the female ones being much better. Almost 80 minutes of rock, mixed with traditional South American music influences and a very diverse album. The use of several instruments besides the traditional rock instruments makes the sound very rich and much more interesting. It's a very good album... It's worth listening the album especially if you're an open minded fan...
8/10
Agelos Kanarelis
---
Ragazzi - www.ragazzi-music.de - Germany
Musikpalast - www.hcoels.de - Germany

Raimundo Rodulfo "The Dreams Concerto"
German - English
Der Venezuelaner Raimundo Rodulfo ist Multiinstrumentalist mit Hauptinstrument Gitarre sowie Graphiker und Mathematiker, der für die Einspielung seines zweiten Albums "The Dreams Concerto" etliche Musiker einlud, ein 78-minütiges, dreiteiliges Werk einzuspielen. Gewidmet ist die Musik allen Menschen, die von einer besseren Welt träumen. Dank sagt er etlichen Größen der klassischen und progressiven Musik sowie Wissenschaftlern und Künstlern. Sämtliche Bilder hat Peter Rodulfo, ein britischer Maler gemalt. Die Bilder sind (wie die Musik) von einer unglaublichen farben- und themenreichen Vielfalt. Peter und Raimundo sind nicht verwandt, vielleicht über etliche Ecken, wie Raimundo meint (Peter Rodulfos Großeltern kommen aus Venezuela). Raimundo hat im umfangreichen Booklet mathematische Formeln aufgeschlüsselt, die in ihrer Komplexität einiges Genie verraten. Die Entstehungsgeschichte des Albums, Texte und Musiker mit etlichen Informationen werden abgebildet. Schon vor der Musik ein erstaunlich umfassendes Werk, an dem nicht gespart wurde. Die Musik offenbart sich als komplexer, schwer lyrischer Progressive Rock. Mal eher neoprogressiv, mal heftig und wild. Dann wieder überrascht der Gesang mit hoher Frauenstimme, die in sehr süßer Melodie singt. Zum Glück gibt es das kraftvoll gespielte Schlagzeug! Zwischen den Gesangspassagen, die auch schon mal im Duett Männer-/Frauenstimme gesungen werden, breiten sich epische Instrumentalteile aus, die vor allem von elektrischer und akustischer Gitarre geführt werden. Klassische Instrumente wie Violine, Flöte, Flügelhorn und Harfe werden genutzt. So ergibt sich ein Wechselspiel der Stile, das harmonisch ineinandergreift und das Werk nahtlos zu wunderschöner Musik schweißt. "First Movement" und "Second Movement" sind stilistisch im klassischen Progressive Rock zu Hause, immer mit einem Hauch Folklore und einer irgendwie exotisch anmutenden, angenehmen Eigenwilligkeit. "Third Movement" beginnt im ersten, 15 Minuten langen Part "Baroque" als rein klassisches Stück. "Suite For Classic Guitar And Chamber Orchestra" untertitelt, werden hier der venezuelanischen Folkore verwandte Themen in klassischer europäischer Form gespielt. Die Suite ist von Transparenz und Klarheit, von tonaler Schönheit und anspruchsvoller Eleganz, großer Dynamik und heißer Leidenschaft, überraschend und hinreißend! Und so ist das komplette Album. Zwar kommt "The Dreams Concerto" hin und wieder an etwas zu süße Punkte, die zum Glück jedoch im druckvollen Arrangement nicht zum Überschwang kommen. Raimundo Rodulfo offenbart mit "The Dreams Concerto" seine Qualität als Komponist, Arrangeur und Gitarrist mit harmonischer, dramatischer, virtuoser, berückender und impulsiver, schwer symphonischer Rockmusik. Ein beeindruckendes Werk, das ich nur empfehlen kann.
Volkmar Mantei

German to English translation (Automatic approximate translation by SYSTRAN)
Raimundo Rodulfo "The Dreams Concerto"
English - German
The Venezuelan Raimundo Rodulfo is a multi-instrumentist with guitar as main instrument as well as commercial artist and mathematician, which invited some musicians for bringing its second album "The Dreams Concerto", a 78-minutes three-part work. The music is dedicated to all humans who dream of a better world. Owing to he says some size to the classical and progressive music as well as scientists and artists. Peter Rodulfo, a British painter painted all pictures. The pictures are (like the music) from an unbelievable color and topic-rich variety. Peter and Raimundo are not directly related, perhaps over some corners, like Raimundo mean (some Peter Rodulfo's grandparents come from Venezuela). Raimundo developed mathematical formulas, which betray some genius in their complexity in the extensive Booklet. The developing history of the album, texts and musicians with some information are illustrated. Already before the music an amazingly comprehensive work, at which one did not save. The music reveals itself as more complex, with difficulty more lyrically progressive skirt. Times rather neoprogressiv, times violently and wildly. Then again the singing surprises with high woman voice, which sings in very sweet melody. Fortunately there is the impact thing strong played! Between the singing passages, which are sung already times in the Duet man/woman voice, spread over epic instruments old hurry, which are led particularly by electrical and acoustic guitar. Classical instruments such as violin, flute, wing horn and harp are used. Thus results an interrelation of the styles, which interlinks harmoniously and which work welds smoothly to beautiful music. "First Movement" and "Second Movement" are stylistic in the classical progressive skirt at home, always with a breath folklore and a somehow exotically seeming, pleasant self-willedness. "Third Movement" begins in the first, 15 minutes long part "Baroque" as purely classical piece. Titled "Suite For Classic Guitar and Chamber Orchestra", are played here the Venezuela niches Folkore related topics in classical European form. The Suite is surprising and impregned of transparency and clarity, of tonal beauty and smooth elegance, large dynamics and hot passion! And like that is the complete album. "The Dreams Concerto" comes now and then to somewhat to sweet points, which overshot fortunately however in the pressureful arrangement not to comes. Raimundo Rodulfo reveals with "The Dreams Concerto" his quality as composer, Arrangeur and a guitarist with more harmoniously, dramatically, more virtuoser, more beru hit a corner and more impulsively, to with difficulty symphonic skirt music. An impressive work, which I can only recommend.
Volkmar Mantei

Raimundo Rodulfo "To live a Dream - Official Bootleg" (internet Release)
German - English
Nachdem Raimundo Rodulfo im letzten Jahr "The Dreams Concerto" veröffentlicht hat, gab es für ihn und seine Band viele Möglichkeiten, Konzerte zu geben oder auf Festivals aufzutreten. Die Konzerte wurden mitgeschnitten.
Sicher war geplant, ein offizielles Live-Album aufzulegen, doch nicht alle Aufnahmen sind in dem notwendigen Sound gelungen. So entschied sich Raimundo, "To Live A Dream" als offizielles Bootleg anzubieten, das man komplett (samt dem vollständigen und perfekt gemachten Layout) von seiner Internetseite herunterladen kann, so man einen kleinen Obolus dafür bezahlt, das Passwort zu bekommen.
Gerade 8 Stücke füllen die CD.
Die ersten 4 Tracks sind auf der Baja Prog Show im März 2002 mitgeschnitten worden. Wie auf dem früheren Album zeigt sich die lyrische, melodisch reiche Musik des venezuelanischen Gitarristen. Akustische und elektrische Gitarre, Keyboards, Violine und Flöte zeichnen einen romantischen und doch kraftvollen Progressive Rock, der Einflüsse aus der Klassik, venezuelanischer Folklore und Jazz verarbeitet.
Nur das 28minütige "Suenos" gibt Gesang zum besten, die anderen Songs sind rein instrumental. Gerade in der ausgedehnten Instrumentalarbeit ist die Parallele zur besten Zeit von Premiata Forneria Marconi zu erkennen.
Neben einigen Soundmacken, die aber nicht besonders negativ auffallen, ist vor allem der Gesang von Beatriz Rivas ein Problem. Stimme und Gesanglinie sind ansprechend, aber auf die Dauer etwas eintönig. Zudem ist der wiederkehrende Refrain fast schlagerhaft, reizt ihre Stimme eine Höhenlage aus, die doch arg an die Nerven geht. Weniger Jubilieren wäre mehr.
Doch die anmutige Dame singt nicht zuviel, so ist mit ein wenig Geduld der Engelsgesang bald überwunden. "Suenos" ist das Stück mit dem schlechtesten Sound, ein leichtes Brummen liegt hinter der Musik, die Lautstärke der Instrumente ist unausgewogen, hin und wieder "flattert" der Klang, es gibt geringe Aussetzer.
Die beiden folgenden Songs wurden auf der Prog Jazz Show in Barquisimeto, Venezuela im April 2002 mitgeschnitten. Der Klang ist wieder allerliebst - und die Musik auch, dank der Bühnenabstinenz der schicken Beatriz.
Track 7 ist während einer TV Show im Mai 2002 im gleichen Ort in Venezuela aufgezeichnet worden. Ein kurzer, akustischer Abriß nur, zudem als Duo Gitarre/Flöte gespielt, gewiss für das Fernsehen auf Normalmaß gestutzt, um die Einschaltquoten nicht zu killen.
Danach spielt Raimundo als Bonus "Bourree" auf der elektrischen Gitarre solo und plötzlich klingt es, als würde ein Metal-Gitarrist versuchen, Klassik so dreckig und übel klingen zu lassen, wie es nur geht. Eine passable Idee mit viel Ironie.
Wenn man das lange "Suenos" weglässt, bleiben noch knapp 52 Minuten eindrucksvollen Progressive Rocks im viel besseren als Bootleg-Klang.
Da Raimundo viel von filigraner Musikarchitektur versteht, wird er die PFM-Gemeinde zu Verzückung bringen. Und die Artverwandten hinzu.
Ich habe keine Ahnung, wie lange das Angebot des Bootleg-Download zur Verfügung steht.
Einfach mal testen.
Volkmar Mantei

German-English translation.
Raimundo Rodulfo "To live a Dream - Official Bootleg" (internet Release)
English - German
After Raimundo Rodulfo published "The Dreams Concerto" in the last year, there was for him and his band many possibilities to give concerts or to appear on festivals. The concerts became with cutting edge.
It was surely planned to present an official live album but not all the songs succeeded in the necessary sound. Thus, Raimundo decided to offer "To Live A Dream" as an official bootleg, which one can download completely (including the complete and perfectly made layout) from his Internet site, so one paid a small obolus to get the password.
Exactly 8 pieces fill the CD. The first 4 TRACKS were cut on the Baja Prog Show in March 2002.
As on the earlier album, it shows up the lyrical, melodic music of the Venezuelan guitarist. Acoustic and electric guitar, keyboards, violin and flute draw a romantic and nevertheless strong progressive outline, which processes influences from the classical period, Venezuelan folklore and jazz. Only the 28-minute "Suenos" gives singing to the greatest, the other songs are purely instrumental. Just in the extended instrumental work, is recognized the parallel to the best time of Premiata Forneria Marconi.
Besides some sound imperfections, which are not particularly negatively noticeable however, is a problem above all the singing of Beatriz Rivas. Voice and singing lines are attractive, but somewhat monotonous in the long run. Besides the recurring refrain is nearly hitful, provokes in its voice a high outgo, which goes nevertheless badly to the nerves. Less carolled would be better. But the charming lady sings not too much, then after little patience the singing angel is soon overcome. "Suenos" is the piece with the worst sound, one light humming lies behind the music, the volume of the instruments is unbalanced, now and then "flutters" the sound, there is minor abandon.
The two following Songs were cut on the Prog jazz Show in Barquisimeto, Venezuela in April 2002. The sound is all-loved again, and also the music, thanks to the good abstention of Beatriz.
TRACK 7 was recorded during a TV Show in May 2002 in the same place in Venezuela. It is a short, only acoustic outline, in addition played as guitar/flute duo, certainly for the television on normal measure, in order to don't kill the ratings so much.
Thereafter Raimundo plays as bonus "Bourree" on the solo electrical guitar and it suddenly sounds, as if a metal guitarist would try to let classical period sound as dirty and evil as possible. An acceptable idea with much irony.
If you omit the long "Suenos", still remains scarcely 52 minutes of impressive progressive rock in a much better than bootleg sound.
Since Raimundo understands much about filigree music architecture, he will bring the PFM community to ecstasy. And the related ones in addition.
I have no idea of how long the offer of the bootleg download will be available.
Simply test once.
Volkmar Mantei

Raimundo Rodulfo "To live a Dream 2 - Official Bootleg" (internet Release)
German - English
Im letzten Jahr hat Raimundo Rodulfo bereits Live-Aufnahmen veröfffentlicht. Jetzt gibt es weiteres Material. Für einen geringen Obolus "kauft" man sich ein Passwort, mit dem man die kompletten Songs + vollständiges Artwork von der Rodulfo-Website herunterladen kann. Das über eine Stunde lange Official Bootleg 2 beinhaltet Aufnahmen vom Progjazz Festival 2002 und einen Song vom gleichen Festival ein Jahr früher. Die Soundqualität der Aufnahmen ist gut, die Abmischung kann sich bis auf einige, wenige seltsame Sachen wie ins Off gemixte Gitarre, oder zu laute Keyboards hören lassen. Die Band ist warm gespielt, die technische Präsentation der Aufnahmen gut, teilweise vielleicht etwas statisch. Aber das mag an der Komplexität der Songs liegen. Raimundo Rodulfo komponiert schwer symphonische Songs, die typisch südamerikanisch klingen. Die Melodieschwere und tiefe Lyrik sind ebenso mit Italo Prog verwandt. Elektrische Geige, Keyboards, Flöte, Flügelhorn - hier wird Romantik groß geschrieben. Trotzdem rockt es gelegentlich, Raimundo Rodulfo reizt die Gitarre auch schon mal schwer heavy aus. Das ist jedoch gut ausbalanciert und insgesamt überwiegt romantisch-lyrischer Symphonik-Rock. Hauptwerk wie auf CD1 ist das lange "Suenos". Auf der ersten CD gab es Ausfälle im Ton, weswegen diese zweite Variante wohl auf diese CD gekommen ist, wenn nicht die CD überhaupt wegen des Songs angeboten wird. Fast 30 Minuten lang ist "Suenos", das einzige Stück mit Gesang. Und das ist der einzige größere Kritikpunkt an Official Bootleg 2. Die Gesanglinie, die Beatriz Rivas singt, ist, zumindest für europäische Ohren, etwas anstrengend. Zudem singt sie, trotz langer instrumentaler Passagen in diesem langen Werk, recht viel. Vor allem der stets wiederkehrende Refrain ist gewöhnungsbedürftig. Ansonsten können die Songs nur empfohlen werden. Italo Prog Liebhaber und überhaupt Fans des romantischen Symphonic Rocks werden ihre Freude an dem Werk haben.
Volkmar Mantei

German-English translation.
Raimundo Rodulfo "To live a Dream 2 - Official Bootleg" (internet Release)
English - German
In the last year Raimundo Rodulfo already published live performances. Now there is further material. For a small price one "buys" a password, with which one can download the complete songs + complete artwork from the Rodulfo's website. Over one hour long the Official Bootleg 2 contains performances from the Progjazz Festival 2002 and a song from the same festival one year before. The sound quality of the performances is good, despite some few strange things as the off mixed guitar, or to let keyboards listen too loud. The band plays warmly, the technical presentation of the performances is good, partly perhaps some static. But that may be because of the complexity of the songs. Raimundo Rodulfo composes heavy symphonic songs, which sound typically South American. Melodic weight and deep poetry are just as related to Italian Prog. Electric violin, keyboard, flute, flugelhorn - here becomes romanticism largely written. Nevertheless it rocks occasionally, Raimundo Rodulfo already plays the guitar sometimes in a heavy way. That is however well balanced and altogether outweighs romantic - lyrical symphonic structure. Present as on CD1 is the long "Suenos". On the first CD there were losses in the sound, why this second variant probably came on this CD, if not the CD at all is offered because of the songs. "Suenos" is nearly 30 minutes long, the only piece with singing. And that is the only larger point of criticism at Official Bootleg 2. The singing line, which sings Beatriz Rivas, is, at least for European ears, something tiring. Besides it, despite long instrumental passages in this long work, sings quite much. Above all the always returning lyrics needs habituation. Otherwise the songs can be only recommended. Italian Prog lovers and all fans of the romantic symphony genre will enjoy this work.
Volkmar Mantei
---
Progressive Pages - www.progressivepages.de | http://progressive-pages.de - Germany

Raimundo Rodulfo "The Dreams Concerto"
German - English
Manchmal frage ich mich, wo die Leute nur immer wieder neue Ideen für Musik hernehmen. Im Falle von RAIMUNDO RODULFO, einem venezuelanischen Gitarristen um so mehr. Diese Vielseitigkeit auf seinem "The Dream's Concerto" ist schon beeindruckend. Komponiert ist das Werk für "Guitar, group and chamber orchestra" - und weniger würde der Musik auch nicht gerecht werden.
Beim Lauschen der Klänge bekommt man nicht selten das Gefühl, dass eine visuelle Umsetzung unbedingt gemacht werden sollte. RODULFO's Musik ist komplex und vermittelt ein ganz eigenes Flair, schon allein durch das südamerikanische Element, welches immer wieder durch die akustische Gitarre transportiert wird und nicht zuletzt auch durch den - wenn auch nur im ersten und letzten Stück vorhandenen - spanischen Gesang. Das Orchester trägt eine barocke Grundstimmung dazu bei. Sehr schön íst, dass sich RODULFO als Namensgeber, Initiator und Komponist harmonisch in das Gesamtbild einfügt. Die Gitarre ist aber stets präsent, jedes andere Instrument kann jedoch seine Vielseitigkeit und Stimmung wunderbar zum Ausdruck bringen, sei es die Flöte, das Saxophon, die Streicher oder das Piano, Drums, Bass oder auch die eingesetzte Harfe.
Die Vielseitigkeit der Musik zu beschreiben fällt mir nicht leicht. Es gibt einfach so viele Facetten, dass sich keine Vergleiche ziehen lassen. Klar ist, dass viele Stücke klassisch geprägt sind. Doch es gibt mit dem "Second Movement" auch ein auf die E-Gitarre ausgelegtes Stück, welches die rockige Seite des Raimundo Rodulfo zeigt. Begeistern kann mich immer wieder die mit Leidenschaft gespielte spanische Gitarre. Man sieht den Künstler förmlich vor Augen, man spürt die Welle, auf der er sich von der Musik tragen lässt. Dieses Bild fordert eigentlich die Umsetzung des Konzepts auf einer großen Bühne. Das Eintauchen in die vielen Facetten der Musik würde sicherlich begünstigt werden.
Die wunderbare Aufmachung der CD mit ihrem umfassenden Booklet rundet das Hörerlebnis vortrefflich ab. Man kann etwas zur Entstehungsgeschichte einzelner Stücke lesen, bekommt Einblicke in Zusammenhänge von Mathematik und Musik geliefert und jeder Musiker wird in einer Kurzbiographie vorgestellt.
Thorsten Guerntke

German to English translation (Automatic approximate translation by SYSTRAN)
Raimundo Rodulfo "The Dreams Concerto"
English - German
Sometimes I ask myself, where the people get again and again new ideas for music. In the case of RAIMUNDO RODULFO, Venezuela lodges a guitarist like the best. This versatility on his "The Dream's Concerto" already is impressive. Composed the work for "Guitar plus group and chamber orchestra" - and less the music also not fair would become.
When listening the sounds one gets the feeling not rarely that a visual conversion should be made absolute. RODULFO's music is complex and mediates a completely own Flair, already alone by the South American element, which is transported again and again by the acoustic guitar and not least by - even if only in the first and last piece of existing - Spanish singing. The orchestra contributes a baroque basic tendency to it. It is very beautifully how RODULFO inserts himself harmoniously as name giver, initiator and a composer into the overall view. Though the guitar is always present, every other instrument can however marvelously express its versatility and tendency, is it the flute, the saxophone, the organ or the piano, drums, bass or also the assigned harp.
The versatility of the music is not easy to describe for me. There are simply so many facets that no comparisons can be pulled. It is clear that many pieces are classically coined/shaped. But there is a piece designed for the electric guitar, which shows the rockish side of Raimundo Rodulfo with the "Second Movement" also. To inspire again and again the Spanish guitar is played with a passion that can do me. One sees the artist formally before eyes, one feels the wave, on which he can be carried from the music. This picture actually demands the conversion of the concept on a large stage. Immersing into the many facets of the music would be surely favoured.
Marvelous opening that CD which its comprehensive Booklet rounds the hearing experience splendid off. One can read something for the developing history of individual pieces, gets views of connections of mathematics and music supplied, and each musician is introduced in a biography.
Thorsten Guerntke
---
Babyblaue - www.babyblaue-seiten.de - Germany

Raimundo Rodulfo. The Dreams Concerto.
German - English
Erschienen: 2002
Vergleichbar mit: Südamerikan. Hackett bzw. Howe mit starkem Hang zur klassischen Musik.
Mit "The Dreams Concerto" liegt das zweite Album des aus Venezuela stammenden Gitarristen Raimundo Rodulfo vor. Diese Veröffentlichung aus dem Jahr 2002 trägt den Untertitel "Concerto for guitar, group and chamber orchestra". Somit ist dies ein erstes Indiz dafür, dass der musikalische Inhalt des Albums sehr von der klassischen Musik inspiriert ist.
Schon die ersten Töne der in drei "Movements" unterteilten CD-Veröffentlichung belegen dies in eindrucksvoller Manier. Romantisches Geigenspiel und zarte Flötentöne gehen mit der akustischen Gitarre von Raimundo Rodulfo einher. Hieraus entwickelt sich sehr anspruchsvoller symphonischer Rock, der mit dem herkömmlichen Progressive Rock kaum vergleichbar ist, sondern eher im zeitlosen symphonischen Schönklang beheimatet ist.
Im weiteren Verlauf offenbart der Hauptakteur jedoch auch seine Fähigkeiten an der elektrischen Gitarre und glänzt mit wohl dosiertem, symphonischem Spiel. Dabei lässt er die sechs Saiten leidenschaftlich jubilieren und steht somit in der besten Tradition eine Steve Hacketts und Steve Howes. Eine sehr präzise agierende Rhythmussektion spannt den Bogen perfekt von der symphonischen Eleganz zum anspruchsvollen Progressive Rock.
Der weibliche spanische Gesang ist sehr ausdrucksstark, lässt aber anhand des doch expressiven Gesangsstils die südamerikanische Herkunft nicht verleugnen und mag für mitteleuropäische Ohren doch ein wenig gewöhnungsbedürftig sein. Stellenweise wird Sängerin Beatriz Rivas von Pedro Castillo gesanglich unterstützt, der in Insiderkreisen als Mitglied der ebenfalls aus Venezuela stammenden Band Tempano bekannt sein dürfte.
Der Großteil von "The Dreams Concerto" kommt jedoch ohne Gesang aus. Dabei wird die immense instrumentale Palette durch die Hinzunahme von Saxophon, Harfe und Flügelhorn erweitert. Das Keyboardspiel ordnet sich dabei dezent in den orchestralen Rahmen ein.
Nach der verträumten Eleganz klingt das erste "Movement" sehr fröhlich aus, wobei hier die Verbundenheit mit der traditionellen südamerikanischen Musik verstärkt zum Vorschein kommt. Mit "Matemática y Arte II" begibt sich Raimundo Rodulfo dann völlig unverhofft in jazzrockige Gefilde. Dieser stilistische Bruch unterstreicht die musikalische Vielfältigkeit des hier gebotenen musikalischen Inhaltes um so mehr. Im sehr opulent gestalteten Booklet der CD-Veröffentlichung erklärt der Hauptakteur in ausführlicher Art und Weise das inhaltliche Grundkonzept dieses mittleren Teils der CD-Veröffentlichung. Dabei geht es ihm in erster Linie um das Verhältnis von Mathematik und den verschieden Kunstformen. Eine detailliertere Wiedergabe dieses doch sehr theoretischen Gedankenansatzes würde den Rahmen dieser Rezension jedoch bei weitem sprengen.
Mit "Third Movement" tendiert der musikalische Inhalt wieder in die symphonische Richtung. Hierbei wurde das Hauptaugenmerk auf die virtuose Beherrschung der akustischen Gitarre gelegt. Dabei wird Raimundo Rodulfo von Geige, Flöte und Cembalo unterstützt. Trotz der filigranen Saitenbeherrschung ist dieser Part mit rund 15 Minuten aber doch ein wenig zu lang geraten. Der Rockcharakter tritt dabei vorerst gänzlich in den Hintergrund und kommt erst im zweiten Part wieder zum Vorschein.
Auf jeden Fall liegt mit "The Dreams Concerto" ein überaus ambitioniertes Produkt eines hervorragenden Künstlers vor. Selten bekommt man solch eine perfekt durchdachte CD-Veröffentlichung präsentiert, bei dem der musikalische Inhalt mit dem optischen Inhalt der CD derart perfekt abgestimmt ist. Das bereits erwähnte üppige Booklet ist mit tollen surrealistisch anmutenden Bildern des amerikanischen Malers Peter Rodulfo gespickt, der aber offensichtlich nicht mit Raimundo Rodulfo verwandt ist. Fernab von irgendwelchen Klischees der Rockmusik ist hier eine interessante Symbiose aus Elementen der klassischen Musik und der anspruchsvollen Rockmusik gelungen. Somit liegt hier ein sehr schönes musikalisches Kleinod vor, für das man sich ein wenig Zeit nehmen muss, damit sich die fein gesponnenen symphonische Eleganz in ihrer vollsten Schönheit offenbaren kann.
Horst Straske, 1/2003
Note: 11 von 15
Anspieltip: First Movement

German to English translation (Automatic approximate translation by SYSTRAN)
Raimundo Rodulfo. The Dreams Concerto
English - German
Appeared: 2002
Comparable with: Sud American. Hackett and/or Howe with strong slope to the classical music.
With "The Dreams Concerto" is presented the second album of Venezuelan guitarist Raimundo Rodulfo. This publication from year 2002 carries the sub-title "Concerto for guitar, group and chamber orchestra". Thus this is a first indication of the fact that musical contents of the album are much inspired by the classical music. Already the first tones of the CD release divided into three "Movements" occupy this in impressive manners. Romantic playing by the violin and tender flute tones accompanied with the acoustic guitar of Raimundo Rodulfo. From this develops very symphonic fashioned outline, which is hardly comparable with the conventional progressive genre, but is resident rather in the timeless symphonic beautiful sound. However, in the further process the main participant also reveals his abilities at the electric guitar and shines with probably proportioned, symphonic playing. It lets the six strings play passionately and stands thus in the best Steve Hackett's and Steve Howe's tradition. A very precisely acting rhythm section stretches the elbow perfectly from the symphonic elegance to the progressive style. The female Spanish singing has a very strong expression, however it doesn't let on the basis the singing style expression doesn't deny nevertheless the South American origin and may for Central European ears nevertheless be a little habituation needy. Singer Beatriz Rivas is supported by Pedro Castillo in some parts, who is presented inside the volume as a member of the Venezuelan band Tempano. However, the majority of "The Dreams Concerto" gets along without singing. The immense instrumental pallet is extended by the inclusion by saxophone, harp and flugelhorn. The keyboard plays decent arranges itself thereby in the orchestral frameworks. After the dreamed elegance, the first "Movement" ends very merrily, whereby the solidarity with the traditional South American music shows up strengthened here. With "Matemática y Arte II" then Raimundo Rodulfo goes completely unexpectedly into jazz-rock gender. This stylistic break underlines the variety of musical contents ordered here the more. In the very opulent arranged booklet of the CD publication the main participant explains in detailed way the contentwise basic concept of this middle part of the CD publication. It primarily concerns of the relationship between mathematics and that differently art forms. However, a more detailed rendition of this nevertheless very theoretical thought principle would blow up the framework of this review by far. With "Third Movement", the musical contents tends again in the symphonic direction. Here the special attention was put on the virtuose handling of the acoustic guitar. Raimundo Rodulfo is supported by violin, flute and clavier. Despite the string management this part is however nevertheless guessed/advised filigreed, with approximately a little too long 15 minutes. The outline character for the time being completely steps thereby into the background and shows up only in the second part again. In any case one is introduced with "The Dreams Concerto" to an extremely ambitious production of an outstanding artist. One rarely gets such one perfectly thought out CD release, which musical contents and conceptual contents are in such a manner perfectly co-ordinated. The sumptuous booklet already mentioned is filled with mad surrealistic seeming pictures of the American painter Peter Rodulfo, who is however not obviously related to Raimundo Rodulfo. Faraway of any plates an interesting symbiosis from elements of the classical music and the rock genre music succeeded to the outline music here. Thus here a very beautiful musical concept is present, for which one must take time oneself. It can reveal finely symphonic elegance in its fullest beauty.
Horst Straske, 1/2003
Note: 11 of 15
Recommended: First Movement


Raimundo Rodulfo. The Dreams Concerto. Review by Thorsten Guerntke (originally in Progressive Pages)
German - English

Raimundo Rodulfo. Mare et Terra.
German - English
Erscheinungsjahr: 2008
Besonderheiten/Stil: mit Orchester; Konzeptalbum; Jazzrock / Fusion; RetroProg; sonstiges
Label: Eigenproduktion/Musea
Durchschnittswertung: 11/15 (1 Rezension)
Rezensionen Von: Dennis Egbers @
Die Feststellung, es gebe keine weißen Flecken mehr auf der Prog-Landkarte, hat inzwischen einen fast so langen Bart wie die alte Fußballweisheit, dass es ja "keine Kleinen mehr" gibt. Dementsprechend gering fällt die Verwunderung aus, dass Raimundo Rodulfo mit seinem dritten Album für eine weitere Aufstockung des südamerikanischen, hier speziell venezuelanischen, Anteils der Babyblauen Seiten sorgt, obwohl Rodulfo inzwischen in Miami sein Lager aufgeschlagen hat. Nichtsdestotrotz umweht derartige Veröffentlichungen immer noch der leichte Hauch des Exotischen, vielleicht auch hervorgerufen durch die Hoffnung, dass mit landestypischen Einflüssen etwas frischer Wind aufkäme.
Und ganz falsch liegt man damit nicht: Gerade Rodulfos Spiel mit der akustischen Gitarre weist immer wieder einen Latino-Touch auf und auch sonst bringt die aufgefahrene Gastmusiker-Riege immer wieder Lokalkolorit ins Spiel. Trompeten sorgen für Mariachi-Flair, perkussives Flamencogeklapper lässt das (bei Proggern natürlich prinzipiell gar nicht vorhandene) Tanzbein zucken und die restlichen Blasinstrumente, insbesondere die Flöten, verbreiten immer wieder den Ruch der Ferne.
All diese nach wie vor ungewöhnlichen Elemente wären natürlich nichts wert, würden sie nicht zu einem gelungenen Ganzen zusammengesetzt. Bereits und vor allem der fast das halbe Album bildende Opener "Náufrago" weiß entsprechende Bedenken aber zu zerstreuen. Raimundo Rodulfo ist nicht nur ein technischer beeindruckender Gitarrist, wie er sowohl an akustischer als auch elektrischer Klampfe eindrücklich unter Beweis steht, sondern offensichtlich auch in der Lage, mitreißende und abwechslungsreiche Kompositionen zu schreiben.
Zwischen akustischen Passagen, die immer wieder das beschriebene Latino-Flair hervorbringen, symphonischen Momenten, in denen v.a. E-Gitarre, aber auch die nur an diesen Stellen über Klangteppiche hinwegkommenden Keyboards dominieren, jazzrockigen Einflüssen und klassischer Attitüde chargierend ist "Náufrago" trotz ab und an leicht ruppiger Übergänge ein überaus überzeugender Longtrack. Obgleich im Grunde genommen ständig in schönklingenden Gefilden verbleibend, kommt dank der ausgefeilten Komposition und allerlei vor allem durch Rodulfo beigesteuerten instrumentalen Schmankerln nie Langeweile auf.
Sicher gibt es auch gewisse Schwächen, wie die teilweise durchaus als quietschig zu bezeichnenden, aber kaum nervenden Keyboards, aber dies sind nur Marginalien. Ebenfalls zu überzeugen versteht der – nicht gerade übermäßig häufige - in Landessprache gehaltene Gesang, wobei v.a. Sänger Cristo Aguado ein richtig starkes Bild abliefert, während Minerva Borjas Owen "nur" gut ist. Ein besonderes Lob gebührt dabei der Tatsache, dass Rodulfo trotz alleiniger Urheberschaft der Versuchung widersteht, sich in den Vordergrund zu drängeln, und stattdessen zwar die Musik zusammenhält und den größten Anteil stellt, dabei aber allen anderen Instrumenten ebenfalls gebührenden Raum zugesteht.
Nach diesem beeindruckenden Beginn stellt sich natürlich die Frage, ob die weiteren Stücke das immense Niveau und den großen Abwechslungsreichtum weiter fortführen können. An dieser Stelle ist nun ein erster Wermutstropfen zu verzeichnen, kommen doch alle weiteren Stücke deutlich nicht mehr an "Náufrago" heran. Weder das immer noch richtig gute, aber an Überraschungen ärmere "Libertad",das aber immerhin einige fast tanzbare Passagen aufweist, im Prog eine Seltenheit erster Güte, noch das fusioneske "Blue", dem es teilweise am nötigen Pep mangelt, und erst recht nicht das abschließende Doppelpack "Thoughts" vermögen diesem Monolithen das Wasser zu reichen. Gerade "Thoughts" fällt mit seinem eher schwächeren, da mit allzu deutlichem Akzent versehenem Gesang und garstigen Keyboardeinlagen bisweilen gar richtig negativ auf, auch wenn insgesamt immer noch ein durchschnittlicher Gesamteindruck herausspringt.
Raimundo Rodulfo festigt somit mit seinem Drittwerk seinen Ruf als südamerikanischer Hackett – der aber nur im Prinzip der Verbindung akustischer und elektrischer Saitenklänge ein passender Vergleich ist, zumindest deutlich stärker als in Klangbild und Kompositionen – und kann nahtlos an die Qualität des Vorgängers "The Dreams Concerto" anknüpfen. Jedem Anhänger phantasievoller und inspirierter, zwar durch die Gitarre dominierter aber nicht von ihr erschlagener Musik sei ein Rendezvous mit "Mare et Terra" jedenfalls wärmstens empfohlen. Es lohnt sich!
Anspieltipp(s): Bei Eile "Libertad", am besten aber einmal quer durch
Vergleichbar mit: Steve Hackett, Steve Howe, Anthony Phillips - mit südamerikanischer Attitüde
---
Rock Hecho en Venezuela - www.geocities.com/leon9702002 - Venezuela

Raimundo Rodulfo - To Live a Dream, The Official Bootleg (2003).
Raimundo Rodulfo se ha convertido en uno de los músicos que en los últimos años ha ofrecido obras de gran calidad que, con la edición de sus dos primeros álbumes, le han hecho ganar prestigio nacional e internacional. Su tercera producción discográfica es este álbum en vivo donde recoge temas grabados en el prestigioso festival Baja Prog que se realiza anualmente en México y algunas presentaciones en Barquisimeto. Una obra por demás interesante porque ofrece versiones de temas de sus discos anteriores pero con nuevas variantes, evitando hacer un calco de las versiones en estudio. Con una banda de lujo en donde destaca el baterista Andrés Briceño quien es considerado como uno de los bateristas mas prestigiosos a nivel nacional e internacional, pero cuyo prestigio se había enmarcado sólo al jazz, pero aquí demuestra que se adapta a la perfección al estilo progresivo-clasicista desarrollado por Rodulfo; además le da papel protagónico a instrumentos pocos usuales en bandas de rock que han crecido en Venezuela, tales como es el caso del violín y la flauta. Aunado a esto, ofrece una alternativa diferente para la difusión de su obra al ser editada sólo de manera de ser obtenida através de su página web. Un disco que con el tiempo se convertirá en un clásico.
Williams León
---
ProgVisions - www.progvisions.net - Spain / The Netherlands
Raimundo Rodulfo's The Dreams Concerto - 2002.
".. composing from a strict mathematical point of view .."
(Concerto for guitar, group and chamber orchestra)
This is my second review of this month about musicians from Venezuela. The composer is Raimundo Rodulfo and after his debut album "Dreams" out of the year 2000, this second effort from 2002 has the title "The dreams concerto". The CD consists out of three long movements (28:11 + 16:43 + 33:03). The album has a fantastic package with beautiful artwork of Peter Rodulfo.
Musicians:
Raimundo Rodulfo – classic, acoustic and electric guitar; mandolin, bass, slide, talking guitar, acoustic and electronic percussion, backing vocals, Mathematic modeling, DSP design, programming, composition, orchestration and production.
(this long listing is a new record in progVisions history!)
Andrés Briceño – Acoustic and electronic drums, flugelhorn; Linda Briceño – flugelhorn; Pablo Gil Rudolfo – saxophones; Pedro Castillo – vocals; César Romano – first and second violins, viola, electric violin; Lermit Martinez – keyboard, piano, organ, clavier; Alejandro Socorro – acoustic and electronic percussion; Manuel Rojas – flute; Carlos Orozco – harp; Carlos Rodriguez – acoustic bass; Euro Olivero – maracas; Beatriz Rivas – vocals; Ricardo Furiati – bass, backing vocals; César Hernández – backing vocals.
The "First movement" (28:17) has two parts; "Sueños" (Dreams - 24:14) and the coda "Esperanza" (Hope - 4:03). The first is a modern symphony based on the suite "Baroque" from the "Dreams" album. That work was inspired on and a homage to Rodulfo's favorite music period. The music has mainly a classical atmosphere with lots of acoustic instruments but you can also hear drums and electric guitar solos. As you can read in the booklet Rodulfo found that the final impression of the composition could be one of sadness. So he wrote the second part in which the melodic line of the main theme has an atmosphere of happiness which would provide an optimistic finale. He used Venezuelan acoustic instruments like folk harp and maracas to provide a Venezuelan flavor. The music has a lot of variation and some great moments but I can't stay concentrated during the full length of the piece. But the electric guitar solo in the end is great and is played with a lot of passion.
The "Second movement" (16:43) is the most experimental track of this album. The booklet is full of mathematical statements and formulas to explain the rigid rhythmic patterns and free improvisations. Rodulfo developed a mathematical model of timing for this project. Well I will ignore these dry details, and concentrate on the music. The up-tempo parts sound difficult and complex. This is the most prestigious movement. It's all very cleverly done but it is not my cup of tea.
The "Third movement" (33:03) is my favorite track. It includes fantastic work on classical guitar and it reminds me somehow of the classical album Anthony Phillips made together with Enrique Berro Gracia. But at the same time the high speed guitar playing reminds me of one of my guitar heroes; Al diMeola. This movement radiates more warmth and beauty than the previous one. This first part of the movement is called "Baroque" (15:01) and it is a suite for classic guitar and chamber orchestra. The second part "La gran epopeya de la Música y las Ciencias" (17:52) is a suite for guitar, group and chamber orchestra. Next to the warm sounds of the classical guitar we can hear also some freaky electric guitar solos.
I have mixed feelings with this album. There are beautiful parts with acoustic instruments like classical guitar, violins, flutes and harp. Also you can find some beautiful melodic guitar solos. But on the other hand there are brilliant parts which in my opinion miss the warmth that the other pieces have. The more complex pieces are more compositions for musicians than for the general music lover. It is a good album, but I would like to advise you to listen to some samples first. You can find all the information you need on http://www.RaimundoRodulfo.com
Douwe Fledderus - October 2003
---
Progressive-Newsletter - www.progressive-newsletter.de - Germany

-Issue #42

Raimundo Rodulfo's The Dreams Concerto
Same as Ragazzi's review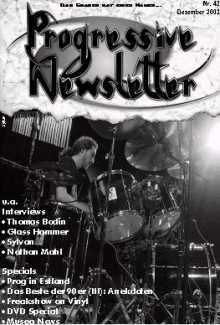 -Issue #46

Raimundo Rodulfo. To LIVE a Dream 2 - Official Bootleg
Same as Ragazzi's review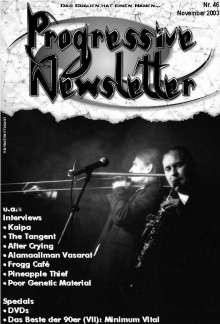 -Issue #66

Raimundo Rodulfo. Mare et Terra

Originating from Venezuela, Raimundo Rodulfo is one of the well-guarded insider tips in the Prog-scene. His work from 2007 "Mare et Terra" will probably wake him up soon from a dormant period, however that has nothing to do with his compositional and performance qualities, but rather on the somewhat light-footed way of playing, the folkloric impact and not just symphony / retro prog in the 8/15 scheme.
Skillfully, he joins together with many guest musicians in the far-ranging pieces (the opening "Náufrago" brings it right on time on its 36 minutes), South American or Spanish folk influences and others (again perfectly interwoven Flamenco quotes) with orchestral, symphonic sometimes and slightly dramatic elements, as well as some classic and very moderate jazz-rock touch in a very pleasant way. His highly melodic playing, mostly on the acoustic guitar, but sometimes just changing to the electric version, is virtuosic, very fluently and by no means created limited to showmanship, even if there is to hear some very expressive solos. Furthermore, mood and tempo changes make for a significant degree of variety and playful vitality.
Despite the very spacious structure of pieces you do not get bored, because in addition to folk music and symphonic works are also plenty of rocking and progressive moments in South American flair, that come along very loose and lively. "Mare et Terra" is an album full of vitality, with a lot of harmonic moments. Give therefore a chance to this pleasant artist from South America, and listen to representative audio clips on its website for a proper impression of this very attractive album.

Kristian Selm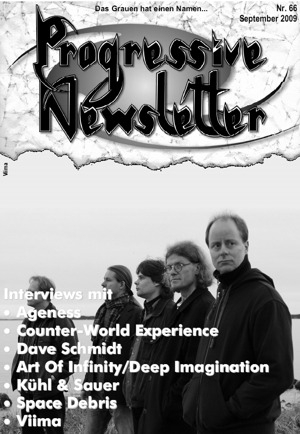 ---
Melo's ProgBazaar - www.melosprogbazaar.com - UK

Raimundo Rodulfo "To Live a Dream 2 - Official Bootleg"
Review of "Hard Times" from the Melo's ProgCast

Great venezuelan musician... a tune with typical latin flavour... a clear influence from Steve Howe in some moments... very pleasant listening!
The band that plays with him is really good!
Paul Nery
---
Of Sound Mind - www.osmind.com - USA

Raimundo Rodulfo "The Dreams Concerto"
Beautiful stuff. Killer guitar plus sax, flute, harp, violin, plus lots more.
Chris
---
Mellotron Magazine - www.mellotronweb.com.ar - Argentina

-Issue #30

RAIMUNDO RODULFO - Dreams /Sueños
Formidable disco del guitarrista venezolano.
La producción discográfica en Latinoamérica nos sigue sorprendiendo, lo mismo que al resto del mundo progresivo. En esta oportunidad el encargado de causarnos esa agradable sensación es el guitarrista Raimundo Rodulfo, quien produjo un disco intimista, personal y a todas luces cautivante. Partiendo de ciertas melodías de estilo clásico, Rodulfo las fusiona con elementos del folklore latino y del rock progresivo, en estrecha relación con el cuento de ciencia ficción incluido en la sección de CD-Rom que se agrega al CD. Este disco conceptual instrumental se apoya sobre todo en diversos sonidos acústicos, ya que a las diferentes guitarras interpretadas por Rodulfo se le agregan flautas, violín, viola, saxos y una sutil participación de la percusión, al margen de los trabajos del teclado y el bajo. El resultado es un paseo por un mundo mágico, de gran belleza, como en "Tiempos Difíciles", o "Nuevos Horizontes" aunque con momentos más intensos cercanos a la fusión y rock como en "Tormenta de Ideas", "Matemática y Arte" o gran parte de la suite de más de veintiún minutos "Códigos Universales", una ambiciosa y dinámica pieza conformada por siete diversas secciones. La presentación es realmente hermosa, con una caja conteniendo al álbum propiamente dicho y agradables trabajos plásticos de Peter Rodulfo.
Andrés Valle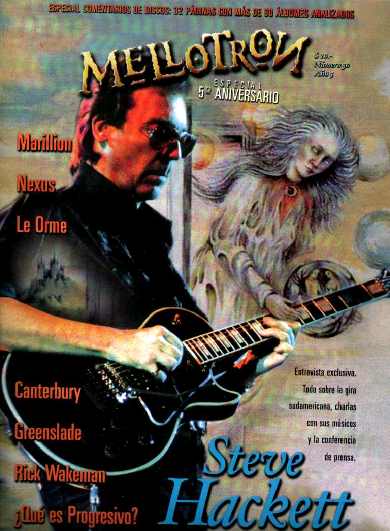 -Issue #32

RAIMUNDO RODULFO - The Dreams Concerto
Venezuela, Independent
Few musicians there are today in the universe of progressive rock that are so ambitious and qualified like Raimundo Rodulfo. This Venezuelan guitarist and composer already had published an elaborate work with his debut work Dreams in the year 2000. And with this, his second studio album, he reached a notable degree of sophistication.
As Rodulfo affirms in the luxurious book that contains the disk -40 pages with innumerable and rich data and graphics- the work is inspired by 'the unswerving spirit of the human being in his endeavors to fulfill his dreams and discern his surrounding universe'.
The Dreams Concerto is formed by three different movements, totaling more than 78 minutes of sublime music. It is because Rodulfo strolls for all the styles, beyond defining the disk as a 'concert for guitar, group and chamber orchestra'. The first movement initiates with the 24 minutes theme 'Dreams', where he fuses brilliantly the classical music with folk and rock, incorporating instruments as harp, flute, violins, violas, flugelhorn and saxes, next to a classical guitar interpreted in brilliant form by Rodulfo. The seven subsections of the theme create a melancholy tone, alternating intense rock moments with other passages of great lyricism, closing with a coda called 'Hope', in which he incorporates elements of Venezuelan folk to give a more optimistic closing to the composition.
The second movement has more typical characteristics of electric rock, formed by two parts: 'Mathematics y Art II' and 'Random Sampling'. The names are not coincidental, as they are experiments of Rodulfo while facing the artistic and mathematical sides of the musical creation. The book includes graphics that show the scientific essence of this idea, being a tremendous challenge few times found in the field of rock. The second part is a suite for electric guitar, group and DSP (Digital Signal Processing), proposing a theme with predominance of electronic, experimental and fusion elements.
The third movement is formed by 'Baroque', a suite for classical guitar and chamber orchestra, and 'The Great Epic of Music and Sciences', suite for guitar, group and chamber orchestra. In the first one Rodulfo exhibits all his talent in the subtleties of the guitar creating a work reminding of Steve Hackett's A Midsummer's Night Dream, while the second fuses in a total the electric sides with the classical melodies.
The Dreams Concerto is surely one of the most intelligent works of the contemporary movement of progressive rock, taking to the limit the capacity of an artist. Wasn't that exactly the purpose of progressive rock?
Andrés Valle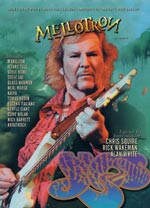 ---
Viajero Inmovil - www.viajeroinmovil.com - Argentina

Raimundo Rodulfo - Dreams
Primer álbum de este virtuoso guitarrista Venezolano con una gran escuela de la Música Clásica volcada al Rock Sinfónico. Acompañado por numerosos músicos invitados su estilo nos recuerda en ciertos aspectos a Steve Hackett.
Felipe Surkan
---
Newspaper Letras - www.letrasenlinea.com.ve - Venezuela
Noticiero Digital - www.noticierodigital.com - Venezuela

Raimundo Rodulfo "The Dreams Concerto"
The Dreams Concerto es un álbum recomendable en toda su extensión.
El Concierto de los Sueños es la segunda producción musical del guitarrista Raimundo Rodulfo, considerado ya por algunos críticos musicales como uno de los músicos más prometedores dentro del género del rock sinfónico, corriente musical que en Venezuela ha encontrado a una nueva generación que incluye bandas como: KRE y Pig Farm on the Moon, y ahora a este virtuoso del instrumento que han inmortalizado Alirio Díaz, Antonio Lauro y Luís Zea, por mencionar algunos.
Este trabajo está estructurado en 3 movimientos y fue concebido para guitarra, grupo y orquesta de cámara, llenando de hermosísimas texturas sonoras un sueño musical de unos 78 minutos. La variada instrumentación y el exigente nivel de ejecución requerido por su compositor, Raimundo Rodulfo, ha demandado también la participación de algunos de los músicos más notables de la actualidad venezolana. Figuran entre ellos: Andrés Briceño, baterista excepcional cuyo recorrido por la historia musical venezolana ya es historia, Pablo Gil Rodulfo, saxofonista de gran trayectoria dentro del Jazz, Manuel Rojas y Carlos Orozco, prometedores flautista y arpista respectivamente, y la hermosa voz de la nóvel cantante Beatriz Rivas.
Este álbum, elogiado en casi todo el mundo, es la secuela del primer esfuerzo musical de Raimundo, "Sueños", quien ha empleado una vez más sus conocimientos de ingeniería a modo de generar un modelo matemático para el segmento intermedio del tema "Matemática y Arte II", segundo movimiento de este onírico concierto. Se ha valido, además, de utilizar los talentos vocales de una de las figuras más resaltantes de los últimos años, Pedro Castillo, quien junto a la revitalizada banda Témpano, en otros tiempos Aditus, y su propia banda, ha logrado consolidarse como un músico de excepcional calidad cuyo lugar en la historia musical de nuestro convulsionado país es relevante...
Leonardo Bigott
Journalist of Newspaper Letras and Conductor of radio program Más a Jazz, 97.7 FM of Caracas, saturday at 6:00 pm
---
Rock Total Magazine - www.rocktotal.8k.com - Venezuela

Raimundo Rodulfo "The Dreams Concerto"
"The Dreams Concerto" es un álbum complejo, pero directo y cautivante, rico en texturas que evocan diferentes sensaciones, lleno de melodías positivas que se unen a un planteamiento rico que llama a la reflexión, en él abundan los detalles de arreglos, es uno de esos álbumes que mientras más lo escuchas, más te gusta y más encuentras nuevos arreglos. Es también innovador y diverso en estilos que te lleva a hacer un viaje por diferentes géneros musicales como el jazz fusión, la electrónica, el rock sinfónico, el blues, la música folklórica y contemporánea de Venezuela, los ritmos afrocaribeños, la música clásica y barroca, todo muy bien integrado por un magistral trabajo de composición por parte de Raimundo Rodulfo e interpretado por varios de los mejores músicos venezolanos. Este álbum es un Concierto para Guitarra, Grupo y Orquesta de Cámara en tres movimientos, con una riqueza instrumental que requiere que el álbum sea escuchado varias veces para poder captar la totalidad del concepto de orquesta formado por guitarra eléctrica y acústica, batería, flauta, flugelhorn, saxofón, violín, arpa venezolana, cuatro, percusión latina y electrónica, maracas y teclados. Raimundo describe su concierto como "...una obra de naturaleza libre, donde he abordado a mi manera algunos elementos clásicos. Esta libertad no ha sido intencional, sino causada por mi forma extra-académica de hacer música, principalmente de oído y corazón". Durante todo el álbum podemos deleitarnos con el extraordinario trabajo de guitarra de Raimundo, quien se pasea con mucha comodidad, elegancia y personalidad por diferentes técnicas y estilos para tocar tanto guitarra eléctrica como acústica. También sobresale la excepcional labor del baterista Andrés Briceño, quien durante todo el álbum dicta una cátedra de adaptación de ritmos afrocaribeños al rock progresivo de una manera muy elegante y con un sonido bastante cálido y natural, creando ritmos que capturan al oyente y lo mantienen cautivo hasta el final. Altamente recomendado para personas de diferentes gustos, sobre todo para los amantes de las fusiones y de las obras completas y bien elaboradas.
Roberto Palmitesta.
---
Progwereld - www.progwereld.org - The Netherlands

Raimundo Rodulfo - The Dreams Concerto
Ze zijn er nog: muzikanten met een ongeremde ambitie om een eenheid tussen klassieke muziek en rock te ontwikkelen. De Venezolaan Raimundo Rodulfo is zo iemand en na het lezen van het dikke boekwerkje wat bij deze cd zit, ontkom je er niet aan dat de verwachtingen omtrent de muziek hooggespannen worden.
Verwachtingen die het meest worden ingelost in het eerste deel van "The Dreams Concerto" bestaande uit Sueños (Dreams) en het korte Esperanza. Sueños is een 24 minuten durende eindeloze stroom aan schitterende muzikale ideeën, waarbij we heen en weer geslingerd worden tussen klassieke gedeelten waarin zowel de klassieke akoestische gitaar, fluit en strijkers de boventoon voeren als ook gedeelten waarin Rodulfo zijn elektrische gitaar op Hackettiaanse / Oldfieldesque manier laat huilen en meer dan puik begeleid word door een uitgebreide rockbezetting. Minpuntje is misschien de niet echt trefzekere stem van zangeres Beatriz Rivas, wat misschien nog wel meer te wijten is aan de ontzettende platgedrukte (lees: gespeend van alle dynamiek) opname.
Zoals Rodulfo terecht opmerkt in zijn uitgebreide toelichting in het cd-boekje heeft de muziek tegen het einde van dit lange gedeelte een licht melancholisch ondertoontje. Als contragewicht is het korte Esperanza de ware afsluiter van het eerste deel die door het dominante gebruik van allerlei akoestische instrumenten (gitaren, fluit, harp, violen, drums, percussie) een behoorlijk folky tintje heeft, dat mij bij vlagen wel iets doet denken aan Flairck, maar dan met een duidelijk Zuid-Amerikaans tintje. Als geheel is het eerste deel een sterke eenheid en een must voor al diegene die een zwak hebben voor de mengeling klassieke muziek (lichtbarok met name) met symfonische rock.
Deel twee is behoorlijk andere koek, want hier worden de klassieke invloeden voorlopig achter ons gelaten en is het complexe, King Crimson-achtige (jaren '80) prog wat de klok slaat. Matemática Y Arte II (de eerste stond op Rodulfo's debuut album "Dreams") valt met name op door de verrassende solo's voor elektrische viool en saxofoon die er voor zorgen dat het geheel niet te kil overkomt. In Muestreo Al Azar meent Rodulfo nog een stapje verder te gaan en begint hij te experimenteren met allerlei elektronische geluidsbewerkingen. Het resultaat is nog steeds dat we In King Crimson-achtige sferen zitten maar als luisteraar ga je naar mate je verder blijft luisteren je mateloos aan die elektronica ergeren. Ook het overmatige gebruik van kille, elektronische drums maakt het geheel absoluut geen genot om naar te luisteren. En als de muziek dan nog interessant was, dan zou je daar misschien nog door heen kunnen luisteren maar mij is dat niet echt gelukt.
Het laatste deel (onderverdeeld in weer twee subdelen) keert met Baroque weer helemaal terug in de klassieke sferen en dit eerste subdeel is dan ook een suite voor klassieke gitaar en kamerorkest. Knap gitaarspel door Rodulfo dat onherroepelijk soms doet denken aan Steve Howe (denk aan Mood For A Day) en natuurlijk ook Steve Hackett. Waar het een beetje aan ontbreekt is muzikale spanning maar na de kille prog van het voorafgaande Muestreo Al Azar komt dit als een ware muzikale oase. Met het afsluitende La Gran Epopeya De La Música Y Las Ciencias keren we weer terug naar die fusie van prog en klassiek zoals we dat ook in het eerste deel zo mooi te horen kregen. Jammer is dan wel dat dit deel niet naar een mooie afrondende finale leidt en als zodanig blijf je een klein beetje met een kater achter.
Dat katergevoel word ook deels een beetje opgeroepen door het feit dat Rodulfo's muzikale ambities zich niet helemaal op hetzelfde niveau bevinden als zijn kwaliteiten als opnametechnicus. Zoals ik al eerder schreef heeft het album als geheel een platgedrukte klank waardoor het op den duur als eenvormig en saai overkomt. En dat terwijl de muziek dat helemaal niet is.
Ook kwam ik na een paar luisterbeurten tot de conclusie dat Rodulfo misschien zijn kruit iets te vroeg verschoten heeft op dit album en het geheel misschien gebaat was geweest bij een andere volgorde. Dus: Deel 1: La Gran Epopeya De La Música Y Las Ciencias, Deel 2 : Matemática Y Arte II gevolgd door Baroque (om dat zelfde effect van een muzikale oase te behouden) om vervolgens af te sluiten met Deel 3 in de vorm van Sueños en Esperanza. Wat dat betreft mogen we de audioapparatuurfabrikanten danken voor het feit dat er op een cd-speler de mogelijkheid tot het programmeren van de afspeelvolgorde zit, zodat we nog lang kunnen genieten van dit bijzondere schijfje.
Christian Bekhuis
---
El Vigia de los Cielos - www.watcher.cl/reviews/cds8.html - Chile

"Sueños" - Raimundo Rodulfo
Es el primer trabajo de Raimundo Rodulfo, quien con una fuerte temática basada en leyendas de origen azteca, nos atrapa en una vorágine de ritmos y experiencias sonoras mezcladas con elementos naturales y electrónicos todas ellas soportadas en las cuerdas de Raimundo. Su estilo es marcadamente "Howeiano", y grandes pasajes recuerdan a Yes en el "Tales...". Los temas que más disfruté fueron "Tormenta de Ideas" y "Códigos Universales"... en el recuento final creo personalmente que es un interesante trabajo y del que estaremos pendientes de su secuela. El artwork es realmente eso, Arte, con muchos elementos étnicos y gran colorido, Peter Rodulfo interpreta magistralmente la linea del disco, paseándonos por los intrincados paisajes sonoros de Raimundo.
Marco Guerrero
---
República Progresiva - www.freeforum101.com/forum/index.php?mforum=progland - Mexico

He estado escuchando con cierta frecuencia el disco de este estupendo compositor guitarrista de Venezuela. Su música esta basada en rock progresivo sinfonico. Se trata de su segundo disco. Por lo complejo y las influencias clasicas, debe tener formación de conservatorio.
The Dreams Concerto, es una pieza con una estructura de un concierto de música clasica con una orquesta de camara que incluye instrumentos de rock progresivo, guitarra electrica, sintetizadores, bateria, bajo, etc. Incluye una cantante mujer, con un estilo de soprano aunque no predominan las voces en esta obra.
Se los recomiendo ampliamente. Sí lo ven no duden en adquirirlo.
Roberto Serrano
Tijuana, Mexico

Efectivamente, este segundo album de Raimundo es muy bueno, y con algo que ha despertado mucha curiosidad, que es que las estructuras musicales que ha utilizado en este trabajo han tenido su origen a raiz de la utilizacion de complejas formulas matematicas (no musicales) y a traves de un programa utilizado por él mismo a la hora de componer.
Este Dreams Concerto es un album aun mas academico que el primero, titulado Dreams, el cual por supuesto, es el precursor del sonido de este excelente guitarrista actualmente radicado en EEUU.
The Visitor
Caracas, Venezuela
---
Spanish Progressive Rock Page - www.dlsi.ua.es/~inesta/Prog/ - Spain
La Caja de Música - www.dlsi.ua.es/~inesta/LCDM/ - Spain

-CD REVIEW (DREAMS) - altea.dlsi.ua.es/~inesta/LCDM/Discos/suenyos.txt
"SUEÑOS" de Raimundo Rodulfo es sin duda un descubrimiento muy interesante, de hecho este disco forma parte de la seleccion del mes de enero del sello MUSEA. Raimundo Rodulfo es un gran guitarrista venezolano y aparte un buen compositor, el estilo de este musico lo podemos catalogar como progresivo-folklorico. La frescura y la soltura de sus composiciones son dos buenas atribuciones en este album... Laberinto, pieza que abre este album es una pieza llena de energia y viveza que esta construida con armoniosos pasajes de guitarra y flauta , con exquisito acompañamiento de teclados; la guitarra juega un papel protagonico dentro de todos los temas. El estilo de este guitarrista amalgama estilos clasico, folk y rock, en ocaciones recuerda a Steve Howe. La última pieza, CODIGOS UNIVERSALES , es una suite de 21 min dividida en 7 movimientos: I Nova II El Mono Desnudo III Guerreros Incanzables IV Los ultimos Elefantes V Tigres Ancestrales VI Gigantes Atomicos VII La Aldea Global. Estos temas crean atmosferas que evocan a la naturaleza como lo hace el grupo brasileño SAGRADO, los temas hablan por si solos pues sus armonias y sonidos recrean bellas historias.
Rene Osnaya

-CD REVIEW (DREAMS) - www.dlsi.ua.es/~inesta/LCDM/Archivo/lcdm0387.txt
Raimundo Rodulfo "Sueños". 2000
Me ha costado tenerlo pero por fin he podido adquirir un disco muy esperado para mi como es "Sueños" del guitarrista venezolano Raimundo Rodulfo. El y su banda provienen de Barquisimeto, en el Estado de Lara. Su pagina web me parecio muy atractiva visualmente asi como la explicacion de como habia compuesto las canciones de este su debut discografico.
Cuando cayo en mis manos me quede admirado de los dibujos creados por su primo Peter Rodulfo llenos de fantasias, con una pintura de un exotismo lujurioso. Es increible lo bien que ha captado el artista grafico la musica que se escucha en el CD.
En cuanto al contenido musical no es nada facil de asimilar. La primera impresion es como si te cayera una cascada de sonidos. Arpeguios, punteos y melodias que se entrelazan laberinticamente. Demasiado cumulo de ideas para un virtuoso influenciado por una mezcla entre John Mclaughlin con toques a lo Steve Howe. A veces parece que se desborda y tienes la sensacion de que de una manera mas sencilla habria resuelto mejor el tema.
De todas formas esa selva de melodias y tonalidades forma parte de la personalidad de "Sueños" y le da cierto encanto. Podiamos definir la musica de Raimundo Rodulfo como barroca con una ambientacion de romanticismo exotico.
Si tuviera que destacar algun tema - todos son de calidad - nombraria la suite "Códigos Universales" de 21´54´´ en donde Raimundo Rodulfo se explaya lleno de imaginacion apoyado por la flauta de Frank Alburjas otro gran virtuoso. En general junto con el violinista Cesar Romano crean bellas atmosferas liricas.
En mi opinion lo mas flojo es la grabacion y la produccion. Esta realizada en el estudio propiedad del autor y cuando los sonidos son
acusticos suena bastante bien pero cuando interviene el bateria - a pesar que es un excelente musico - el sonido se embarulla.
Todo el disco suena muy sincero, fresco, hecho con una enorme ilusion y esto le concede un brillo muy especial que te obliga a escuchar con cariño.
Todas las notas, a veces excesivas, estan muy cuidadas ya que Raimundo Rodulfo es un autentico artesano como musico y compositor.
En difinitiva, con una produccion mas equilibrada y una sintisis de las mejores ideas estariamos ante uno de los mas destacables instrumentistas y
autores de la escena progresiva. Esperemos que con el tiempo lo sea.
Puntuacion 7 sobre 10.
Roge Blasco

-CD REVIEW (DREAMS) - www.dlsi.ua.es/~inesta/LCDM/Archivo/lcdm0266.txt
Hola a todos: Escribo solo para correr la voz de una noticia que me agrada doblemente como venezolano y como cajero. El primer disco, Suenos, editado a finales del 2000, del larense Raimundo Rodulfo, quien forma parte de esta Caja y de quien algunos recordaran varias contribuciones en el pasado reciente, ha sido seleccionado por el sello Musea como uno de los mejores 3 discos del mes de enero. Por aca quienes hemos tenido el gusto de conocer su sencillez y la estudiosa devocion que profesa por su instrumento (Raimundo es un autentico erudito cuando de hablar de guitarras y guitarristas se trata), estamos la mar de contentos. Aprovecho el foro de La Caja para "publicar" mis felicitaciones, y para que los cajeros se regodeen en el exito de RR. Para los que no lo recuerdan, Raimundo Rodulfo fue la contraparte de Flower Kings en el concierto de Caracas del pasado diciembre.
MUSEA Selection of the Month
January GERARD " The Ruins of A Glassfortress" - SOLAR PROJECT "5" RAIMUNDO RODULFO "Suenos Dreams"
Daniel Mendez
---
EscenaRock - www.escenarock.com - Venezuela

-CD REVIEW (DREAMS) - www.escenarock.com/reviews/verreview.asp
Raimundo Rodulfo - ´Sueños´
Sin duda alguna que una de las grandes sorpresas del 2000 en el universo Venezolano del Rock Sinfónico - Progresivo es el álbum "Dreams" con el que debuta la banda proveniente de Barquisimeto - Estado Lara, "Raimundo Rodulfo". ¿Por qué? Un gran nivel musical, y toda una explosión de creatividad que auguran un rotundo éxito tanto en Venezuela como en el exterior. La música presente en "Dreams" es una excelente combinación de varios estilos donde predominan las influencias de dos leyendas de la guitarra: Steve Howe (Guitarrista de YES) y John McLaughin (uno de los mejores de todos los tiempos dentro del genero jazz - jazz fusión). Además, las influencias de la buena música Venezolana (de corte académico) se hacen presentes, así como influencias del rock sinfónico italiano con elementos épicos y clásicos.
Pero la creatividad del artista no solo llega hasta la música, inteligentemente logra la unión de imágenes, contenido lírico y sonidos, ya que "Dreams" es un álbum conceptual que narra una interesante historia (escrita por el propio Raimundo) que vendrá anexa como sección multimedia en el disco, que incluye también una serie de exquisitas pinturas elaboradas por Peter Rodulfo, reconocido pintor ingles y familiar de Raimundo.
Obviamente que durante todo el disco resalta el trabajo de Raimundo con las guitarras, pero el trabajo de los otros músicos de no se queda muy atrás, toda la banda es de alto nivel, sobre todo el excelente trabajo de flauta por parte de Frank Alburjas (de quien en un futuro sería interesante que realizará algún proyecto en solitario) y del violinista Cesar Romano quien es todo un virtuoso.
Todas las canciones del disco son excelentes, no hay ningún desperdicio, cada minuto de grabación fue muy bien aprovechado, mis favoritas son "Amistad" muy llena de energía positiva y guitarras muy a lo Steve Howe, "Nuevos Horizontes" es exquisita, son casi 11 minutos prácticamente de guitarra acústica y donde la flauta juega un rol principal y "Tiempos difíciles" llena de elementos de Jazz - fusión.
Raimundo Rodulfo se perfila como una de las mejores bandas venezolanas dentro de la escena progresiva, no hay dudas de que pronto cautivarán tanto al público local como al internacional. Seguiremos de cerca su carrera.
Roberto Palmitesta.
---
Diario El Impulso - www.elimpulso.com - Venezuela
-Barquisimeto, May 7 2002
Los Sueños de Raimundo Rodulfo
Bautizó su segunda producción discográfica The Dreams Concerto, con la cual buscará consolidar su propuesta musical cargada de fusiones.
Bajo el título The Dreams Concerto (El Concierto de los Sueños), el músico Raimundo Rodulfo lanzó al mercado nacional e internacional su segunda producción discográfica.
Nuevamente Rodulfo presenta el álbum cargado de composiciones en las cuales fusiona los elementos clásicos con los contemporáneos.
Su experiencia como ingeniero electrónico le permitió entrar en el campo de la investigación con la finalidad de hacer una combinación entre la música, la ingeniería y la matemática.
El resultado de la propuesta de Rodulfo es novedosa, su finalidad es consolidar su trabajo musical, el cual inició con su primer álbum titulado Dreams (Sueños) el cual le valió el reconocimiento de la crítica especializada de diversos países como Francia, España, Holanda, Estados unidos, Canadá, Japón, México, Argentina y Venezuela.
El álbum fue bautizado en un emotivo encuentro en el cual participaron destacados músicos jazzísticos quienes brindaron el apoyo incondicional a Raimundo Rodulfo.
A la ceremonia asistieron los artistas Andrés Briceño, el compositor y saxofonista Ppablo Gil y el arpista Carlos Orozco, entre otros.
Francy Montoya Gámez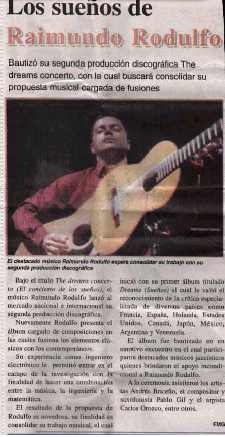 ---
The Giant Progweed - www.progweed.net - USA

Raimundo Rodulfo "The Dreams Concerto"
Raimundo Rodulfo's latest project, entitled The Dreams Concerto, was clearly a massive undertaking. Featuring a legion of guest musicians, a 30 some page booklet, and clocking in at nearly 80 minutes, the entire thing can be a little difficult to swallow at first. With some distance however, The Dreams Concerto is a fairly solid recent entry into the realm of South American progressive rock. Hailing from Venezuela, Rodulfo's music is of the incredibly lush, overtly symphonic variety. The leagues of guest musicians contribute a wide array of instruments to create an musical backdrop that is, while not necessarily inventive, quite diverse, at the least... The musicianship is fantastic and eminently enjoyable for the most part. Rodulfo's guitar playing betrays hints of Hackett and Howe, along with a difficult to place "folk" influence that I an only attribute to the local musical culture. The best moments are the most typically "proggy", wherein flute and organ come in to complement a core bass, drum, guitar ensemble with fantastic melodies and great energy to boot. Though scattered throughout the album, I wouldn't hesitate to say that a 45 minute or so recording of this kind of stuff would totally kick my ass. The "classical" portions are more yawn inducing, though never overtly bad. The 15 minute classical guitar piece ("Baroque") is one of those things that's probably a lot of fun for the artist, but unfortunately something of a drag for the listener...
"Primo Movimiento" features a heavy emphasis on the "main theme", first brought to us by our aforementioned lithe female vocalist, which may unfortunately have soured my taste for it at first... Overall, the piece is more than saved by the excellent playing and melodies in between. "Segundo Movimiento" is something of a departure. The first portion, entitled "Matematica Y Arte", is more angular and guitar driven. The playing, particularly the guitar, is impressive throughout, with a clear nod in Fripp's general direction. By this time I was ready to go and take a nap, but no, another 33 minute movement to go yet! The 15 minute classical guitar piece that kicks things off was a bore, particularly under the circumstances, but the closing 18 minute piece was on the whole excellent, returning to the instrumentation and approach of the album opener... While I found the album tedious at points, there is much to like about The Dreams Concerto. Fans of modern symphonic rock or contemporary sounding South American prog who don't mind a rather bombastic, self-conscious classical angle will want to sit up and take notice of this recording...
Greg Northrup [September 2002]
---
CONCERT REVIEWS - OTHER REVIEWS
---
Media Reviews - Feedback from the Audience - Other Mentions - Interviews