Concerto for guitar, group and chamber orchestra
"If you are into classically-based progressive, this could be the album of the year!"
"New album from who is now Venezuela's top progressive musician. The music is grand in scale and very beautiful indeed, with loads of textures and moods."
Shroom Productions, USA

"If it was possible to combine the talents of some great musicians/composers such as Bach, Mozart, Ian Anderson, Steve Howe, Steve Hackett, Rick Wakeman (to name but a few) at the height of their creativity and produce a piece of music, then Venezuelan musician Raimundo Rodulfo's Dream Concerto would probably be the result."
"The Dreams Concerto must be at the top of the league. This must be the prog album of the year in its class especially as it is unique. In years to come, I've no doubt that the name Rodulfo will be up there with the other great composers and I mean great composers!"
Hairless Heart Herald, UK

"It's not everyday that you get to hear a recording that is just dripping with so much beauty that it almost brings tears to your eyes. This 'concerto' from musician Raimundo Rodulfo is a lush, gorgeous amalgam of progressive rock, South American classical motiffs, and folk, that succeeds on all fronts... This gets my highest rating possible."
Sea of Tranquility, USA
"The Dreams Concerto" is in Sea of Tranquility's Five Star Reviews selection.

"Few musicians there are today in the universe of progressive rock that are so ambitious and qualified like Raimundo Rodulfo. This Venezuelan guitarist and composer already had published an elaborate work with his debut work Dreams in the year 2000. And with this, his second studio album, he reached a notable degree of sophistication. The Dreams Concerto is surely one of the most intelligent works of the contemporary movement of progressive rock, taking to the limit the capacity of an artist. Wasn't that exactly the purpose of progressive rock?"
Mellotron Magazine, Argentina

"A chamber orchestra, vocals, percussionists, and your basic prog-rock band elements are featured in very colorful arrangements"
"A real showpiece full to the brim with drama and energy, thanks to a bit of flamenco juxtaposed with the more baroque classical directions, not to mention some very Steve Howe-ish speed guitar by the composer"
Progression Magazine, USA

"A magnificent fresco divided into three long movements"
Harmonie Magazine, France

"A beautiful blend between progressive rock and classical music, with Hackett influences and links to EKSEPTION and KING CRIMSON and a Latin American touch. Highly recommended for symphonic progressive lovers!"
"A complex album from Venezuela, mixturing classical music, jazz, South American folk and rock with rich instrumentation. A lot of musicians playing cohesively but, even when music is essentially melodic, maybe this album needs more than one listening to fully enjoy it, due his complexity. A sort of a King Crimson, Vivaldi and a jazz band cross. Very interesting!"
ProgArchives, USA

"What a great record this is! We hear on this disc influences from almost all the great musicians on the planet that live and had lived. The classic masters Bach, Bethoven, Vivaldi and Mozart. The progressive rock masters Steve Howe, Keith Emerson, Rick Wakeman, Robert Fripp and Ian Anderson. The jazz-rock masters Chic Corea, John McLaughlin, Al DiMeola and Allan Holdsworth. The pop masters George Harrison, Paul McCartney and John Lennon. And the master of all kind of styles, Frank Zappa. Every time you listen to it you will hear new things. I almost would call it a musical journey into a fantasy dream world. Well done!"
Background Magazine, The Netherlands

"It is absolutely stunning. It is amazing and beautiful, encompassing varying moods, styles and colours… Rodulfo is a fantastic guitarist (rather, multi-instrumentalist), surrounded by equally talented folks on a variety of instruments. The Dreams Concerto is a thoroughly stunning and epic work that is a pleasure to listen to. Varied enough that you will discover something new upon each listen, but not so varied as to be disjoined - everything flows seamlessly together with a measured ebb and flow. Seek this one out."
Progressive World, USA
"The Dreams Concerto" is in Progressive World's April's Five Star Reviews for April 2003.

"A versatile and virtuoso Venezuelan artist. This cd is truly a wide kettle of the main progressive schools that the history of music has given to us, enriched by an unique latin taste, a superior guitar playing technique and an impressive intellectual approach to music from a sure well-informed musician. An excellent album from the point of view of the exhibited technical rate... A monumental and intellectually very ambitious album for listen with the ears well connected to the brain !!"
"A monumental and very ambitious cd that I recommend to everyone's looking for complex music played with heart and brain."
Tales of Wonder, Italy

"The Dreams Concerto, in 3 movements and 6 sections, is a living musical work and in continuous expansion, whose philosophy situates in the extension of all the traditional models that have been assimilated in the creative music during the last 4 decades. Yes, creative, since the progressive rock envelope is excessively narrow to harbor the enormity of this disc that sails among the intimate and the sophisticated of jazz, folk, rock and classics and that has been planned with most greatest care and to balance different common sense tempos and states of mind utilizing an extensive rank of harmonies and tones. A must have."
Margen Magazine, Spain

"This is one of the best discs produced in Latin America the last years. It is a master work by Venezuelan musician Raimundo Rodulfo. It is a disc that shows the greatness which can be obtained from the fusion between various musical genres, from classical music to rock and jazz. I sincerely hope to barely be close to this musical legacy by Raimundo, maybe my words are short but I sincerely recommend you to listen to this work."
Música Progresiva, Costa Rica

"A really well good album coming out in 2002, with lot of Classical elements, traditional Folk, in a prog format that I highly recommand. Excellent work..."
"Believe me this song ('Sueños') is one of the best progressive songs I never heard. Absolutly Superb !"
Proglands, Canada

"This album is something really special. Rodulfo mixes classical music with rock in a way I have not yet heard before, all sounding perfectly natural... For people with a classical music background, combined with a love for prog rock, I believe this album is essential..."
Dutch Progressive Rock Pages, The Netherlands
"The Dreams Concerto" is in DPRP Recommended selection.

"Venezuelan Raimundo Rodulfo is a highly-skilled guitarist, whether playing acoustic, classical, electric, or bass guitar or even mandolin.."
"Highly recommended."
Kinesis, USA

"A disc that becomes part with full authority of the category 'irrenounceable'"
"Rodulfo, true virtuoso of guitar (and also of bass, I add) simply without to comply in accommodating and self-pleasing elucubrations, possess the innate gift of to charm the listener. The European public, mainly the Italian one, must not to ignore this Artist!"
Escursioni Musicali, Italy / Arlequins, Italy

"For those who like classical music as well as progressive rock, this might be a concept worthy of attention."
Axiom of Choice, The Netherlands

"Simply put, one of the most gorgeous pieces of symphonic rock to come along in recent memory... Highly recommended to symphonic fans who like lots of guitar and baroque influences. One of my favorites so far this year!"
"This disc has class."
Exposé Magazine, USA
"A really very beautiful CD that shines with much bright light between the productions that have come from South America in the last years. Recommended with the highest rating."
"A really very attractive disk in which the classic music is placed side by side or almost perfectly melted with progressive rock. The more classic parts, bytheway the best of the disk, bring again to mind sometimes Bach, sometimes Vivaldi, and some compositions for classic guitar and orchestra (the works of Rodrigo, for example), and are characterized for the absolute absence of drums or electric instruments and, on the contrary, by sumptuous acoustic arrangiamenti with strings, flute and classic guitar to weave continually the beautifulst melodies. In other moments, instead, with the arrival of drums and with Rodulfo who takes the electric guitar, we have a perfect merger between classic and modern music… Demand careful and participating listening to be deeply appreciated."
Eventyr Magazine, Italy
"'The Dreams Concerto' is an ambitious prime album from a very talented artist."
Colossus Magazine, Finland

"Symphonic progressive. Full of tremendous and beautiful parts. Especially the acoustic guitar parts are superb."
"Raimundo evolved a lot since his first album, and developed various of his ideas as if a dream came true. The compositions are much richer, arranged and performed... For various reasons very recommended. Both acoustic guitars as electric guitar playing / arrangements are splendid."
Psyche Van Het Folk, Belgium

"The use of several instruments besides the traditional rock instruments makes the sound very rich and much more interesting. It's a very good album."
Tombstone, Greece

"Raimundo Rodulfo reveals with 'The Dreams Concerto' his quality as composer, arrangeur and guitarist... An impressive work, which I can only recommend."
Ragazzi, Germany / Progressive Newsletter, Germany

"Sometimes I ask myself, where the people get again and again new ideas for music. In the case of RAIMUNDO RODULFO, Venezuela lodges a guitarist like the best. This versatility on his 'The Dreams Concerto' is already impressive."
Progressive Pages, Germany

"Beautiful stuff. Killer guitar plus sax, flute, harp, violin, plus lots more."
Of Sound Mind, USA

"A real classical-progressive work with strong Spanish connotations... Raimundo is an excellent guitarist, whether of classic or electric guitar. The music is crystal clear and pours as a waterfall into your wide opened ears. A very beautiful work. Doubtless."
SomethingProg, France

"The Dreams Concerto is a recommendable album in all its extension."
Periódico Letras, Venezuela / noticierodigital.com, Venezuela

"'The Dreams Concerto' is a complex, but direct and charming album, rich in textures that evoke different sensations. Highly recommended for people of different tastes, above all for the lovers of musical fusion and quite elaborate and complete works."
Rock Total Magazine, Venezuela

"Raimundo Rodulfo announces the color and holds his word. After his first published album two years ago (Dreams - Sueños), here is what one could call his grand work... a facility of tempting listening and a cordial beauty."
Prog-Résiste Magazine, Belgium

"The music has a lot of variation and some great moments... The electric guitar solo in the end (1st Mov.) is great and is played with a lot of passion. It (3rd Mov.) includes fantastic work on classical guitar and it reminds me somehow of the classical album Anthony Phillips made together with Enrique Berro Gracia. But at the same time the high speed guitar playing reminds me of one of my guitar heroes; Al diMeola. There are beautiful parts with acoustic instruments like classical guitar, violins, flutes and harp. Also you can find some beautiful melodic guitar solos."
ProgVisions, Spain / The Netherlands

"An extremely ambitious production of an outstanding artist. One rarely gets such one perfectly thought out CD release, which musical contents and conceptual contents are in such a manner perfectly co-ordinated... It can reveal finely symphonic elegance in its fullest beauty."
Babyblaue, Germany

"Guitarist/Composer Raimundo Rodulfo brings symphonic/classic prog back into the new millennium with nods to the giants of the 70's while adding a latin flavor all it's own. Beautiful instrumentation can be found throughout especially in the guitar playing which goes from classical to flamenco to rock within a few moments."
ProgNaut, USA

"Many people with an interest in classical music, especially of the Baroque style, will get a lot out of this album. It is certainly well conceived and presented."
Classic Rock Society, UK

"This is the second by this excellent musician from Venezuela. Second achievement. The music is more symphonic (divided in 3 movements), featuring a wide range of instruments: sax, violin, flute, mandolin, harpsichord ... And of course great guitars (both acoustic and electric). On a whole, this production by the Latino Mike Oldfield should please to all adventurous ears."
Acid Dragon Magazine, France

"'The Dreams Concerto' (2001) is a magnificent fresco broken up into three long movements, for a total of almost 80 minutes. A multitude of performers, among whom one finds for example the singer Pedro CASTILLO, contribute to the richness of work."
Musea Records, France

"A musician that doesn't have anything to envy to bands that have found a good contract record. The technical style of Rodulfo betrays a visceral passion for neo-classicism, but the entire work is influenced by groups as Jethro Tull, Mike Oldfield and Genesis. A product to listen second to second, and with an amazing 36 pages booklet indeed beautiful. A cd simply unique."
MilleRecords, Italy / Tempi Duri, Italy

"The previous production is exceeded as much as possible. Full heart work."
Gardenshed, Japan

"A symphonic album of high level"
August Carol, Japan

"Contents have become well enough serious, featuring the classic & electric guitar which Raimundo Rodulfo plays as soloist, at the same time the classic guitar with the chamber orchestra, and the electric band which is playing in the back among different parts of the concerto. It makes enormously good..."
Gates of Dawn, Japan

"Rather than calling it the solo album of a guitarist, it sounds with the power of a real symphonic rock band"
"The music has a high degree of completion which makes you think of ESTRUCTURA from the same country"
Yahoo Auctions Japan

"Self-produced masterpiece, perhaps one of the best of 2002."
"A contemporary artist between the best and most brilliant ones in circulation."
"It's incredible how Rodulfo, in the middle of an ocean of style influences between which stand out primarily Steve Hackett and Steve Howe, Jethro Tull, Yes and a bite of jazzy tastes, succeeds to unite with a personal revisiting of the classic symphonies and baroque in latin key so much different instrumental sounds without being overwhelming and submerging the listeners without making them lose interest."
Movimenti Prog, Italy

"It alternates between rock parts, orchestra parts, and both in unision, and Rodulfo plays both electric and acoustic guitar with high technical skill. The opening is promising with the 24 minute long "Sueños", a symphonic cascade with exquisit interplay between Rodulfo¹s guitars, the band, orchestra and vocalists. It continues with great folk-prog parts lending an ear to both Tull and Focus."
Tarkus Magazine, Norway

"Excellent second CD of this Venezuelan project which played recently in BajaProg 2002. Digipack edition with book."
Rock Symphony, Brazil

"The Dreams Concerto is a work with a classical music concerto structure, and a chamber orchestra including progressive rock instruments, electric guitar, synthetizers, drums, bass, etc. It includes a female singer with a soprano style, although the vocals don't predominate in this work. I strongly recommend it. If you see it, don't hesitate to buy it."
"This second album of Raimundo is very good... This Dreams Concerto is an album even more academic than the first one, called Dreams, which obviously is the precursor of the sound of this excellent guitarist."
República Progresiva, Mexico

"They are still there: musicians with an unrestrained ambition and an identity between classical music and progressive rock. Venezuelan Raimundo Rodulfo is one of this kind, and after reading the thick booklet featured at this cd, you realize that the expectations become on high musical challenges. Expectations which are most fulfilled in the first part of "The Dreams Concerto", where are Sueños (Dreams) and the short Esperanza. Sueños is a 24-minutes lasting endless flow of superb musical ideas, where we are swung back and forth between traditional parts in which both the classic acoustic guitar and high-tone flute conduct, as well as parts in which Rodulfo's Hackettian/Oldfieldesque delay-crying electric guitar playing is accompanied and more than supported by a vast rock presence."
Progwereld, The Netherlands

"The Dreams Concerto is a fairly solid recent entry into the realm of South American progressive rock... The playing, particularly the guitar, is impressive throughout, with a clear nod in Fripp's general direction. Fans of modern symphonic rock or contemporary sounding South American prog who don't mind a rather bombastic, self-conscious classical angle will want to sit up and take notice of this recording..."
The Giant Progweed, USA

"Great stuff! Highly recommended to fans of vintage Steve Hackett and Italian progressive rock! Probably the best progressive rock CD to ever come out of Venezuela!"
"One of my all-time favourites."
"I bought your The Dreams Concerto some months ago and I really love it - it´s really a great album."
"Great booklet, with Peter's very beautiful paintings! But your CD has suprised me not only on the visual side. Till now I have listened to it only once, so my opinion can obviously be incomplete and imperfect; nevertheless I dare say you that your music is WONDERFUL: romantic, symphonic, latin prog rock full of good ideas and rich in creative moods. I really believe that Italians could like a lot your compositions, so it's important that in my country, too, prog fans know your CDs."
"I have listened to your CD more times, and I confirm you my first impression: your music is really great, very technical but also very emotional."
"I'm your fan now! You're a real great musician and I love "The Dreams Concerto"! It was a revelation to me!"
"I do not recover yet from the astonishment of such work (The Dreams Concerto). Incredible. From the book of presentation, really fabulous in concept and content, to the musical criterion and musical capacity it is a work as not very often I listened in my life. Sincerely. I admire very much the people like you who have ambitious ideas, and not only have them but make them real. And how! I personally enjoy very much the combination of classic/rock with 'real' instruments, that so rarely are used the last times, because of money or lack of ambition."
"I liked it much, is very well done in all the aspects: performing, composition, recording, art... It is quite ambitious, and without spirit to establish any comparison, I listen to reminiscences of some bands that I like much, among them Yes (by the Howe side), Mahavishnu Orchestra and Il Rovescio Della Medaglia. The disc has a lot of personality… I am sure that internationally it will have more repercussion than here."
"What so good is your new disc!!! Today I listened to it for the first time and I was listening to it three more times. A very deep, serious and enjoyable work. It is the type of work that whenever you hear it allows you to find something new on it. It is really the more interesting CD that I have listened to this year. Congratulations."
"Very interesting South American/world music with Spanish vocals and an orchestra."
"The truth, the simple idea by which this album was developed (the equations and all of that – and I study engineering) seemed brilliant to me. It is unquestionably, one of best discs of the year, even when this year promises a lot (Wakeman, Arena, Rush, etc.). A friend bought your album and he fell in love with your music, inclusively, his wife (whom does not like anything that has an electrical guitar included) loved it."
Comments from the Public
---
THE DREAMS CONCERTO
Concerto for guitar, group and chamber orchestra


PRIMER MOVIMIENTO / FIRST MOVEMENT (28:17)
1. Sueños (24:14)
CODA:
2. Esperanza (4:03)

SEGUNDO MOVIMIENTO / SECOND MOVEMENT (17:18)
3. Matemática y Arte II (8:01)
4. Muestreo al Azar
Suite para guitarra eléctrica, grupo y DSP / Suite for electric guitar, group and DSP (9:17)

TERCER MOVIMIENTO / THIRD MOVEMENT (32:53)
5. Baroque
Suite para guitarra clásica y orquesta de cámara / Suite for classic guitar and chamber orchestra (15:01)
6. La Gran Epopeya de la Música y las Ciencias
Suite para guitarra, grupo y orquesta de cámara / Suite for guitar, group and chamber orchestra (17:52)

All music, concepts and lyrics by Raimundo Rodulfo. All right reserved © ®.
Produced, orchestrated and directed by Raimundo Rodulfo. 2001.

---
Raimundo Rodulfo: classic, acoustic and electric guitars, mandolin, bass, slide, acoustic and electronic percussion, backing vocals. Mathematic modelling, DSP design, programming. Composition, orchestration and production.

Guest Musicians:
Andrés Briceño: acoustic and electronic drums, flugelhorn
Pablo Gil Rodulfo: saxophones
Pedro Castillo: vocals
César Romano: first and second violins, viola, electric violin
Lermit Martínez: keyboard, piano, organ, clavier
Alejandro Socorro: acoustic and electronic percussion
Manuel Rojas: flute
Carlos Orozco: harp
Carlos Rodríguez: acoustic bass
Beatriz Rivas: vocals
Ricardo Furiati: bass, backing vocals
César Hernández: backing vocals
Linda Briceño: flugelhorn
Euro Olivero: maracas

All paintings by Peter Rodulfo.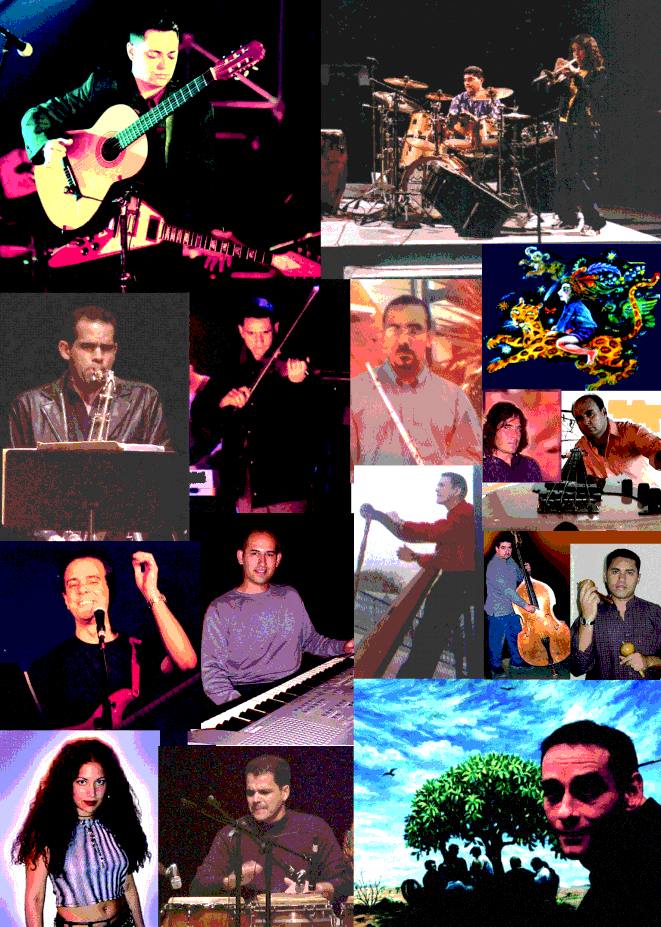 ---
Raimundo Rodulfo's DREAM CONCERTO MUSICAL-MATHEMATICAL MODEL
GEOMETRIC FRACTALS GENERATION SOFTWARE
Download here the install file (~3 MB, PC Compatible). This is a software developed by Raimundo Rodulfo, which allows you to see and listen in real time in your computer the evolution of the mathematical model which controls the segment Modelo Exacto de 7! of Matemática y Arte II in the Second Movement of The Dreams Concerto, by a geometric fractals dynamic graphic representation synchronized to the music.

---
This is a free-natured work, wherein I have approached certain classic elements in a personal fashion. This freedom has not been intentional; it is rather the effect of my little orthodox, non-academic way of doing music, which is mainly by ear and heart. I must spare from this sin the excellent musicians who have gently accepted to follow me in this bold venture. First of all, because they do know how to make music in the right way and yet have not forgotten their spontaneity. Secondly, because of their disposition to eventually swerve themselves from the traditional manner of reading and performing. Some of them have had to gather a lot of patience to decipher the sort of musical-mathematical hieroglyphic in which I have put my music in black, and to deal with extensive gaps for improvisation. Those who are serious composers have not had an easy task in adapting themselves to this atypical way of working, thus their efforts and commitment to this project are worth of my greatest gratitude.
When I started the production of my first album I dealt with two concepts initially. The first one consisted of a musical and literary work, including seven songs, each one paired with a chapter of a science-fiction story I had written directly related with the music. That first concept, enlarged by plastic and multimedia elements, was released at the end of the year 2000 in the form of the album Dreams. This Concert for Guitar, Group and Chamber Orchestra in three movements is the second project. In its lyrical and musical concept I wanted to render tribute to the unswerving spirit of the human being in his endeavors to fulfill his dreams and discern his surrounding universe. I started this work some fifteen years ago, when I composed my suite for classic guitar and chamber orchestra, which I titled Baroque as a homage to my favorite music period. That work, composed of six movements, started to expand itself to a second suite, which I titled La Gran Epopeya de la Música y las Ciencias,The Great Epic of Music and Sciences. This second suite later included an electric guitar as a solo instrument, and incorporated a traditional rock group thus completing the third movement of the concert.
The route starts with the main theme, Sueños,Dreams, a sort of modern symphony based also on the suite Baroque, but including a great deal of new elements belonging to the domain of contemporary music. When I finished composing this number I felt that although the lyric conveyed a deep feeling of optimism and hope, the melodic treatment dragged a trace of melancholy, which I felt would produce a final impression of sadness. Due to that I created a Coda in this first movement, Esperanza,Hope, where I resumed the melodic line of the main theme this time with an essentially sense of happiness, providing an optimistic finale. Then I found that inadvertently I had created a motif with a remarkable Venezuelan flavor, and therefore, decided to exploit this feature, performing it in a totally acoustic fashion and adding autochthonous instruments like the Venezuelan folk harp and maracas, in a kind of Venezuelan academic ensemble.
The second movement was born in a completely different way. Since my childhood I have always felt a great deal of curiosity and fascination for science. My professional formation in engineering has strengthened my contact with several branches of physics and mathematics. This contact radically changed my conception of music as I began to understand the links between mathematics and the different forms of arts. I decided to develop this relationship in a series of conceptual works, wherein I engaged myself in composing from a strict mathematical point of view, and in a little research and development by myself. The first attempt resulted in the song Matemática y Arte,Mathematics and Arts from the album Dreams, where I played with the contraposition of rigid rhythmic patterns and free improvisation segments. Desiring to go further with this experiment, I developed a mathematical model of tempos for this project in a segment of the second movement of this work, which became the song Matemática y Arte II,Mathematics and Arts II. The concept of contraposition between the mathematical and artistic sides of musical creation returns at this point, developed on top of this model and focused in two ways: one exact, where its equations rigorously rules the instrument performance without leaving space for mistakes and improvisation; and one inexact, where the emotional human factor is free to express itself. At the end there were three sub-movements: the first one attacks the model in an inexact way, the second in an exact way, nearly automatic; and the third one brings back the emotional element, transposing the inexact model and granting extensive gaps for the creativity and spontaneity of the performer. Pushing the limits of this experiments towards the area of plastic arts, I proposed British artist Peter Rodulfo, who created all the paintings for this album and whom I worked with in the first one, to develop his own plastic interpretation of the model. It can be appreciated in this booklet along with the mathematical analysis. Simultaneously, and with the same spirit of presenting both faces of the experiment, I developed a visual representation of geometrical fractals from the equations of the model and a computer program which generates the graphics automatically. The output from the execution of the code is also included in this booklet. In order to insert Mathematics and Arts II in the concert, I integrated the harmonic and melodic elements of the suite Baroque, this time with an electronic style, and built a second part of the movement with a futuristic version of the theme of the concert, transmuting the classic elements into contemporary sounds. At this point I was able to experiment with the creation of Digital Signal Processing (DSP) functions which ended up becoming a musical expression with its own life. I also experimented with the generation of random patterns and Fibonaci, that when applied to an electric guitar and to voice samplings bring about unexpected results. This part became my Suite for Electric Guitar, Group and DSP that I titled Muestreo al Azar (Random Sampling). As a result, this movement abruptly breaks the predominance of the classic essence in the music of this work and insert experimental, electronic and fusion ingredients. I left the audience the task of digging out the hidden, camouflaged presence of the main theme.
I have not intended to tangle or baffle, with a technical jargon, the audience not interested in the mathematic and electronic experiments in arts. If this is your case, I beg you to ignore all these dry details and enjoy the work, which I expect will be able to explain itself.
Raimundo Rodulfo. December 2001.